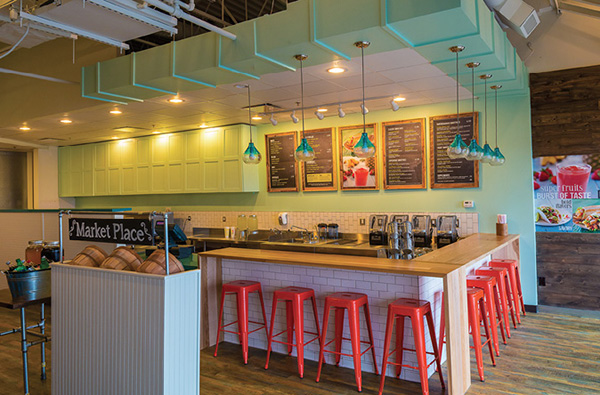 Tropical Smoothie Café can scale from 250 square feet to 3,000 square feet. Photo courtesy of Tropical Smoothie CaféVisit Tropical Smoothie Café in Tallahassee, Fla., and you'll enter a 600-square-foot restaurant. But travel up to Columbus, Ind., and you'll be in a location measuring 3,000 square feet.
That's a significant difference, and the 600-unit chain has restaurants many sizes in between.
"It's important to us to have a prototype that's scalable," says Mike Rotondo, CEO of the Atlanta, Ga.-based chain. "We are opening 10 stores a month and will probably sign 140 to 150 leases this year. It gives us a competitive advantage to be able to jump on spaces. As long as it meets our criteria from a location standpoint, we can make a Tropical Smoothie Café work."
Scalable restaurant prototypes are becoming essential as brands seek to grow nationwide and open quickly in very diverse locations. They have adaptable interiors, exteriors or both, which means almost no site is off-limits.
Tropical Smoothie locations can be as small as 250 square feet, which is typically a nontraditional food court-type location; in other small spaces, the drive-thru can be freestanding, so it doesn't cannibalize store space.
For the small locations, what helps make Tropical Smoothie so flexible is that the interior is scalable, too. Seating is fairly expendable as 60 to 70 percent of the chain's traffic comes through the drive-thru and even inside, most customers grab a smoothie and go.
The chain also doesn't use a lot of equipment. Each unit usually has two high-output convection ovens, which are stackable and don't take up a lot of room. They also don't require hoods or grease traps, both of which take up space.
For smaller locations, the smoothie bar can be minimized. Though the smoothie menu is large, it's made up of a fairly small number of ingredients, so the company can compress the smoothie prep area, Rotondo says. The usual four blenders can be downgraded to three, saving a linear foot of space.
There's the option of reducing the menu, too, Rotondo says. "We go with best sellers," he explains. "The thing with smoothies is a lot are modified anyway. You don't need 100 — you need to have the basics; then, people can sub or add things and create their own."
Big Is Beautiful
There are 852 restaurants in the Checkers & Rally's chain, and most are modular. Photo courtesy of Jeffery Scott ZipayIn large units, the concept sometimes adds a community table, which is customized by location to fit the space, such as a round table or a narrow, long one. However, says Rotondo, if a location is too big, "it loses atmosphere. It loses a bit of local connection and some of the energy. Too large can be more problematic than too small. If we're going to go big, we have to be really creative with the space. Also, large locations have higher rent."
Tropical Smoothie can also scale up the smoothie bar for big spaces. "With the new prototype we launched a couple of years ago, we put the smoothies front and center so it's a bar — a butcher-block L-shaped bar with stools — so you can sit there and see people making the smoothies. So if we have room, I'd expand that and add more seats to it," Rotondo says. "It provides interaction with the brand and ups the perception of freshness." The bar could also be U-shaped to expand it, too, he adds. "I think we could find a way of engaging these spaces and making them just as special."
It's really important to Tropical Smoothie, says Rotondo, "to be able to scale this and really accelerate the growth. We always felt we wanted to be able to go anywhere — in major markets, in tertiary markets — and if we say this is where we want to be, we don't want limitation of the space. Everything is scalable — even the size of the artwork on the walls, which is all the same but can be bigger or smaller."
Modular Magic
Checkers & Rally's was made famous through its iconic freestanding double drive-thru model, but it's expanded to every possible build-out option, from in malls with single drive-thrus and endcap drive-thrus to nontraditional locations in stores like Walmart and shopping malls.
At the end of last year, the Tampa, Fla.-based company introduced its scalable model 4.0, which is designed to provide a more streamlined, cost-
effective and time-sensitive construction process for new build-outs, allowing franchisees to choose from three design plans: a traditional on-site build, a new modular building (built off-site then trucked in) or an option that uses reclaimed shipping containers to form the external shell. All are the same size and layout.
There are 852 restaurants in the Checkers & Rally's chain, and most are modular, says Jennifer Durham, chief development officer.
"However, we evolved to build most of our restaurants on-site between 2010 and 2015 because the pricing of modulars got to be prohibitive," Durham explains. "But what the chain found was the same set of plans would have very different building costs depending on where in the country a restaurant was located — Chicago being more expensive than Mobile, Ala., for example.
"So we went back to look at how to save money and came up with the 4.0 design. We now have the footprint and the general scheme of the restaurant we want to build, and we can build it in the three different ways."
Since the modular buildings were last constructed by Checkers and Rally's, "to our great surprise and delight, the pricing had become much more competitive," Durham says. "It's considerably less than our previous modular design and also considerably less than the average cost of a 4.0 building. And we're finding the quality of the build is superior because it's done in a controlled environment."
There's a big difference in cost in the three options: Unequipped, a modular building costs around $270,000, a traditional site build is around $370,000 and a shipping container runs close to $340,000, though there is some variability site to site.
Another benefit of the modular units is they are built faster — in eight weeks, four to six weeks faster than the traditional on-site builds. "We have a really strong return on investment, but if we could also have a return on time, that's important, too," Durham says.
"The ease of being able to grow is really important," Durham explains. "It's about taking the friction out of it. The construction part can be nerve-racking and daunting, so bringing back the modular option was important."
The three designs are identical inside with the exact same floor plan and no dining since that's all on the patios.
The first 4.0 Checkers & Rally's opened in June and saw sales of almost $50,000 in its first weeks. By the end of July, the brand expected to have two more operational 4.0 designs.
Twisting Large and Small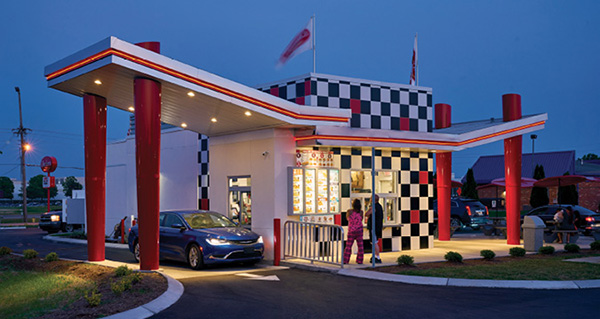 Checkers & Rally's most popular prototype employs a modular model. Photo courtesy of Sanford Myers Photography NashvilleIf Philly Pretzel Factory finds a space that's 125 square feet or more, it can operate out of it — though a typical store is 800 to 1,000 square feet. The brand is all takeout with no seating.
"We are pretzels and we're a snack and meal-replacement concept, so we can go into any size space," says Chief Development Officer Tom Monaghan.
The three smallest spaces the 171-unit, Bensalem, Pa.-based chain operates out of are 125-square-foot kiosks that run in an amusement park, an aquarium and a train station. The largest is a 4,000-square-foot drive-thru.
"We continue to look for opportunities despite real estate limitation and because our model allows us to be anywhere," Monaghan says. "In some areas, we are a part of the community because the store there is so large."
In general, the chain has three models: the traditional store (of varying sizes), the store-within-a store (such as within Walmarts) and 125-square-foot kiosks. The small units, Monaghan says, don't have a B2B component. "A significant portion of our traditional locations is what we call pretzel accounts," he says. This is product made to sell to schools, hospitals, nursing homes and similar institutions.
In the small units, the menu items are virtually the same as in the large ones, and there's no difference in the customer experience from a product standpoint. Conversely, in the large units, the concept focuses on display cases and production, so there's an entertainment factor. "We like our customers to see the twisting and baking of the pretzels," Monaghan says.
Betting on Success
Philly Pretzel Factory recently opened a 290-square-foot restaurant on the Las Vegas Strip.
"We're expecting huge business," Monaghan says. However, given the diminutive size of the operation, Philly Pretzel Factory has had to rent additional freezer space nearby and expects to have to truck its supplies back and forth every other week. Storage and refrigeration are an issue in a few of the chain's smaller stores as well, "so we have to be even more effective in our distribution to get the products to the stores in time," Monaghan says. "We need much more frequent deliveries."
Even though Philly Pretzel Factory has had to be creative in both its production environment and the retail space in Las Vegas, it was an important location and worth being adaptable with the sizing. "Some three to four million people a year pass by the front end of this space, so we really wanted to be there," says Monaghan. This also allows the concept to showcase the brand to potential future franchisees.
Philly Pretzel Factory only goes into larger locations if the location makes it a no-brainer and volume will make it financially viable, Monaghan explains; it can be hard to fill the space. One trick is adding a party room.
The brand can also work with scaled-down versions depending on the finances of franchisees. The different-size locations come with diverse price tags. A traditional store around 800 square feet requires an investment of $290,000, which means the franchisee needs to have at least $100,000 liquid, says Monaghan. A store-within-a-store concept is significantly less, around $160,000, and the kiosks total $100,000 or so.
Contrary to popular opinion, for these three chains and many others, size does not matter. Having a concept that can scale up or scale down and still offer the same brand experience to customers is the key to growth and success.