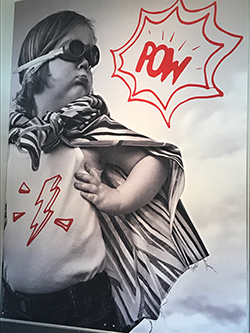 Fast-casual concept Pie Five Pizza Co. debuted a new prototype and logo in Plano, Texas.
The design features dark woods, bright walls and a modern aesthetic. It also introduces a new color palette that utilizes crisp white as its base.
Exposed ductwork and an open kitchen provide an airy, contemporary appearance. The design also features a new queue line design, an upgraded sound system and the addition of TV screens, and an outdoor patio with a living wall.
Additional upgrades included replacing a stainless steel panel with a large ceramic tile wall, swapping polished concrete flooring for a recycled luxury vinyl tile that features sound-absorbing properties, and adding contemporary wood table tops.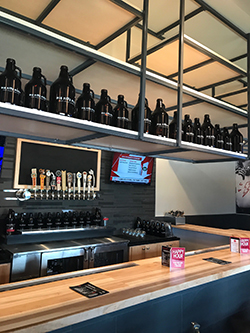 Pie Five Pizza's new bar features a growler displayPie Five also added a custom 12-tap craft beer and wine bar with a butcher-block bar top, highlighted by a branded growler and wine bottle display.
The back of the house was also reconfigured to accommodate making larger pizzas and delivery.
"After doing a significant amount of research, we recognized a shift in consumer behavior that provided an opportunity to make some exciting enhancements to our brand," said Scott Crane, CEO of Pie Five parent company Rave Restaurant Group, Inc. "We approached the process of concept refinement, as well as our new test prototype design, in keeping with our passion for elevating the guest experience. Our team is excited to share this next-generation Pie Five with our guests."