Page 1 of 4
Green can mean a lot of things these days. In the restaurant world, it can mean growing your own food on-site, partnering or even managing local farms, installing energy-efficient equipment, using reclaimed wood and other sustainable materials, composting, recycling, using LED lighting and more. Here's a look at four restaurants with some unique interpretations of what it means to be green.
Temporis
Location: Chicago
Type: Full-service independent
Average check: $50-$75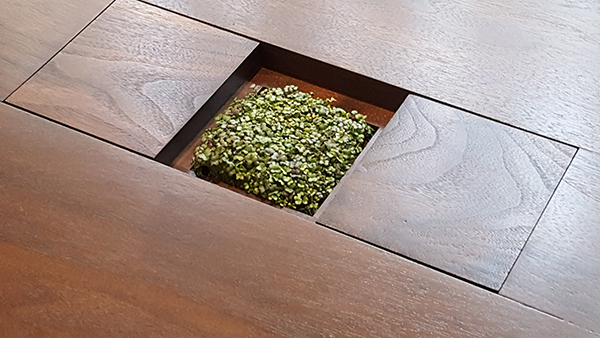 More chefs are going beyond local sourcing of ingredients by building their own gardens on rooftops and in basements, like Temporis has.
A passionate gardener with a true green thumb, Co-Owner Sam Plotnick worked with a local urban agriculture company to build a multilevel hydroponic garden in his basement storage area, complete with self-made seed pods using burlap from coffee bean sacks, an irrigation system and grow lights. The garden has three vertically stacked levels providing about 36 square feet of growing space under the lights. Temporis has an additional 12 square feet of propagation space and about 20 square feet of a deep water growing system.
Grown using a nutrient film technique, the propagation space is the first step in the growth process. The seeds receive a little moisture but no sunlight for several days. This simulates the effect of being buried in soil, causing the seeds to sprout, develop root structure and grow stems as they attempt to reach sunlight.
The seeds, still planted in the burlap, are then transferred to the main growing space, or shelving unit, with 24-hour timed lighting and systems that wet the plants with nutrient-rich and pH-balanced water. Plotnick propped the shelving unit up on an angle on one side so the water trickles down just enough to saturate the burlap and then run off into a drainage system. There, the greens bloom, and it's a quick turnaround — no more than three weeks before they can be cut with scissors and used fresh.
Currently, Temporis is growing Scarlet Frill mustard greens, beet greens, micro celery, micro scallions, sunflower sprouts, lemon balm, dark opal basil, micro fennel lettuces, Red Rambo radish greens, micro chervil and other mini greens. The main growing space is designed to grow the microgreens, which generally don't grow more than 3 inches tall.
For the deep water system next to the shelving unit, Plotnick uses big plastic tubs with holes cut out for larger plants like lettuce, tomatoes, berries, hops and even corn to sit in standing water. Two air pumps add oxygen like in a fish tank.
Plotnick is also working on growing corn sprouts, purple kohlrabi, greens like mizzen and shies, and even strawberries.
"For a 20-seat restaurant, we need something cheaper and fresher than ordering from other farms, and I can still get the full variety with our system," says Plotnick.
The fine-dining restaurant's 10-course tasting menu features the microgreens and other herbs grown downstairs.
As a decorative touch in the dining room and to show diners what they are eating, Plotnick worked with an architecture firm to build wooden tables with square cutouts in the center that can either be covered by a wooden lid or opened up to hold one of the microgreen squares.
At Temporis, custom-built tables feature a panel that can display microgreens grown on-site.