A Q&A with CodeX B.A.R owner Liu Vaine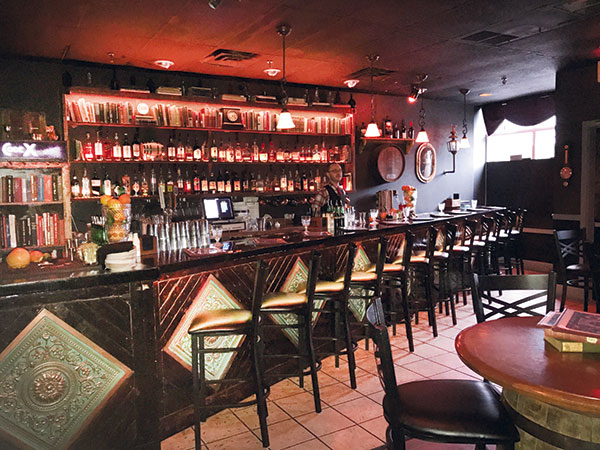 Photos courtesy of CodeX B.A.R.
NICHE: SPEAKEASY
CodeX B.A.R
Owner Liu Vaine converted an old pizza place into a speakeasy in Nashua, N.H. CodeX B.A.R. is about 3,300 square feet and seats 75 with a total capacity of 99. "There's nothing like it around here," says Vaine. "The only other speakeasy around is in Boston."
What was the inspiration behind opening the bar?
LV: I love the 1920s and was always reading books from the era. So I thought it would be great to bring a 1920s speakeasy with a literary theme to New Hampshire.
How do customers find the speakeasy?
LV: From the outside, it looks like a bookstore. Inside, there is a bookshelf; customers have to find the right book and give it a tug. That rings a bell, and the "librarian" lets them inside the bar.
How would you describe the decor?
LV: There are bookshelves all over the place — 200 cases of old books — and mural 
portraits of famous American authors on the walls in keeping with the bookstore idea. I searched out period furniture and memorabilia at estate sales and antique shops. There are lots of couches in the lounge area, which has an informal feel. Old whiskey barrels were turned into tables for the bar with high-backed antique barstools. We have some old cash registers from the period and three grandfather clocks, all set so they chime in unison. In one corner is an old wooden telephone booth, which has a replica phone inside, but customers use it as a cell-phone charging station.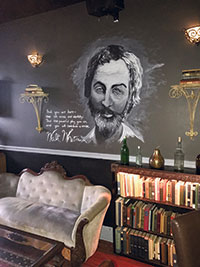 What is the vibe?
LV: Part of the experience is that customers feel like they have stepped back in time. The bartenders and waitstaff all dress and act in character from the 1920s. On Friday and Saturday nights, we have a ragtime piano player. And some customers show up in costume.
What's on the drinks list?
LV: The focus is craft cocktails, mostly the pre-Prohibition classics but also some of our own takes on cocktails. There is a wine list and local craft beer. We also have a full food menu.
What's next?
LV: I'm working now to open Chuck's BARbershop, a whiskey bar. The front will look like a 1920s barbershop, complete with barber chair where customers can get a haircut — or if they know the password, the barber-doorkeeper will let them in through a secret entrance.