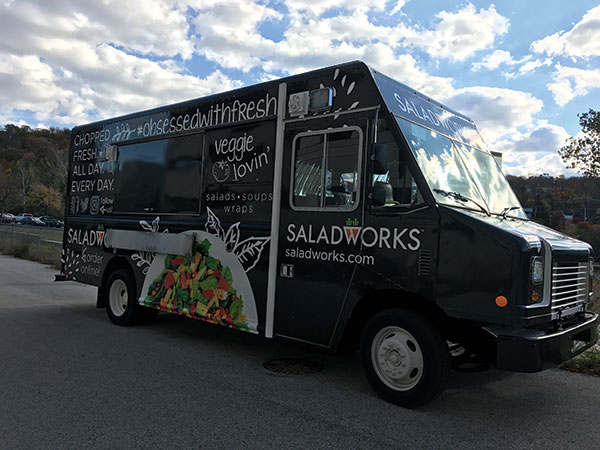 Saladworks sometimes employs a food truck during remodeling. Photo courtesy of Dominic Episcopo PhotographyThere's a rule of thumb in the restaurant industry that remodels should happen every seven years, but that's not always best. This raises the question, when is the right time for a remodel?
For chef-owner Gerry Klaskala, it was a no-brainer. Last June, he remodeled his Atlanta restaurant, Aria, in just seven days.
With such a short timeline, Klaskala planned his remodel down to a T, beginning with the timing. "We looked for a flat spot in our calendar before schools let out," he says. He closed at the end of May and took reservations for a week later.
Because of this, there was no room for delays. The contractor drew up a schedule, timed to what would happen every 30 minutes, every single day. "It was very orchestrated, and we had to select the right team that could work with that and spoke the language already," Klaskala explains.
The contractor, he says, "had people and materials lined up. Once you've made the commitment to shut down, you've turned off your cash flow, so you've got to get back to it quickly."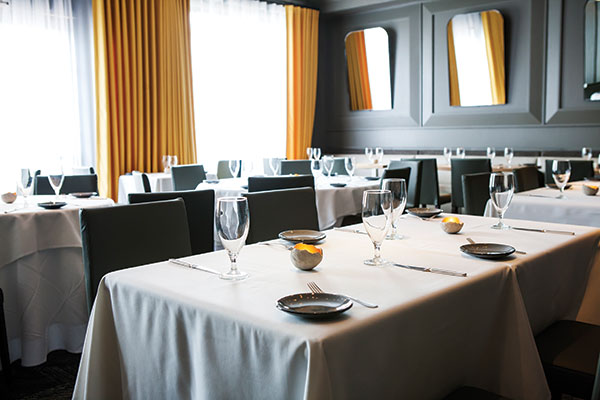 The remodeled Aria restaurant in Atlanta. Photo by LuAnne DeMeoKlaskala didn't take closing his restaurant down lightly. He began planning the remodel 12 months out, starting with finding the design firm. "Planning is the most important part of doing this on time and on budget," he says. "You can't over-plan, and you must have a clear vision of what you're trying to accomplish."
What's important is giving the architect, designer and contractor time to do their jobs to the best of their ability, Klaskala says, "so there are no surprises at the end. Nobody works well under pressure."
Start Planning Early
Chuck Taylor is a believer in thoroughly planning a major remodel the way Klaskala did.
The first step is engaging a designer and architect and maybe an engineer, which you should do about six months before you plan to have work start because you could be meeting with them for several months, explains the director of operations for Englewood Construction, Lemont, Ill.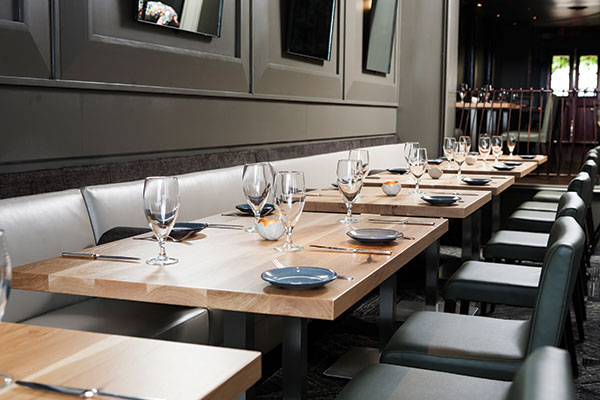 The remodeled Aria restaurant in Atlanta. Photo by LuAnne DeMeoThen, the architects might take six to eight weeks to create their work. Next comes submitting for permits (which usually happens at the same time as the contractors are bidding), and that can take two to six weeks. If you don't start this part of the process early enough, you might rush the people you hire, "and that's when things get missed," Taylor says.
Ideally, a restaurant starts its bidding process for a contractor in November or December "because there's a lull in the construction side and they're starting to plan their work for the coming year." If you wait until the spring, prices can escalate 10 to 20 percent, he says, "so get the contractors when they are quiet." And if you do end up pushing your work to the spring, try to lock in the "winter prices" with your contractor. Once you've approached contractors — typically three or four — it tends to take two to three weeks to receive bids.
Once you've chosen a contractor, materials, equipment, and even fixtures need to be ordered and delivery dates must be set so the timing goes as planned. However, even the most careful planning can't account for unforeseen challenges. "But it's always a good idea for contractors and restaurateurs to build in a what-if factor," Taylor recommends.
Do Pre-Closing Work
The transformation from gastropub to Italian trattoria took a month. Photo courtesy of Puccini GroupSaladworks is a fast-casual chain of 95 stores. Business booms during the warmer months. The chain is doing full renovations of 17 stores this year, with one already completed (in Southampton, Pa.) and two finished in 2016.
For these, the company determines the quietest month for each store's business and starts early since finding the right architect and designer can take 90 to 120 days, says CEO Patrick Sugrue. Once he has the design, he plans the remodel at least four months out. Those four months are needed for permitting, ordering materials and scheduling service providers, he says.
The current remodel requires stores be closed for 7 to 14 days, which is a challenge for Saladworks, which sees its most loyal customers up to 17 times a month. "If you're going to be closed for two weeks, you're giving them eight or so opportunities to go and try somewhere else," Sugrue says. "And your team members have time to find another job."
To protect against losses, the concept invested in a Saladworks branded food truck, which it puts outside renovating stores. This allows it to capture about 50 percent of its usual sales and keep some employees working. "It's also like a billboard to let people know there's something going on," Sugrue says.
Before any remodel takes place, Sugrue has franchisees do a countdown to closing and reopening. He makes sure the franchisee can get the food truck, makes sure they know where the nearest Saladworks is to refer customers to if they can't get the truck, and ensures they have a tight plan so they know the dates of everything, because it costs money to not be open. The more detailed the project management plan, the better, Sugrue says. "It sequences how everything moves ahead and how long each part of the process is going to be. It's very disciplined."
There are a few things operators can do pre- and post-renovation to lessen the time the restaurant is closed, Sugrue says. For example, for the most recent Saladworks renovation, he coordinated with the landlord to use an area to stage equipment before the space was ready. Other things that can be done in advance include removing ceiling tiles, relocating piping and painting. "This way, you can do the full shutdown for less time. There's a real premium on pre-work," he says.
Before it started its first remodel, Saladworks did its homework about remodeling. "The process started in late 2015. We did hundreds of store tours of competitive shops to see what consumers are looking for in healthy food restaurants," Sugrue explains. "Then, we took those insights and shared them with the design firm."
Fully closing your restaurant for a remodel is the way to go, Taylor believes, because if you remain open, it takes longer. This is because you need to reassemble a normal, sanitized, working restaurant at the end of every night's work. Cleaning a restaurant every night to the levels required by health departments can be both time-consuming and costly, he says, and these costs need to be factored in. "You also don't get the production out of workers at night that you do in the day, and night workers cost more. You don't get eight hours for eight hours' pay at night, so you are susceptible to losing production," he points out. "We feel remaining open doubles the construction schedule."
Work It Backward
Photo courtesy of Puccini Group Nine months ago, Puccini Group remodeled, Tratto, which is housed in The Marker, a boutique hotel in San Francisco. Timing was essential since hotels' business has huge ebbs and flows.
Puccini Group decided to operate it as it was (a gastropub) for the final quarter of 2015. That's typically the most profitable time of the year for any restaurant, and December and January are busy times for hotels.
In January 2016, the group's in-house designers began working on a new design. After careful planning, the restaurant closed for a month at the end of the winter of 2016. During this time, the venue was converted to an Italian trattoria.
The easiest way to figure out when you need to start the initial work on a remodel — finding designers, architects, etc. — is to select your opening day and work backward, says Rafe Gabel, vice president of restaurant operations for Puccini Group.
It's important, Gabel says, to "set milestone goals for the design team and accountable dates for the other teams to make sure everyone is aware of the expectations of others. The earlier this happens, the easier it is for sourcing products due to lead times."
Gabel admits he did cut things a little fine. "The pizza oven took weeks and weeks to arrive and got here just before we opened. The outside signage also took a long time; all paint colors here have to be vetted, and it's a very slow, bureaucratic process, and I wished I'd started that sooner and had knowledge of city planning."
After the Close Comes the Opening
The great thing about closing your restaurant for a short period of time while you remodel is obvious: You get to have a brand-new opening.
"Any time there is any construction, you're going to get curiosity," Taylor says. "We've seen restaurants who have had a lot of success by shutting down and asking customers to come and see the new look. They can make something of the big reveal, which can be very impactful."
Taylor suggests restaurants have fun with their reopening from day one. "Put up signs; put it on your social media. You can even do under-construction specials if you stay open," he says.
Klaskala's team hyped up the reopening of Aria. "Restaurants often announce this too far in advance, and then the clientele is confused. We took it right until the end, then fired up our PR and social media. We told everyone we were closing Monday and then reopening the following Monday, so we announced both at the same time," he says.
To build excitement about newly remodeled stores, Saladworks runs promotions for the day it reopens — the first 30 people get free salad for a year, for example, and it awards extra loyalty points. The company announces these promotions via social media and through its food truck.
Before opening Tratto, Puccini Group put renderings of the upcoming restaurant on the outside of the windows and had its PR firm strategically roll out information touting specials and promotions, mostly via social media.
Make as much of this as you can, says Taylor. "Build the suspense, count down the weeks and so on. Put up banners and signage, and get customers excited about what you're doing."