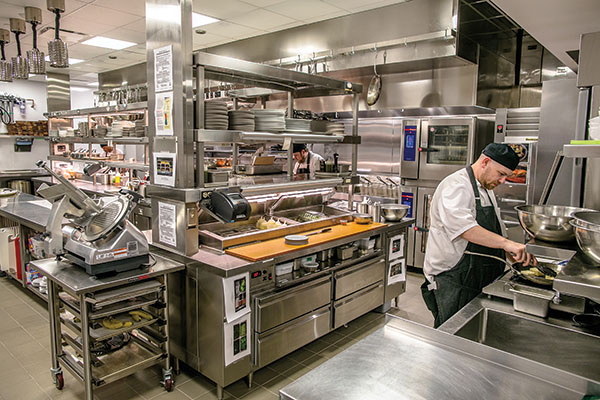 The importance of adequate mise en place for each station and proper aisle width to optimize chefs' efficiency is seen in Ricca Design Studio's design of the kitchen at Hotel Indigo in Atlanta. Photo courtesy of Ricca Design StudioPutting in the time up front makes for a cost-efficient project in the long run.
Using each square foot of a restaurant efficiently is a principle to remember throughout the design process, and that includes kitchens.
Trade-offs are part of every project to balance costs, productivity, aesthetics and sustainability. The adage to avoid being pennywise and pound foolish is worth remembering, particularly when it comes to kitchen design.
Paying attention to the following list early in the design process will provide strategic direction to a restaurant project, support communication among all team members and, in the long-term, bring better operational and cost efficiency. The process of considering such options may seem laborious, but it promises to reduce, if not eliminate, countless problems before and after the restaurant opens.
1. Define the concept.
What is the first impression customers should have when entering the restaurant? Will the space be bright and lively? Dark and cozy? Will the lighting change during the day and evening hours? Will the noise level be quiet and relaxing or louder and edgy? Will the aromas of cooking food greet guests?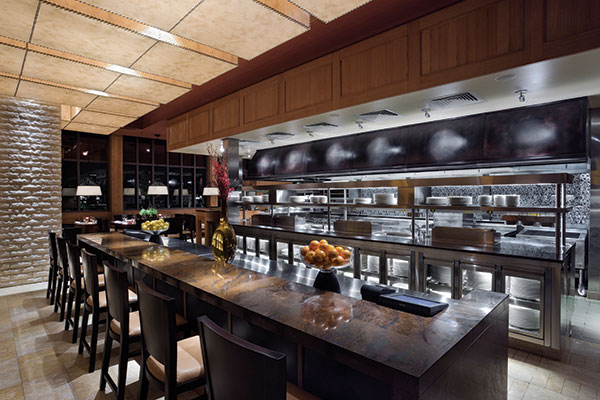 A long counter at Dean Fearing's restaurant in the Ritz-Carlton hotel in Dallas allows guests to watch culinary action in the kitchen designed by Ricca Design Studio. Photo courtesy of Ricca Design Studio"Start with a vision," says Thomas Ricca, FFCSI, founding executive partner, Ricca Design Studios in Denver. "Immediately put all your ideas on paper or into a computer document and continue to develop pro formas and put the information in writing throughout the design process. Since so many people are involved, you will want everyone to be on the same page about what's been discussed, decided and changed. Also, make sure everyone always has updated versions of blueprints and equipment selected. And keep the financial analysis up to date with every plan. Otherwise, the process is like the old game of gossip, and incorrect information gets passed along from person to person."
In addition, Ricca suggests making sure the information appears in a language and form various team members understand. For example, the language of architecture is very different than the language of engineering or culinary arts. Detailed hand drawings or 3-D depictions can help team members see every facet.
2. Select the menu.
Rippe Associates in Minneapolis. "The menu may change over time, but you must decide the overall theme and determine initially which menu items will be hot and which will be cold. How much will be made in-house from scratch? And will the menu change seasonally to incorporate locally sourced ingredients or to refresh the menu with new choices?""In the old days, we used to begin the kitchen design process by considering the flow from the loading dock to production to the customer. Now, it's just the opposite. We begin by deciding the menu concept," says Steve Carlson, FCSI, LEED AP, president,
3. Estimate the quantity of food produced daily.
After defining the menu concept, the project team must determine the quantity of each menu item necessary for the estimated customer count. "The type of menu and the quantity of food will inform decisions about how much room is needed for food storage or if food must be prepared at an off-site commissary and shipped in," Ricca says. "After all, some products travel well and some don't."
4. Determine the service style.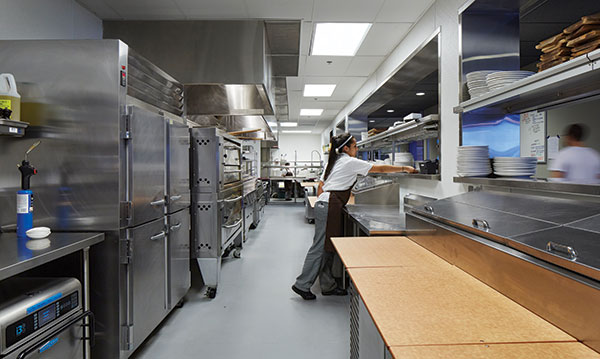 Shelf height at Steve Carlson's design at Surly Brewing Co. in Minneapolis allows a chef to see a colleague plate food. Photo courtesy of Corey Gaffer PhotographyWill the restaurant feature table service? Will customers order from a service counter? Will they select ingredients and watch while a chef cooks them? Will customers interact with culinary team members? The sooner the project team decides, the better because it will drive the size of each functional area and determine how much and which pieces of equipment the kitchen will need.
Moving back-of-the-house action to the front so customers can watch meal production continues to top the list of the most popular restaurant design trends.
The restaurant's service style will determine the size of the cooking space. Restaurants with table service allocate space differently than those with counter service. All styles must allow for good communication and supervision.
Assembly line layout allows
restaurants to serve large numbers of customers quickly. Many casual restaurants feature a variation of this style and allow customers to pick and choose ingredients as they walk along the line.
An island-style layout, which is open and encourages communication and close supervision, positions key pieces of equipment, such as grills, ranges, fryers and ovens, in one module at the center of the kitchen. Other sections sit on perimeter walls to create a circular flow.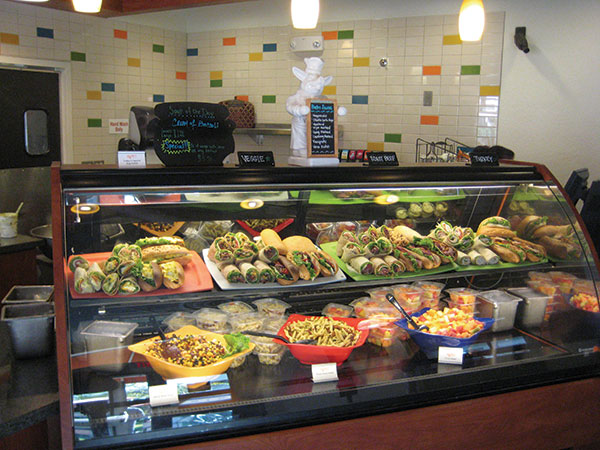 A colorful food display attracts customers and helps them quickly select menu items at UCSD's Goody's, designed by Tom Clarke. Photo courtesy of UC San Diego, Housing, Dining & HospitalityA zone-style layout divides the kitchen into sections that follow the order for flow from storage to final prep. A zone-style layout in an exhibition/display area might group salads and desserts across from a fryer area. "At the Hard Rock Café in Orlando, we took the cooking and plating time from 45 minutes to just 14 by rezoning so cooks have all they need at their fingertips to complete orders of fries and wings with hot sauces," says Thomas Galvin, FCSI, president, Galvin Design Group Inc. in Winter Garden, Fla. Before the rezoning, orders were lined up on the tables, food temperatures dropped and many dishes were returned because of cold food, all of which increased food cost."
Cooking suites can be hybrids of the island-style and zone-style layouts. "European cooking suites are very attractive and usually feature lighter-gauge equipment," Galvin says. "American cooking suites are usually heavier-gauge metal and may not be as attractive, but they last longer. Hybrid suites are popular because they have the look and functionality of a European suite and the durability of an American suite."
5. Select equipment and determine the space required for the equipment to function properly.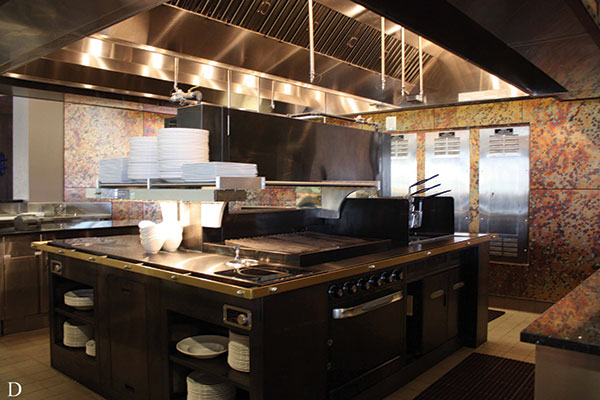 Customers at Deep Blu Seafood Grille in the Wyndham Orlando Resort in Bonnet Creek, Fla., can watch culinary action at a Spanish-themed Euro cooking island. Thomas Galvin's placement of refrigeration across from each cooking area enhances employee productivity and efficiency. Photo by Emily GalvinSelect each piece of kitchen equipment for its performance, versatility, quality, durability, size and cost. Service style also greatly influences equipment selection.
"We have a process in which we take every menu item and determine how it is purchased, prepared and how it gets to the guest," Ricca says. "For instance, if an operator is featuring fried chicken and says the operation will do 2,000 covers a day, we can determine how many fryers they will need. If an operator is building an express unit, the numbers will be cut back. There are some very specific production capacities we can calculate, but you also must consider the human factor. How many pieces of chicken can a team member cut and prepare in an hour?"
One of the most popular dining locations at University of California San Diego (UCSD) is Goody's Place and Market, which offers breakfast bowls and burritos, Baja salad bowls and other Mexican entrees. "The deli features a distinct variety of fresh artisan sandwiches and refreshing sides," says Tom Clarke, dining facilities manager. "When the restaurant became extremely popular, we replaced charbroilers for flat top griddles so the cooks could keep up with demand."
Ventilation needs also factor into the equipment selection and kitchen design. For example, equipment such as hearth ovens, rotisserie ovens, planchas, Mongolian grills and woks bring excitement to a display kitchen, yet they often require strong and often expensive ventilation. Many kitchens now feature induction cooktops and ventless fryers and grills to balance out the exhaust demands.
Kitchens must also include enough aisle space for team members to move and operate equipment efficiently. "À la carte cooking and traffic aisles should be separate," Carlson says. "In the back of the house, traffic aisles should be separate and perpendicular if possible so large carts can move easily.
6. Determine staffing requirements.
"It's one thing to determine theoretically how many people should be working in the kitchen and quite another to realistically appraise an operation and determine how many people are actually needed and how much space they require," Carlson says. "I think it's always preferable to have more space than too little space. Shelving is crucial and especially in tight spaces. The more overshelves you can put in, the better. Be careful to place undershelves high enough so whatever's resting on them won't get dirty from the floor."
On à la carte lines, Carlson says, position the pass-thru shelf low enough so the chef can see through it to see how their colleagues plate menu items.
7. Identify utility specifications and related space constraints.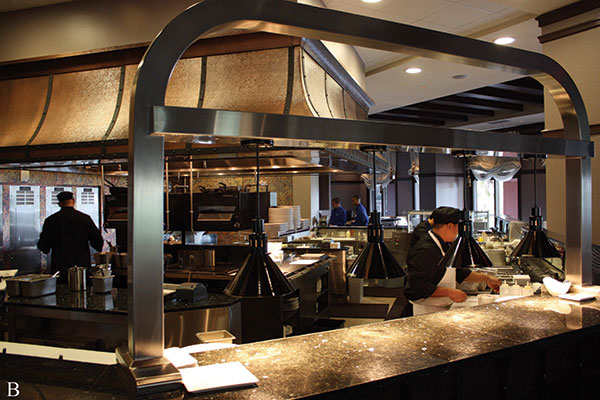 A dimmer switch allows team members at the Thomas Galvin-designed Deep Blu Seafood Grille to control the amount of heat emitted by the heat lamps at the order pickup area so the stone top will not crack. Photo by Emily GalvinFor each piece of equipment, determine utility specifications for electric and gas, water connection, water pressure and drain requirements. Also, determine hood depth requirements, mounting surfaces and building access. This will help identify how much space the kitchen will require.
Building in flexibility is crucial to support menu changes. "At one unit, we put in a spreader between the chargrill and a six-burner range that was used for landing products and seasoning meat," Galvin says. "The menu changed to feature quesadillas, so we pulled out the table and put in a griddle. That was possible because underneath the table we had a ½-inch water line capped off, a 20-volt outlet, a 208-volt outlet and a ¾-inch gas line."
Galvin also recommends dedicating one of the compartment sinks as a
produce sink to satisfy health department inspectors.
Support on a service line must include refrigerators and hot holding cabinets. Mobile equipment on both sides of an à la carte line allows for change-outs of equipment if the menu changes, according to Carlson, and it facilitates cleaning.
8. Don't be stingy with storage space.
"Your menu, including the beverages, will determine how much refrigerator, freezer and dry storage you need," Carlson says. "Ideally the traffic aisles from receiving to the storage areas should be separate from work aisles so deliveries don't interfere with prep."
Allocate space to hold cleaning and sanitation supplies to avoid contamination of food, equipment, utensils, dishes, and disposable cups and plastic cutlery. Storage rooms — refrigerated if possible — must be designated for trash. Position trash rooms so they remain separate from all incoming food and supplies to meet health codes.
The frequency of deliveries also determines how much storage space a restaurant requires. "Factor in the quantity of food and beverages needed for regular and holiday weekends because chances are, deliveries won't be available, or if they are, they will be very expensive," Carlson says.
Aisle space for mobile carts is also important inside walk-in coolers and freezers, especially for large operations. "It's great for a walk-in to be 9 feet across because this accommodates speed racks and is deeper than shelving. But a walk-in that is 11 feet wide often has wasted space in the middle. It's important to have a balance of shelving and racks," Carlson says.
Dunnage racks should be close to a door, and against a wall so whatever is stacked won't fall. "We tend to not wrap shelving around a corner because this becomes dead space that you can't access," Carlson says.
A question that always comes up is which way should the storage room doors swing open, Carlson says. "Doors should swing open to people for prep and cooking."
9. Maximize cold preparation space.
Ensuring that team members follow proper sanitation and safety standards for raw or precut vegetables and fruit requires that they must have ample tables and sinks.
To maximize prep space, Galvin recommends using three-compartment sinks with marine edges that rise high enough to hold in water and minimize spilling. "We can get additional prep space by placing wide cutting boards across," he says.
10. Designate space for hot bulk preparation.
Many restaurants designate at least some kitchen space for hot bulk preparation even if they have a hot cook line in the front of the kitchen for exhibition/display-style preparation. Larger operations divide the space just as they would in the display cooking areas into stations for grilling, frying and baking.
"On a cooking line we always want two 'escape routes' and good circulation," Carlson says. "There must be wide enough aisle space so no one gets stuck in the middle during busy prep times."
He is also getting more requests to add smokers. "Though a smoker that is only 30 inches by 30 inches holds 150 pounds of meat and doesn't take up much floor space, areas also must be designated for prep."
Drains must be installed for all equipment using water, including combi ovens, tilt kettles and tilt fry pans. "Equipment should also be as mobile as possible on the cooking side but also on the opposite side for maximum flexibility and easy cleaning," Carlson says.
Bonus: Make sustainable decisions.
The owner sets the vision for the restaurant's sustainable practices, from locally sourced food to energy-efficient equipment. "Restaurateurs must decide whether they are considering first costs or lifecycle costs," Ricca says. "For example, does it make sense to keep equipment costs fairly low and replace equipment after five years and lots of expense for maintenance, or should you invest in equipment that will last 20 years, which over the long term will be less expensive but requires more investment up front?"
In addition to considering using recycled and reclaimed wood, LED lights, automatic sensors that turn off equipment and lights when they aren't in use, and other sustainable materials, the project team must look at purchasing energy-efficient equipment such as fryers, combi ovens, pulpers and dish machines.
Further Considerations
Incorporate security measures.
Protection against theft of food, liquor and cash must be considered. This includes installing visible security cameras in and around areas such as cash rooms, liquor lockup rooms, and trash and receiving areas. Galvin suggests using a sheet rock ceiling in an office space. "Robbers can't lift this drop ceiling, so they will have to tear apart the sheet rock to enter this room," he says. "By the time they enter, the alarm will have gone off."
Install a backup air-conditioning unit to protect sound systems and POS systems.
Carefully select a POS system for ordering, paying for and picking up food. These systems might include self-service kiosks as well as online ordering and payment systems. This decision will affect the food storage, menu preparation and the space needed for order pickups.
Adhering to a set of kitchen design best practices will result in a successful restaurant project. Most important however, is taking the time to consider all the options and trade-offs well before purchasing equipment and beginning construction. 
---
Want more on kitchen design? Be sure to check out our Kitchen Design Best Practices Webcast.