Just a few years ago, no one had heard of pop-up restaurants, and now they're seemingly everywhere you turn. And there's good reason for that. Pop-up restaurants can be test runs, creative exercises and financially rewarding endeavors. More brick-and-mortar locations are dipping into the trend. One of the many challenges in hosting a pop-up restaurant is coming up with a design that looks permanent but is anything but — while doing so in a cost-effective and authentic way. Here, we spotlight three very different kinds of pop-ups with very different goals.
DW Bistro@MTK
Las Vegas
Photos courtesy of DW BistroThree pop-up restaurants held by DW Bistro proved so popular that the restaurant is opening a new permanent location where it previously hosted pop-ups.
In January 2016, organizers of one of the world's largest home and design shows, held in Las Vegas, asked DW Bistro to operate a temporary restaurant in a vacant restaurant space for six days.
Bryce Krausman, one of the bistro's owners, says he wanted the pop-up, DW Bistro@MKT, to continue the branding of the permanent restaurant — though he only had two weeks to get the place ready.
"We are known for being bright and colorful with oranges and whites and greens. So for the pop-ups, we decided to introduce those colors so there was recognition," Krausman says. To make this cost-effective, he asked a local printer to create two 20-foot-long vinyl wall hangings in orange and white stripes, one featuring DW's logo. DW decals were used on the windows and doors.
Krausman's team used artwork from a nearby showroom for the other walls, reminiscent of what hangs in DW Bistro.
For the first DW Bistro pop-up, Krausman rented all kitchen equipment but ensured the rental company would provide on-site assistance in case of any problems.
By the time of the second pop-up event, Krausman had learned a lot about kitchen equipment, he says. "We should have sought out better-quality rental equipment or bought then sold some equipment." So, he did that with the second and third pop-up efforts, "and it's helped us get the food out faster because it's so much more efficient. If you have equipment that breaks down in the middle of service, it's really bad."
Beyond equipment, Krausman also learned about crowd control. He added a grab-and-go case for guests who couldn't wait for a table to be ready and used a no-wait app to text people when they could be seated.
In the front of the house, Krausman altered how guests were directed in. Because there are two doors to the restaurant, people milled about a little uncertainly. By the second pop-up, the bistro had added a sign pointing to the hostess stand.
Come the third pop-up, DW has taken over an adjacent space, where guests can take their coffee or dessert so the concept can turn the restaurant's tables. It creates a kind of lounge with a window that looks into the restaurant space, creating synergy between the two areas. The two rooms aren't connected, but there are about 10 steps from one door to the other.
Over Proof at ABV
San Francisco
Photos by Wes RoweThis winter, the first of four planned pop-ups launched at the upstairs bar at ABV, a neighborhood bar in San Francisco's Mission District. A second will launch this spring, with a one-week gap in between the first's ending and the second's debut.
Over Proof is a reservation-only rotating pop-up, meant to be swapped out quarterly and designed to explore a single spirit. The spirit will be brought to life through cocktails and a complementary food menu — and a different interior design concept for each iteration.
The first pop-up, Flip-Flop, is a celebration of rum with a dinner held every Thursday and Friday at 7:30 between January 23 and April 20.
Flip-Flop features a bright interior with vintage rum and beach scene posters scattered across the ceiling, walls and windows, explains partner Todd Smith. The bar is covered with bamboo, and the barstools are spray-painted bright colors.
Through each iteration, the aesthetics of the space will change. A professional painter will come in between pop-ups to alter the color on the walls. The tabletops, graphics, and art and paneling around the bar will be swapped out as well.
The second version of Over Proof will transform it into a worldwide whiskey bar starting on May 1. The plan is to swap the bright colors for dark tones, including wood accents and mood lighting. "We want each pop-up to be completely different from the last," Smith says.
Smith will add dark wood paneling around the bar, the walls will be painted a dark color, and there will be library shelves with old books and old bottles added to the space. He's also considering a faux tin ceiling. "It'll be quite a shock for people when they see it," he says.
Smith and his team will also change out all the glassware, the menus and even the plants. Flip-Flop has featured palm-tree-style plants (borrowed from friends). However, he says he's careful not to buy too many things for each pop-up because of storage issues, though some of the glassware can be reused if the drinks rotate into the permanent menu downstairs.
Doing pop-ups is great for restaurant morale, Smith says. "There's something about challenging ourselves and challenging our staff — and who knows if we can even pull this off."
To get ideas, Smith and his partners spend time reading design websites, books and magazines. As for sourcing, the glassware comes from the restaurant's regular distributors; the posters are acquired online and in local stores and flea markets — some were simply printed from the Internet and enlarged at Kinko's.
The entire mezzanine, where the pop-ups are held, is closed off from the downstairs using drapes "to contain the sound, make it more intimate and also create some mystery," Smith says.
Verts Mediterranean Grill
Austin, Texas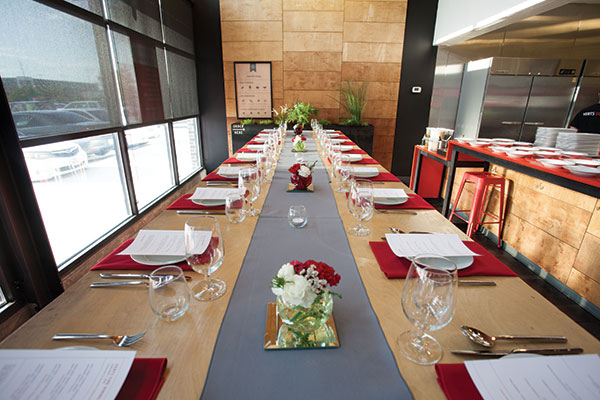 Photos courtesy of Verts Mediterranean GrillVerts Mediterranean Grill has just hosted several pop-up dinners. What's unusual is that the fast-casual chain has been throwing one-night-only fine-dining events inside its own stores.
The semiprivate pop-ups "are designed to introduce the capabilities of Verts' chefs and showcase our culinary prowess, so they're for mostly the media and influencers, though sometimes we extend an invitation to partners or colleagues in the community," says Public Relations Manager Sarah Pendley.
Verts hosts two types of pop-up events. Fine-dining pop-ups cater to up to 35 invited guests. Tasting pop-ups feature the restaurant's regular menu and are held to introduce a new unit to an area.
For the fine-dining events, a portion of the fast-casual restaurant is closed to the public and outfitted for the event. "We decorate to the nines with fine china, tablecloths, vases with flowers, votives, centerpieces, silverware," Pendley says. However, the restaurant's decor remains, she says, "since our restaurants are very minimalistic. And we try to keep the lighting somewhat bright because people like to take photos of our food." The events have a DJ and an Instagram table with a crisp white background, where guests can photograph their food.
For one event, Verts worked with Deep Ellum Brewing Co. in Dallas. "Our entire menu was paired with a Deep Ellum beer, and a brewery representative was at the event to describe why each beer complemented the flavors of our menu," Pendley explains. The design of the brewery incorporates graffiti and has pops of bright color, so Verts incorporated those elements into the unit's decor. They also covered the tables with black paper and gave guests chalk markers so they could create their own graffiti.
The tasting menu pop-ups serve hors d'oeuvres. Guests are also mostly bloggers, media and influencers, but the restaurant doesn't change its decor for these events since the goal is to introduce the brand and the food it regularly serves.
For Verts, the eventual goal is to run pop-ups as ticketed events to the general public, as well as holding them in other locations such as local farms or breweries. "But short term, it's about awareness and reaching influencers in our community and building a relationship with them," Pendley says.
During the pop-ups, the restaurants are cordoned off but remain open. During the pop-up, only to-go meals are offered at the restaurant counter. "We want to showcase what we serve on a regular basis, but we also want to display that we think about the food. We think about not just what's on our current menu, but we are always trying to push ourselves to finer cuisine," Pendley explains. "We truly want to blur the lines between fast casual and fine dining." +