When interior designers use the term "wallcoverings" as part of a restaurant design scheme, they generally refer to a type of highly durable commercial-grade wallpaper. These types of traditional wallcoverings have long been popular and practical design solutions, and in recent years they've also begun to play a role in sustainability.
Green wallThat's because many products available today are manufactured with environmentally friendly principles. This includes such examples as low-volatile organic compound (VOC) products like adhesives, recycled materials and products that offer 100 percent recyclability after use. VOCs are chemical-containing gasses common in paints, adhesives, wallpapers, furnishings and building materials that contribute significantly to indoor air pollution. Many products are also now 100 percent vinyl (PVC)-free.
Indeed, in addition to their obvious decorative functions, wallcoverings can contribute to better indoor air quality, controlled acoustics, durability and, when selected with sustainability in mind, can be a means to garner more LEED points. As the wallcovering industry continues to develop products that are "greener" than ever, industrial designers now have access to cutting-edge options that rival traditional ones in aesthetics and far surpass them in eco-friendliness. Examples of newer eco-friendly options out there include thin sheets of cork shavings, varying depths of wood veneers made from reclaimed and Forest Stewardship Council (FSC)-certified resources, and, perhaps greenest of all, revolutionary green living wall systems wherein hydroponic plants grow on customized screen structures attached to the wall.
Sustainability Objectives and Standards
To help make the selection of sustainable wallcoverings easier and more effective for designers and their clients, the Wallcoverings Association, a trade association supporting wallcoverings manufacturers, distributors and suppliers, developed a Standard NSF/ANSI 342, a first-of-its-kind third-party certification for sustainable wallcoverings. As such, the association provides an objective "seal of approval" for products that meet the standard, which measures the environmental impact of both the manufacturing and distribution of a product, from raw material extraction through to disposal. The certification levels are Platinum, Gold, Silver and Compliant, depending upon the level of a product's eco-friendliness. Certified products will bear the seal for quick buyer identification.
According to Michael Oshman, CEO and founder of the Green Restaurant Association (GRA), "the greenest choice for wallcoverings is to reuse existing materials." Oshman says that one of the sustainability goals for a restaurant design should be to eliminate waste. Using reclaimed wood as a wallcovering represents one way to avoid waste in the building process. Another nontraditional wallcovering Oshman recommends is the hydroponic plants living wall. "When looking at the sustainability of a restaurant's overall design, the living green wall adds so much to the health of the indoor air quality that it makes the restaurant's design have a positive impact on the environment. Most of the time, designers are evaluating how much of a negative effect materials have on the environment."
Popular Products
"We have seen a rapid growth in the popularity of digitally-customized wallcoverings," says Tom Davis, AIA, LEED AP of Davis Wince Architecture, Ltd. This process uses a variety of designs and branding images to decorate each custom-designed wallcovering. The substrates that suppliers can use to make digital prints include paper, vinyl, glass, wood, and even sheet metals. "There are a lot of restaurants, especially restaurant chains, that use digital wallcoverings as branding strategies," Davis continues. Many digital wallcoverings are now made from low-VOC recycled vinyl.
The Green Well Gastro Pub in Grand Rapids, Mich., part of the multiconcept Essence Restaurant Group, earned LEED Silver certification for its building and has LEED certification pending for its interior design. James Berg, a managing partner for The Green Well, says the company chose cork for its wallcoverings. Cork is a rapidly renewable resource, meaning that the material comes from plants that grow quickly, therefore the environmental impact from harvesting is minimal. For The Green Well, cork is ideal because of its acoustics, impact resistance, cleanliness, durability and esthetics. "Cork is an ingenious idea for wallcoverings in high traffic areas," says Berg.
Likely the most avant-garde material emerging on the market today is the green wall, also known as a living wall because plants grow within it. Hector Esrawe of Esrawe Studios is an industrial designer and an interior designer from Mexico City who has garnered a variety of international awards and recognition for his design work. Esrawe installed a green wall in the upscale Japanese restaurant Tori Tori in Mexico City. "The wall is a hydroponic growing system attached to a geotextile fabric that is attached to a structural system that spans the wall surface. As the plants grow, an even mist spreads all over the foliage to maintain the correct degree of humidity," says Esrawe.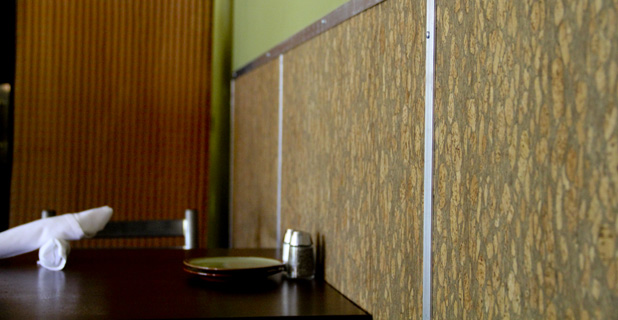 Green walls are both beautiful and important contributors to healthy indoor air quality. The plants go through photosynthesis and cleanse the air as they grow. Both Oshman and Davis also mention green walls for their sustainability and aesthetic qualities. "Green walls are actually the opposite of off-gassing in relation to their function within the build environment," says Oshman. Installing a green wall can actually push the sustainability factor for the restaurant far beyond the normal standards.
Natural woods, either salvaged or FSC-certified, can be another beautiful, eco-friendly source for wallcoverings. Oshman recommends salvaged woods and mentions the GRA, through its own certification process, awards points for salvaged wood wallcoverings. "The customer should be able to know from where the wood came and how it passed through hands ultimately to arrive at the restaurant," cautions Oshman. FSC-certified woods, regardless of the wood type, provide a guarantee that the wood was grown and harvested with environmentally responsible practices. Davis also mentions that wood paneling uses only a small fraction of the wood within a tree, making it another sustainable wood option.
As far as biodegradable wallcoverings, Oshman recommends natural fiber wallcoverings, such as the popular grass cloths. Made from rapidly renewable resources, natural fiber wallcoverings degrade naturally when removed from the wall and thrown away. In producing these wallcoverings, makers weave the fibers on to a paper substrate with either thin or thick strands and then dye them any of a variety of colors. These products also breathe well on the wall so as to not trap moisture from behind the covering. Like cork and wood, natural fiber wallcoverings add a warm and welcoming aesthetic to the restaurant.
Health Effects
"When possible, limit the amount of off-gassing to keep the indoor air quality clean and healthy," says Oshman. Many wallcoverings made from vinyl have a long off-gassing effect, which means they emit chemicals harmful to human respiratory health. For this reason, some restaurateurs shy away from PVC wallcovering materials. At the very least, when installing products that have off-gassing effects, the building should go through a two-week "flush-out" program recommended by the U.S. Green Building Council.
Davis cautions that, in addition to the wallcoverings themselves, some adhesives used to secure them to walls also have off-gassing properties. When researching wallcovering options, be sure to consider the adhesives and look for low-VOC products.
Wallcoverings also can either encourage or inhibit mold and mildew growth on the walls. While Davis avoids installing wallcoverings in restaurants located in particularly humid environments, he says there are certain measures that can help avoid mold and mildew growth. The first step is to evaluate the humidity levels for the restaurant, the wall's substrate, and then the type of wallcovering selected. The Wallcoverings Association has a guideline called Mold: Cause, Effect and Response located on its website that provides valuable information about mold and mildew, how to prevent it from forming and how to rid the building of it. Some breathable wallcoverings do not trap moisture. Controlling the humidity levels in the air with the HVAC system is another important key to maintaining healthy indoor air quality.
Recycling
Many traditional vinyl wallcovering companies now use recycled vinyl and welcome back used wallcoverings for use in manufacturing new items and for use in other building products, such as admixtures for concrete. While environmentally friendly, Oshman says, "Tearing off the wallcovering and sending it back to the company is not always something that can reasonably be done." He cautions restaurateurs to make sure they have realistic expectations about whether the used vinyl wallcovering will be sent back to the company for recycling before making the purchase.
"Sustainability means something different to everyone," Davis says. Honing his experience from working with a large number of restaurateurs, from chains to independents, he says the degree of intensity and the methods and materials chosen to make a restaurant sustainable is the direct result of the restaurant owners' vision for their business. For The Green Well, Berg describes their surefire recipe for success in sustainability, "We believe in this; we take it personally."
Non-Vinyl Wallcovering Options
String effects: This delicate option features a paper backing and strands of threads or other materials laminated on the top.
Natural textiles: Manufacturers can laminate the natural textiles on to either paper or acrylic. The strands come from natural fibers that are often derived from rapidly renewable resources.
Polyolefin/synthetic textiles: Still giving the same decorative effect as the string effects and the natural textiles, these wallcoverings use plastic synthetic fibers. More durable than other textiles these wallcoverings do not biodegrade and require recycling at the plant to achieve sustainability standards.
Heavyweight paper and saturated paper: Made of heavy-duty paper saturated with latex and decorated, this product has some of the same durable characteristics as vinyl and can be biodegradable.
Cork and cork veneer: Cork veneers and wallcoverings have a variegated texture with no definite pattern and design. They're typically made with shaved cork planks or blocks and laminated to a substrate that may or may not be colored.
Wood veneer: Many of these products are made with thin sheets of wood laminated to a fabric backing. These veneers offer a high-class, warm wood effect without using up many natural resources.
Green, living hydroponic plant walls: Each is custom designed and typically consists of a type of screen or grid attached to the wall with containers that hold the hydroponic plants in place. The wall benefits from natural sunlight and a regularly set misting designed specifically for each installation. The types of plants vary. This wall gives a space a fresh, filtered air quality.
Types of commercial vinyl wallcoverings
Paper backed vinyl/solid sheet vinyl (PBV): The substrate is paper and then covered in a sheet of vinyl with decorative patterns. This type of wallcovering is very durable and scrubbable.
Fabric backed vinyl (FBV): Likely the most durable wallcovering aside from rigid vinyl sheets, FBV has a fabric backing and a sheet of decorative vinyl attached. The depth of the fabric and the depth of the vinyl vary to accommodate a range of durability needs.