This casual-dining chain has rolled out a new design meant to appeal to families and Millennials.
Buffalo wings are practically synonymous with sports and with sports bars. This North Carolina-based wing chain, though, sees that as a weakness in the sector and has rolled out a new design to appeal to a broader audience.
East Coast Wings & Grill, a 36-unit operation that describes itself as a "better wing" concept, opened the first of these new stores last month in Harrisburg, N.C.
"We don't want to be an event-driven business," says Brett Larrabee, the chain's vice president of brand development. "We want to be a casual-dining restaurant that families can use or that people can go to for beers out. We don't want to step over that line of being a sports bar or pub."
The new design achieves this with a look that is at once industrial and warm.
Entering the store, customers are greeted with a color palette of warm grays and blues, as well as livelier reds and oranges. The first major design element they find is a custom metal piece. Sitting against a wall is a large compass with a metal 'E' in the middle, part of the company's new branding approach.
From there, guests can choose to sit either in the dining area or the bar.
According to Larrabee, the bar is designed to appeal to Millennials and anybody out on a date or with friends. The wall behind the bar area is backlit, providing a warm yet modern feel. The bar features an impressive display of 24 taps. These serve mostly craft beers, a major draw to the beer-savvy Millennial customers the chain wants to draw in. The operation drives home these offerings with wall decor, which emphasizes its commitment to craft beer. While the operation isn't sports-focused, the bar does have a handful of flat screen televisions.
The bar itself, meanwhile, is made with dark reclaimed woods. Flooring, meanwhile, is a vinyl composite tile, which has good durability and is significantly cheaper than hardwood or traditional tile.
The bar area has high-top tables and booths along with a large community table. This seating, says Larrabee, serves as a buffer between the bar and the dining area. It also allows the chain to better serve some of the larger parties that frequent the restaurant.
"If you were to have a birthday party or a large gathering of singles or couples, that would be a place where you would congregate. It could be a bar event type place where you could get drinks, appetizers and dinner. We really felt that a community table would help us with the casual gatherings that occur in our bar now," says Larrabee.
The adjacent dining area is designed to appeal to families and other customers who are eschew the bar experience. It's got slightly lower lighting than the bar and the focus is on music — not television — as part of the experience.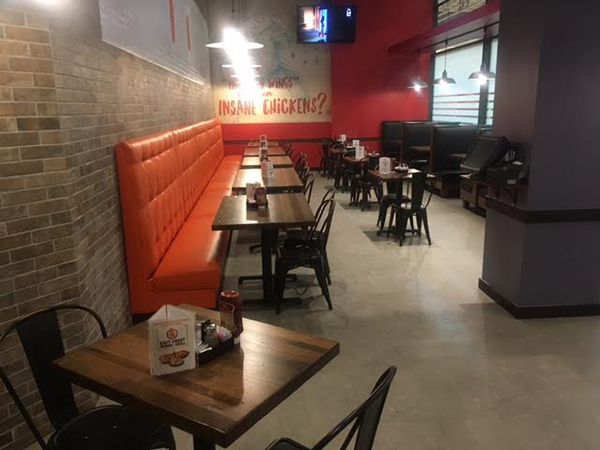 Seating includes upholstered high-top booths with room for six, as well as two and four-top tables. Some tables are partnered with a long orange banquette and can be pushed together to accommodate larger parties. Wall decor in the dining room still focuses on brand messages. Instead of emphasizing craft beer, though, these focus on food, such as the meatiness of the chain's wings or the breadth and intensity of the flavors.
These design elements, notably, can be placed on either drywall or brick walls. For brick, they're applied using paint and a stencil. On drywall, the messages come on vinyl sheets and are applied like wallpaper.
In addition to the dining and bar areas, the new design also has an outdoor patio. According to Larrabee, the chain doesn't see this as a third seating zone. Instead, it is an extension of the dining room. Tables and chairs match what's found in the interior, while some soft exterior seating is available for customers who want to enjoy pleasant weather while they sip a beer or wait for their table.
If allowed by local code, added Larrabee, this space will be heated/air conditioned and closed off either with a hard or soft vinyl enclosure. This would allow the patio to be used year-round.
Seating, in fact, is turning into a major question for East Coast Wings. Based on early sales, says Larrabee, the first redesigned store will be the top performer in the system. In future stores, maximizing seating without compromising customer experience will be a major design focus.
This success, he says, is directly tied to the hip-yet-warm environment created by the new design. Instead of being a sports bar designed for the sports bar crowd, it is meant to appeal to a broad group of people, now and in the future.
"You first and foremost have to have a restaurant that customers want to be in and want to come back to," Larrabee says. "In the past that looked and felt different...In order for us to succeed in the future, we have to be fresh and viable and considerate of what younger customers are looking for."
Photos courtesy of East Coast Wings + Grill.