The design brings Shoney's up to date with a contemporary, warm and inviting space that pays homage to the brand's heritage. The exterior features reclaimed wood, stone siding and a prominent backlit Shoney's logo. Some new and existing locations will have a large outdoor patio that can be enclosed by sliding and garage-style glass walls for multiseason use.
Interior rendering of the new prototype at Shoney's.
The interior will feature a full-service beverage bar highlighted by bright red tiles. A long community table lit by cast-iron chandeliers will host larger parties, and the dining room will be separated from the bar area by large curved booths.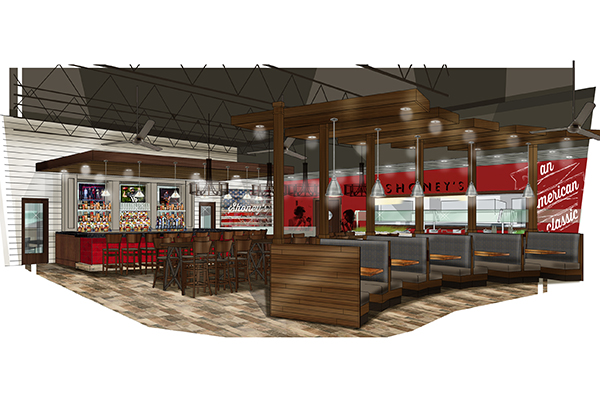 Interior rendering of the new Shoney's prototype.
The new design reflects the commitment of Shoney's chairman and CEO, David Davoudpour, to reinvigorate and revitalize the 70-year-old brand to remain relevant for today's evolving American dining landscape. Shoney's hopes to open 10 new locations in 2017 with the new restaurant design.