Check out these Brooklyn restaurants: Llama Inn, Reynard, Oleanders, French Louie and BKW by Brooklyn Winery.
Llama Inn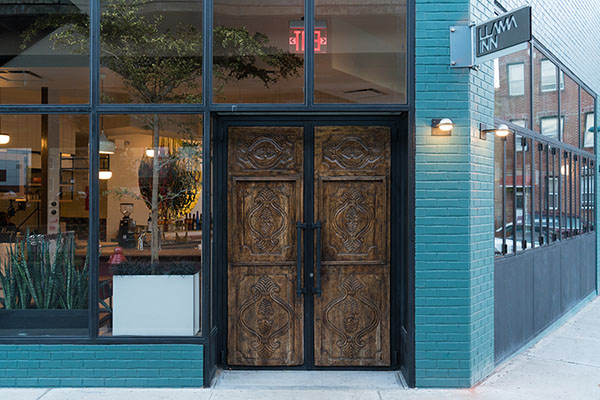 Opened in October 2015 by former Eleven Madison Park Chef Erik Ramirez, Llama Inn was inspired by the confluence of culinary, architectural and artistic influences brought to Peru over many centuries, according to lead designer Joseph Foglia of Joseph Foglia Designs. Two heavy doors with intricate woodworking details from Peru signal the somewhat hidden entrance.
Shaped like a triangle as a result of its location on a corner lot where two main streets meet, the lunch, brunch and dinner restaurant in the Williamsburg neighborhood offers seating for more than 70 between its main dining space and central bar on the ground floor and its roof deck lounge. An open kitchen at the back offers a peek of Ramirez at work with his creative twists on Peruvian classics. Builders had to construct the windows, floor and staircase from scratch in the originally raw place, which is now lit by vintage and custom installations over the bar.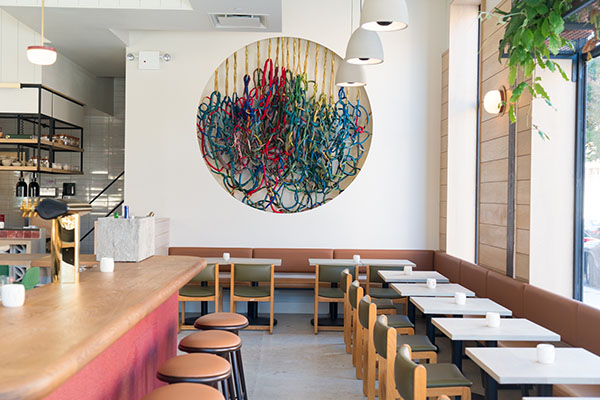 A mix of seating — from stools with countertops and cocktail tables to traditional two- and four-tops matched with vintage library seats salvaged from the Rochester library — adds to the eclectic space, as does a custom-built divider layered with periodicals and books.

Photos courtesy of Joseph Foglia Designs
Reynard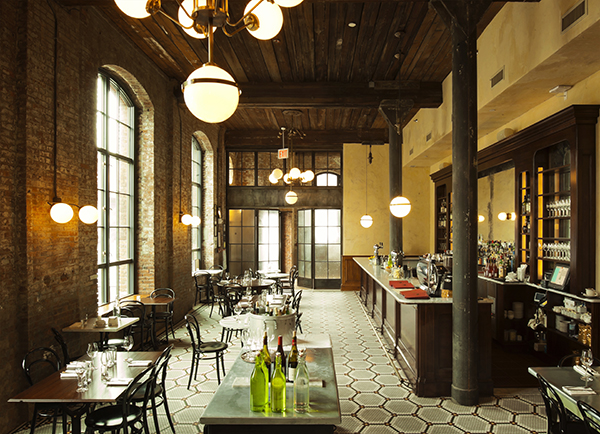 When Restaurateur Andrew Tarlow (Marlow & Sons, Diner, Roman's) opened this ground-floor restaurant at the 8-story, 70-room Wythe Hotel on the Williamsburg waterfront, he preserved many of the circa 1901 building's original features, like curved ceilings, pine beams, intricate masonry, arched windows and cast-iron columns that pay homage to its past as a place for coopers making drums, barrels and other objects out of wood. A wood-fired oven and grill serve as the focus of the open kitchen, where Chef Sean Rembold can be seen preparing market-driven American fare like wood-fired cod with cranberry beans, squid and matsutake mushrooms, or pork coppa with celery root, walnuts, brown butter and leeks, all paired with seasonal cocktails. The airy, minimalist space with a private dining alcove also features Spanish tile floors, exposed brick and otherwise bare walls, black bentwood chairs, and natural, cream colors throughout.
Upstairs, on the sixth floor, a bar and terrace offer views of Manhattan and Brooklyn.
Photos courtesy of Reynard, Photos by Matthew Williams
Oleanders
This dinner and popular brunch restaurant at the McCarren Hotel & Pool underwent a redesign, chef change and menu revamp last year. Designed by Heather Maloney at Definition:Design the restaurant's now helmed by Executive Chef Christopher Reid, who's become known for his bone marrow cheeseburger.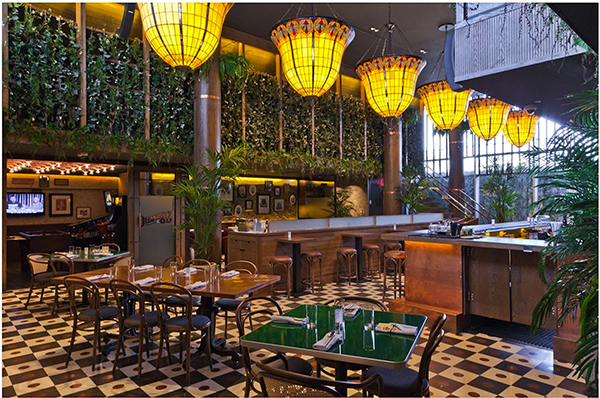 Oleanders features a newly installed, soaring accent wall — covered in the evergreen shrubs reflective of the restaurant's namesake. Ornate, Tiffany-style chandeliers hang over the central bar, which is flanked by classic bentwood chairs against a brown, beige and red checkerboard floor. The seating is a mix of 15 prime spots at the bar, group-friendly tables, counter seating for 12 in front of the open kitchen, and candlelit tables for two tucked into comfortable leather banquettes. A glass-enclosed private dining room with flat-screen TVs accommodates up to 20 for conferences or parties.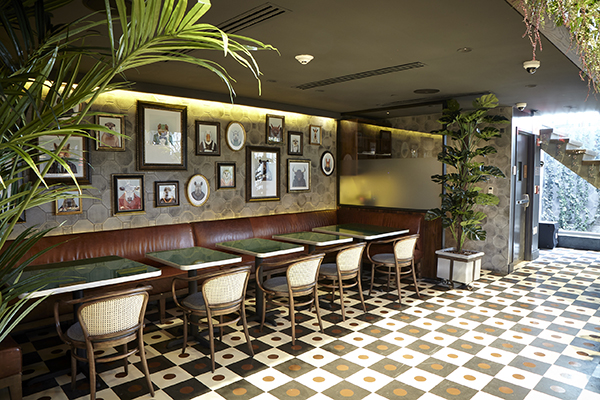 Framed photos of bears, cows and other animals in human clothing by Spanish photographer Yago Partal lend a kick of kitsch to the space. The new bar program by Beverage Manager Francis Verrall (Seamstress, The Gilroy and Bathtub Gin) complements the menu and showcases twists on American comfort food with an array of spirit-forward craft cocktails favoring seasonal ingredients and local distillers.
Photo courtesy of the McCarren Hotel & Pool
French Louie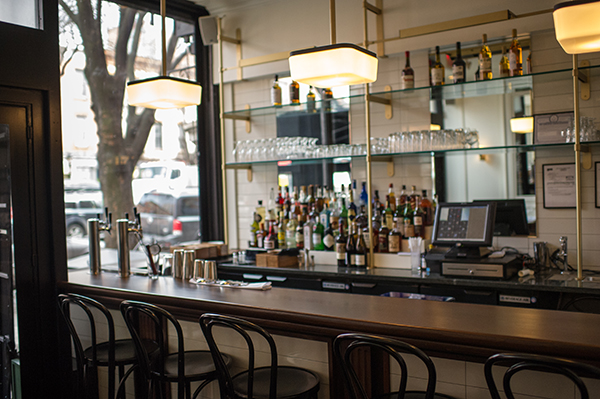 Opened in 2013, French Louie explores the design connections between North America and France via the Concorde jet and a 19th-century tale about Louis "French Louie" Seymour, a hermit and woodsman who split his time between New York's Adirondack Mountains and Quebec. "Spatially, our goal was to create a subtle nod to classic French design elements found in bistros and brasseries — with a twist," says Joseph Foglia of Joseph Foglia Designs.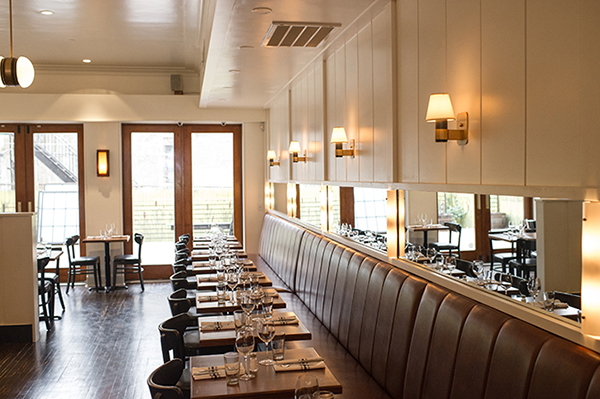 Along the front bar, classic bistro chairs offer counter-like dining, while custom brass light fixtures and shelving line the back bar. Dark wood details — including rustic floors and wainscoting made from refurbished pieces literally found on the side of the road — interplay with simple creams, white subway tile, vintage mirrors, and custom-made brass light fixtures and shelving. Even the menu blurs the lines between American and French cuisines with modern takes on a brasserie in the form of dishes like duck au poivre with stone fruit and lemon-sumac yogurt. Along one wall, a mural features illustration-like black trees and a little cottage meant to reflect the French-Canadian Louie's home in the woods, where he settled down after running away to America with the circus and from where he would emerge to paint the town red, as legend has it.
Photo courtesy of Joseph Foglia Designs
BKW by Brooklyn Winery
This latest outpost in Crown Heights introduces a reimagined take on the Brooklyn Winery experience, offering Brooklyn-made, premium and small batch wines; a full menu of refined, New American dishes crafted by Executive Chef Michael Gordon; and a completely new design that differs from the original location in Williamsburg.
Upon entering, guests are greeted by a long, narrow wooden bar. Planter boxes filled with ferns and other greenery help divide seating in the dining area, creating a semiprivate dining space for special occasions and groups.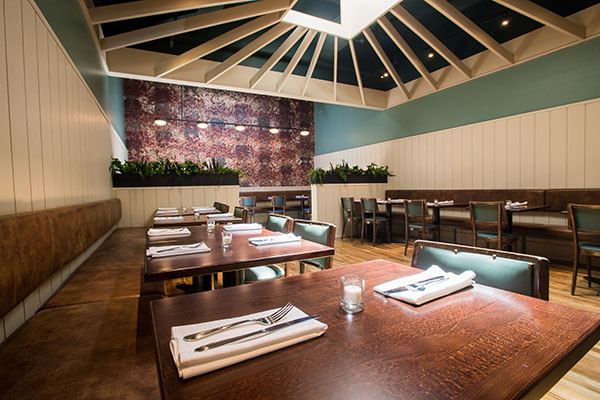 At BKW, Brooklyn Winery continues its tradition of making wine in the borough by operating a microwinery on-site that's open for tours. The restaurant is open for dinner, weekend brunch, happy hour and late-night drinks as well as private functions, and visitors can also take home bottles to go.

Photos courtesy of BKW