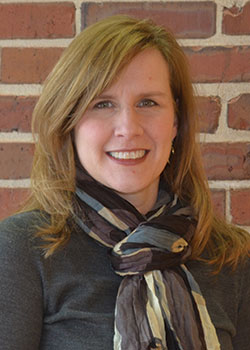 Mimi Williams, Associate Partner, starrdesign, www.starrdesignteam.comThe two dominant trends in retail development — lifestyle centers and mixed-use buildings —present unique challenges for restaurant designers.
Lifestyle centers attempt to recreate the village green or Main Street format. Mixed-use buildings tend to have restaurants and retail located at the street level and residential or office space located in the stories above. Having a prime urban location often means a higher volume of guests and increased sales, but these two interpretations of New Urbanism also challenge the core tenets of good restaurant design and present numerous challenges to designers and operators.
There are several elements to consider up-front when designing restaurants to fit in these developments.
Intentionally design the customer journey. While true urbanism developed naturally, lifestyle centers replicate the experience in a contrived manner. In true urban environments, guests park in the back of stores and walk through streets or alleys to get to the front door. This was part of the charm. Now, lifestyle centers often utilize large internal parking areas, while storefronts still face the street. This leaves designers with a conundrum. Where do you place the entrance: facing the street or the parking area?
One solution is to create two front doors. This allows people to see the storefront from the road or center plaza while being able to enter from the parking lot. It's not without its drawbacks, however. With two ways for guests to arrive in the space, you now have to create a common circulation path and control multiple customer journeys. By connecting the rear entrance to the front entrance, circulation can take up a significant amount of space. Further complicating matters, in many cases, guests rarely use the door facing the street. In some instances, it may even make sense to have a third door for the back of the house to create a designated area to bring in deliveries and take out trash.
Additionally, it's important to look at the customer's path from the parking lot to the entrance. Depending on the location and accessibility of parking, it may be necessary to build a passageway through a multistory space so guests don't have to walk around the building. If this isn't possible, another option is to negotiate valet parking with the landlord.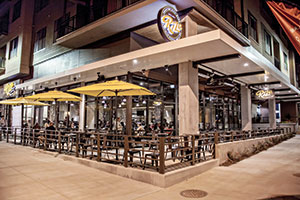 Rize Artisan Pizza and Salads in Atlanta features a mixed-use concrete podium construction with wood-framed residential units above. Photo courtesy of Ed Wolkis, Architectural PhotographyThere are a number of solutions you can use to address these concerns. No matter what you decide, it's important to make sure you're thinking about the customer journey and intentionally addressing it from the start.
Signage. In many instances, a shell building's architects don't plan for extensive signage. The front is often entirely composed of glass and a canopy. If the restaurant branding doesn't lend itself to a canopy, you may need to actually create a surface to place a mounted sign.
In lifestyle centers, if you decide to only build one front door that faces the parking area, you may consider using vinyl window graphics on the storefront that faces the street. This will help to mask the back of house, but films with graphics will typically count toward your limited signage requirements. Finally, it is important to note that window films will void the warranty on newly installed windows. Weigh the pros and cons of each before making a decision.
Additional construction costs. There are often many unexpected costs for restaurant owners going into mixed-use buildings. Since these developments have multiple stories and use varies by floor, each time the floors change from one use to another, construction and fire safety regulations become more stringent. Therefore, to protect the residents living above, a high-fire-rated assembly is needed between levels that change use. This impacts two factors in restaurant design: floor drains and exhaust.
Tupelo Honey Cafe in Arlington, Va., sits above a parking garage and below residential units. Photo by Rey LopoezThe shell architect is responsible for designing the different levels. However, in cases where parking areas are below the space, the restaurant's owner is generally responsible for installing kitchen drains in those floors. It will take extra time, money and expertise to build all the drains in these high-fire-rated floors. In some cases, it may be necessary to X-ray the material to determine where you can't drill, and this makes the entire process costly. Additionally, adequate clearance in parking levels below restaurant spaces will be required to run plumbing lines at proper slopes for drainage while still maintaining minimum vehicle clearances.
Kitchen exhaust is another factor that the shell architect often doesn't consider. Smoke filled with grease can be an enormous fire hazard if not properly handled. Part of the puzzle is getting the necessary equipment and exhaust through the residential areas in rated shafts and out to the roof. Often, there isn't enough room to take the exhaust through the multiple stories above, and this can become an additional cost for the restaurant owner during construction. Retrofitting existing shafts with grease ducts can also become an expensive issue during construction.
Retail developers understand that restaurants are ideal additions to their commercial spaces. However, many don't understand the design implications and requirements of restaurant spaces. Restaurateurs need to be aware of the differences and account for higher costs when looking at these sites.