Masaharu Morimoto, famed Japanese chef and star of Iron Chef and Iron Chef America, opened Morimoto Las Vegas in The District at MGM Grand. It's the chef's first restaurant in Las Vegas.
Using the phrase "Japan Gallery" as inspiration, the restaurant's designer, Yasumichi Morita, president and representative director of GLAMOROUS co.,ltd., says he set about creating a "landscape which suits Morimoto-ism" by using monochrome photographs he took himself to create a modern, chic dining environment.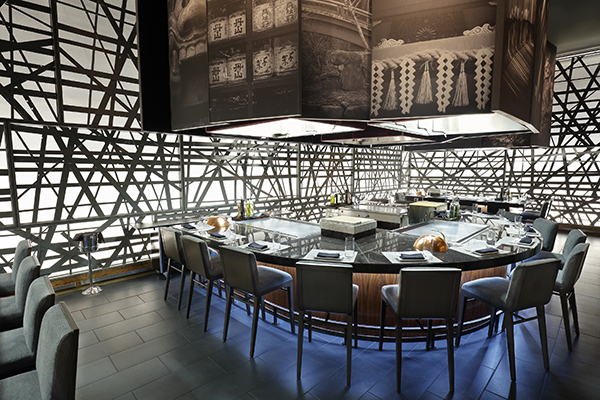 Morimoto Las Vegas features the chef's first foray into Teppan tables and service.
The restaurant offers three distinct dining experiences, in addition to a lounge: a sushi bar; a main dining room; and an area for Teppan tables, which feature an iron griddle for preparing menu items in front of guests. Morimoto Las Vegas is the first restaurant by the famous chef to offer an iron griddle menu.
Nods to Japanese art and culture are everywhere. The lounge features a life-sized bust of Morimoto created from red and white ropes crafted by Brazilian sculpter Mozart Guerra.
The main dining room features a glass-enclosed carving station crowned by Japanese lamps.
A small glass-enclosed room serves double duty: it separates the main dining room from the Teppan tables and serves as a carving station to showcase a variety of high-end cuts of meat, such as Japanese A-5 Waygu (we recently featured the trend of moving displays of meat to the front of house here and the feature is already proving Instagramable for the restaurant). "The pendants over the carving station are lamps which you usually see only in temples in Japan," says Morita.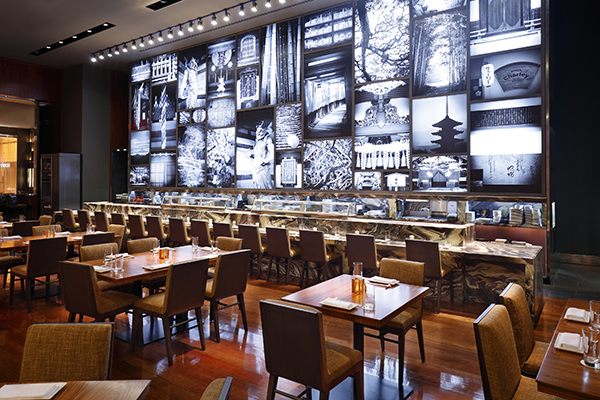 The restaurant's designer, Yasumichi Morita of GLAMOROUS co.,ltd., took the photos above the sushi bar.
A visual mosaic showcasing traditional Japanese symbols towers behind the restaurant's sushi bar. "I tried to create the experience of contrasting silence and action. Morimoto's exciting cuisine and performance shall be actions while the landscape of Kyoto, the ancient city, and Zen shall be silent," says Morita. "I hope [patrons] will enjoy the contrasting combination. I also hope [they] will enjoy Japanese taste not only through the gustation but also through vision sense. For that, I tried not to use various colors and materials so that the space will be timeless, not busy."
Photos courtesy of MGM Resorts International.