Time for a little retail therapy? For many restaurants, adding retail elements to their operations has become a ticket to survival over the past year and a half, accelerating an existing stretch in many pockets of the industry to create new revenue streams.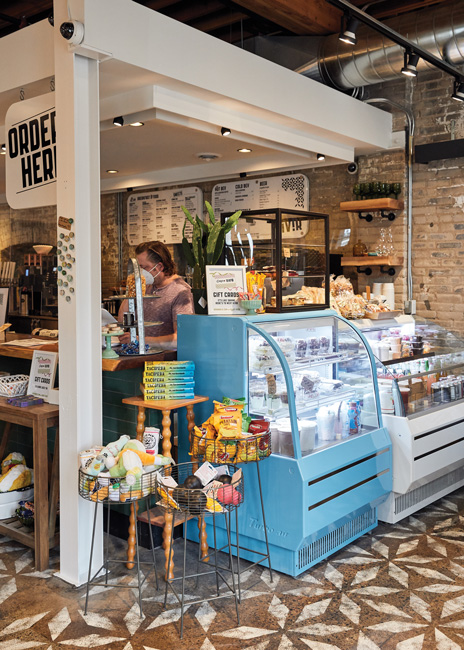 At Vivir Mexican Café, Market & Bakery a refrigerated grab-and-go case is custom-wrapped in cheery blue. It's set just before the new cafe's ordering counter and dine-in area, now fitted with high-top communal tables. Images courtesy of Wing TaVeterans of the shop-and-dine genre have long made traditional retail a big part of their brand experiences. But newer, nontraditional approaches to retail by restaurants are flourishing as well. On-site butcher cases, packaged fresh pasta and other grocerant variations; packaged cook-at-home meal kits and prep kits for online cooking classes; canned signature cocktails; restaurant-branded packaged goods sold through grocery partners; new market-cafe concepts; restaurant tableware, furnishings and accessories offered for sale — it's all happening now, both on-site and online.
A Silver Lining Playbook
Last summer's forced closures gave Cory Mosier, owner of five Café Gratitude and two Gracias Madre restaurants in Southern California, time to cook up new ideas for how to come out of the pandemic stronger. Areas in his restaurants were already fitted with shelving for merchandising hats, t-shirts, packaged granola, coffee, water bottles and other items, so he expanded his efforts to e-commerce.
"Early in the pandemic I recognized that everything was moving online," Mosier says. "We'd been seeing that trend anyway with the growth of third-party delivery, so while we were closed we swapped out all of our POS machines, rebuilt our website and switched to a technology platform that is much more e-commerce oriented."
When the restaurants reopened last October, Café Gratitude and Gracias Madre introduced new retail pushes focused largely on fun, one-offs that Mosier says have helped him to realize the potential to create stronger nontraditional retail revenue streams.
Café Gratitude has found retail success during the pandemic with fun, limited-time offers — sold online and in-store — such as holiday-themed cookie kits and chocolate boxes. Image courtesy of Talia Dinwiddie"I started with Halloween cookie kits designed to be something fun for families who couldn't go trick-or-treating because of COVID. They included pre-baked cookies and frostings that were organic, vegan, low-sugar and all-natural. They were a huge hit, and we had people ordering them from all over the country. We followed up with holiday-themed cookie kits and boxes of chocolates."
The company soon added Café Gratitude subscription meal kit deliveries, enabling customers to have breakfast, lunch and dinner components delivered each evening for the next day. "During January and February, our drivers went out daily in every market where we have restaurants," Mosier says. "We also leveraged third-party delivery app networks to help sell it. People would pay online through our website just like any online shopping experience — add to cart and check out. We generated about $100,000 in six weeks from those meal kits, which we're now spinning off into a separate business under the Café Gratitude banner."
At Gracias Madre, Mosier says targeted LTOs that keep things fun and interesting have been successful. One example: For Cinco de Mayo, the restaurants offered party kits with ingredients for make-your-own tacos, guacamole, tortilla chips, Mexican street corn and house margaritas, which Mosier had canned and sold in packs of four. His team even curated a Spotify music playlist to include in the kit. Customers placed advance orders through the website and chose a pick-up time.
That last component — the ability to order online — has been key, he says. "What I've noticed with retail is that any time I try to sell something by asking people to come in, order it and take it out, I have much less response than if they can order online, pick it up or have it delivered without having to talk to anyone. Whatever it is, retail or regular menu, it just sells better. When we redid the website, I put a lot of focus on great photography, a clean layout and a very easy checkout experience — all the things that are traditionally e-commerce focus points but that often aren't in the restaurant vernacular. We've since seen our sales grow and, even though our dining rooms have opened back up, more and more of our revenue is coming from online."
Mosier emphasizes, however, that his forays into retail and e-commerce aren't designed to replace traditional dine-in restaurant volume. Rather, they're built to support and enhance his brands.
"I focus on Café Gratitude and Gracias Madre as brands, not just as restaurants," he notes. "I'm always trying to think of products I can sell that will get my brands into people's homes, even if they don't live in an area where we have a restaurant nearby. Before COVID, we'd sell a few retail things online, but now it's evergreen and we always have something new. It's a been a silver lining."
To handle growing retail sales, Mosier consolidated packaging and shipping at his largest Café Gratitude location. He reevaluated packaging, both for regular menu items and retail items, sourcing appropriate box sizes and having them printed with brand colors and logos. New shipping software helps manage tax rates by location, and a new label printer produces labels. FedEx or UPS drivers stop by every afternoon for pick-ups. "We've been figuring all this out as we go," Mosier adds, "but it's been fun and we've seen that there's definitely a market for what we're doing."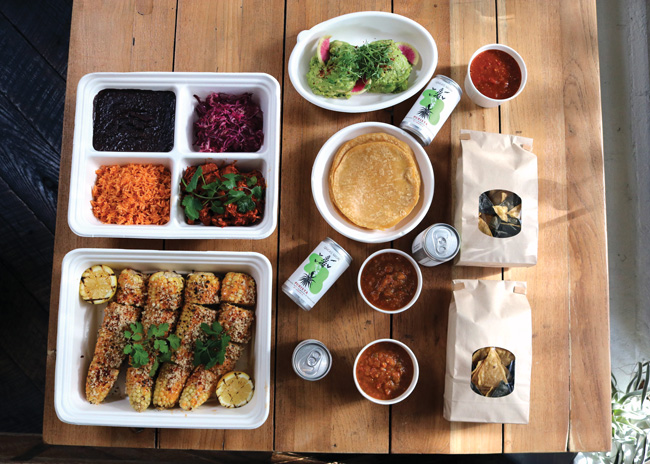 For Cinco de Mayo, Gracias Madre sold themed, order-ahead kits.
Rethink Space Utilization
As restaurants open back up, rethinking concepts and space utilization with an eye to adding on-site retail elements can be a good use of square footage in a market in which labor is tight and consumer habits have shifted. Tanya Spaulding, principal at Minneapolis-based design firm Shea Inc., says interest among clients in developing hybrid marketplace-type elements is growing.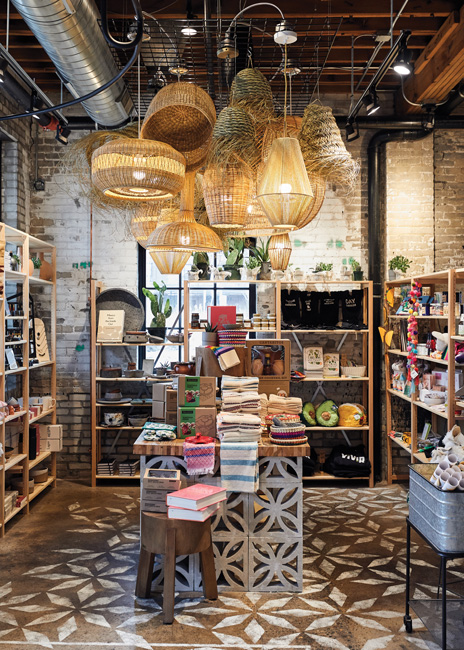 Unique design touches in Vivir's Market area, positioned near the entry, include a custom basket light fixture, natural wood shelving, painted concrete floors and a centerpiece display table made from breezeblocks and boxcar wood."Over the past year or so, we've done quite a bit of work helping restaurant operators redesign their traditional dine-in spaces into market-cafes, adding food and nonfood retail elements," Spaulding says. "Others, particularly during COVID and perhaps going forward, have tapped into selling retail-style meal kits, online cooking class prep kits and things like that, which let customers order ahead and pick up at the restaurant. In these cases, they're adding or redesigning spaces within their restaurants to serve as pickup points, and many of the same principles apply."
While opportunities around retail in restaurants are growing, getting it right from both a brand and design standpoint means taking an integrated approach. Odds of success with retail, Spaulding says, drop sharply if the effort appears to be an afterthought or a temporary survival tactic. Whether online or on-site, retail elements must be strategically designed to enhance and extend the brand experience.
When Jami Olson and Chef Jose Alarcon's Popol Vuh, a dinner-only Mexican fine-dining restaurant in Minneapolis, fell victim to COVID-induced closures and capacity limits, the duo tapped Shea Inc. to redesign the space and help launch a new concept better suited to current market conditions. Reopened in late November 2020 as Vivir Mexican Café, Market & Bakery, the operation offers an entirely new guest experience, one that weaves together casual, counter-style foodservice and vibrant, brand-enhancing retail.
Vivir's market carries everything from authentic molcajetes and other traditional Mexican cookware, to jewelry and gifts made by Mexican and local artisans. Promising a selection that's "always fresh, always fun," the area at any time might also include cards, stuffed avocado toys, taco wrapping paper, Frida Kahlo books, cookbooks, lotions and Mexican blankets. Along one wall, shelves display grocery items, Mexican snacks, candies, hot sauces and wines. Curated specialty gift sets are available in-store and online.
Unique design touches include a basket light fixture that draws attention and adds warmth to the market, painted concrete floors that tie the market area in with the brand, and a centerpiece display table made from concrete breezeblocks and boxcar wood. A refrigerated grab-and-go case is custom-wrapped in cheery blue. It's set just before the new cafe's ordering counter and dine-in area, which is now fitted with hightop communal tables.
"At its heart, Vivir is still a food operation showcasing creative and authentic Mexican cuisine, but the owners wanted to shift to a fast-casual environment and build add-on sales with specialty bakery and fun impulse items, gifts and ingredients that support the brand," Spaulding says. "The new concept checks all of those boxes."
In making a shift from full-service dining to hybrid foodservice-retail, Shea's team counsels clients to carefully evaluate the business case for doing so. "Consider your lease terms against revenue projections to see if the approach makes sense," she says. "What will your hours be? When will you be paying people to be there? When are you going to have the most opportunity for success based on traffic? Pencil out all of that out on paper to decide if it's a wise use of square footage. Also, think carefully about what you'll sell. A lot of operators are incorporating non-food, or food-adjacent items such as cookbooks, oils and spices. How much of that can you realistically expect to sell, especially if it's gift-focused?"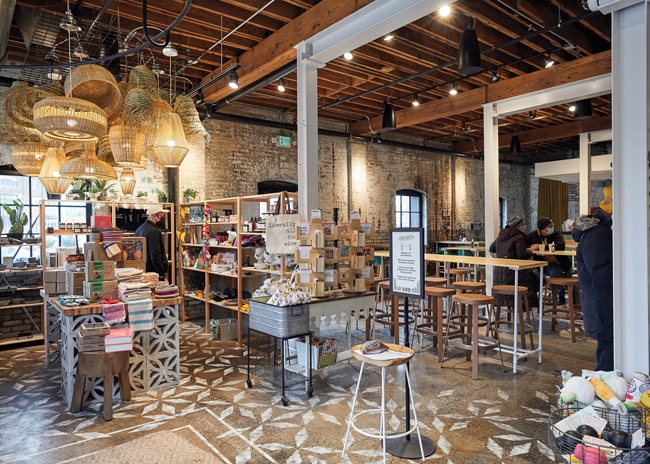 Shea redesigned a former Mexican fine-dining restaurant into Vivir Mexican Café, Market & Bakery, weaving together casual, counter-style foodservice and vibrant, brand-enhancing retail.
Mosier adds that figuring out the right retail product mix can take some time, trial and error. At Café Gratitude, for example, he once added organic skincare products. They fit the all-vegan and organic brand's mission and values but ultimately took it too far afield in other ways. "They sold ok, but it was tough to keep up with training and educating the staff on them," Mosier says. "And it was also another vendor that we had to order from. You have to consider not just the products you might want to sell, but also how willing you are to deal with those types of extra details while also operating your restaurant."
Start Small, Merchandise Big
When incorporating retail, Spaulding recommends starting small and allowing time to learn what sells and when. Doing so prevents dedicating too much square footage to potentially slow-moving items. It's also easier to practice effective merchandising in smaller spaces.
"What you don't want is for the retail area to look sparse or untended because you've over-committed," she says. "You have to make sure the shelves are always full and the products look great, or it feels like an afterthought. Keep it tight and focused — especially now, because we don't yet know what the long-term shifts in consumer behavior may be coming out of the pandemic. It's much easier and better for the brand to expand a strong retail element later than to shrink it because you tried to do too much too soon."
With retail, of course, merchandising is everything, and it's a skill restaurateurs headed down this path need to acquire or to outsource, adds Laura Loreman, interior designer and senior associate at Gensler in Houston. She echoes Spaulding's advice that, whether pickup area or on-site display, these elements should be seamlessly and professionally integrated with a restaurant's aesthetics and branding.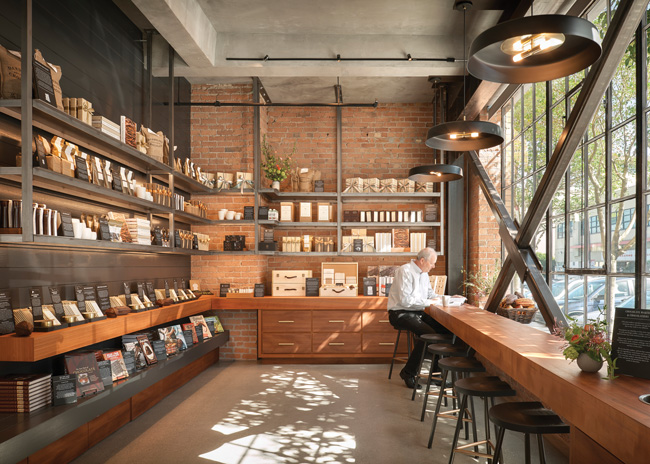 And old industrial warehouse in San Francisco is the new home for Dandelion Chocolate Factory, a Gensler-designed space that's part production facility, cafe and retail shop. Its integrated design enables comfortable lingering over pastries and espresso while shopping. Image courtesy of Gensler/Ryan Gobuty
"Most products being sold as retail at restaurants are fairly small, so you don't need a lot of space to do it well," Loreman notes. "There are a number of ways to get clever with it, depending on the aesthetics of the restaurant, but visual merchandising and space planning are important considerations. That applies whether you're doing a full market-style retail area or a small custom shelving display near or even integrated into the host stand."
Creating optimum flow for on-site retail means strategically placing such elements in areas that are easily seen and accessed by customers dining in as well as those who might stop in for a quick purchase or meal kit pickup. "Think about point of entry and how someone is traveling through the space," Loreman suggests. "Retail needs to be upfront, highly visible and merchandised at eye level. You don't want customers to have to navigate all the way through the restaurant or ask for help to reach items they're interested in. If there's a way to make the entry area more generous to accommodate retail, that's ideal. It's easy for the quick in-and-out customers to use, and it's also likely to spur impulse sales to dine-in guests who may be waiting for a table or browsing around on their way out. For retail to really be a success, operators need to appeal to both groups."