A former food truck opens its fourth location with an ambitious adaptive reuse project.
For several years, a closed Amoco gas station sat empty at the edge of the Princeton Shopping Center, one of the oldest in
New Jersey. The longer the gas station remained vacant, the more of an eyesore it became to neighbors, who pushed for it to be torn down.
"It was in need of a refresh, but looking at the bones of it, it was a beautiful modern structure," says Joshua Zinder, principal of Princeton-based Joshua Zinder Architecture + Design, who saw the building's adaptive reuse potential. He pitched the idea to the owner of the shopping center but they decline. 
It wasn't until Zinder proposed the idea of converting the gas station into a restaurant to Tom Grim and Stalin Bedon, co-owners of Nomad Pizza, and EDENS, the shopping center's current owner and developer, that the unused space was given a new purpose as the home for Nomad's fourth pizzeria. 
"We discussed how they could take advantage of the gas station as a food venue," says Zinder, who also renovated the exterior of McCaffrey's Food Market, the shopping center's anchor store. "They wanted to bring a warmer feel to the property, something that still connected with the modernist roots of the structure but at the same time also spoke to the community today and the types of tenants they wanted in the building."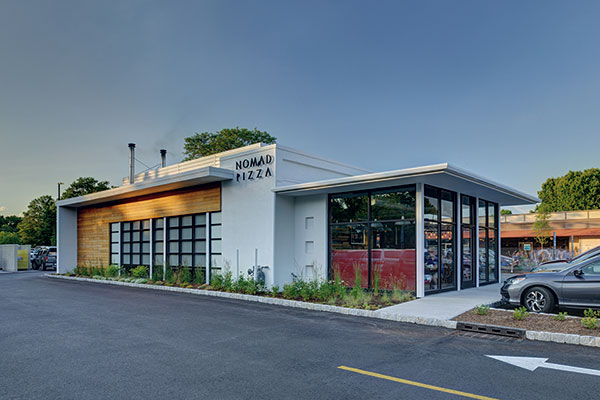 Warm Welcome
By the time construction began in 2015, EDENS had already taken care of the cleanup and removal of underground oil storage tanks. They had also upgraded the building's energy efficiency and insulation to make way for the new Nomad Pizza, which began as a food truck but now has one location in Hopewell, N.J., and two in Philadelphia.
Rather than erase the footprint of the former gas station, Zinder sought to preserve and integrate the original structure into its surroundings at the shopping center.
A stand-alone building, the gas station had been physically closed off, with its back to the rest of the shopping center. Adding an outdoor patio for alfresco dining opened up the new restaurant to embrace the shopping center and to make Nomad more a part of the community. This particular spot was also attractive because it came with plenty of parking spaces, something that's typically lacking for Princeton-area restaurants.
Updating the exterior meant preserving the old structure's best features but giving it a modern twist. Cedar planks wrapped around the building exterior add a modern look, while bronze-finish window trim highlights the structure. "The form of the garage was striking, even though it had been covered over in this brown stucco," Zinder says. "We incorporated some cedar to warm it up a bit and changed the stucco back to white so it had that nice, sharp contrast and modern edge to it."
Industrial Vibe, Natural Flavor
Wanting the restaurant design to stay true to the gas station's history, "our goal was an industrial-rustic look," says Grim. Design details including exposed ceilings, Edison lights streaming down from a repurposed wood beam, polished concrete floors, I-beam dining tables and industrial metal chairs capture the desired aesthetic and make it inviting. "Now, it's a little more upscale," he adds. "Because the restaurant's mostly glass walls, it's fairly open with a lot of [natural] light."
The existing garage doors — deemed insufficient to reuse in the restaurant space — were replaced with manual, roll up doors that connect the approximately 1,000-square-foot restaurant's interior with its 980-square-foot patio. The garage doors can be opened or closed, and a retractable awning over the patio can be adjusted according to the weather. "It creates a great connection between the interior and exterior," Zinder says. On the other side of the restaurant, where there used to be garage doors, large window assemblies bring more light into the space.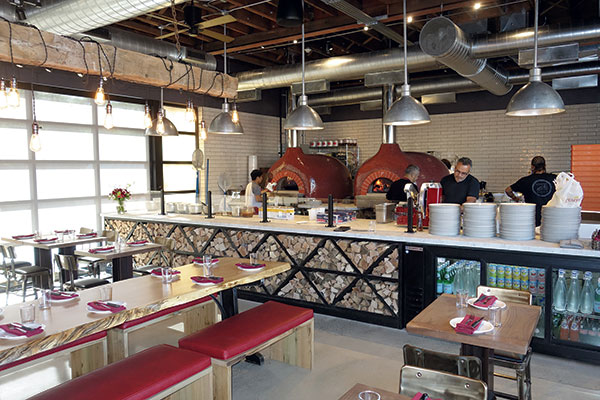 Nomad Pizza's interior is a mix of wood, metal and concrete with pops of red — including the two pizza ovens.
"We wanted it to be a big, open space," explains David Fierabend, project designer and principal of Groundswell Design Group in Philadelphia. "We took some nods from the open style of brick oven pizza cooking, so it's really important that the making of the pie is part of the experience."
With a focus on fresh, local and organic ingredients, Nomad's menu consists of its specialty bubbly pizzas baked in wood-fired pizza ovens and a few salads and desserts. "Pizzas are our only entree. We believe in keeping things very simple and, for that reason, we have a short and simple menu," Grim says. "We don't have a hood or a grill. Anything that needs to be cooked is cooked in our pizza ovens. It's our only cooking equipment."
Since opening in May 2016, Nomad has been cranking out about 2,000 to 2,500 pizzas a week. Anticipating Princeton to be a busy location, Grim opted for two wood-fired pizza ovens to handle the volume. "We do a lot of to-go pizza here, and one oven is barely enough for 60 seats, so it's a good thing we put in two," Grim says. "When we first opened, we weren't prepared for how busy we were going to be, but now we're up to speed."
The open kitchen with brick ovens and subway tile walls is meant to be on full display. Patrons can watch workers sprinkling the pizzas with ingredients and prepping salads atop marble counters. "Pizza ovens can be [like] a piece of art in themselves," Fierabend says. "The owners, Tom and Stalin, were set on making them the centerpiece of the restaurant."
Grim was involved with the layout from the early stages of the design process. Finding the perfect placement for the pizza ovens was one of the most difficult design challenges. "We've never done two pizza ovens before, and we didn't know how it was going to work," he says. "There's two guys working, and it changes the whole flow of things." After trying several different arrangements, they ultimately settled on setting them side by side so the two pizza spinners wouldn't run into each other while working. "It seems like the most obvious thing to do, but it took us a long time to get there, and we wanted to make sure we weren't missing something that was better," he explains.
Even when you hire and work with a designer, an architect and a builder, it's important for operators to be a part of the programming phase to provide input and make sure the final plan turns out right, according to Grim. "You can't underemphasize the importance of design, equipment placement and getting everything right before you build it," he says.
Grim spent several hours working out the best layout on a giant one-inch to one-foot scale paper plan and moving around paper cutouts of refrigerators, sinks, tables, ovens and chairs until he figured out what would work best. "It's really unfortunate when you build something and find out it's all wrong, and by then, it's too late. That's why I put as much thought into the design as possible."
A Renewed Purpose
The idea of repurposing is carried through nearly every detail of the restaurant. A cantilever roof stretching across a small boxy area on one side of the building, which once housed the gas station office, is now flex space that can be used as a private dining room. The outdoor dining area sits where the gas pumps once were and is framed by a lush garden.
All of the dining tables are made from reclaimed wood joists, which added to the modern rustic ambience. Live edge wood community tables punctuate each seating area and a mix of two-tops, four-tops and red leather banquettes round out the seating options.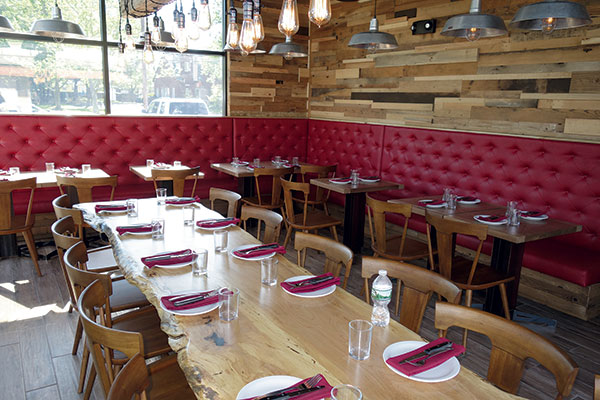 The color of the leather banquette seating in the private dining area, which used to be the gas station office, was inspired by pizza. "We went with a warm red with a tomato sauce-y feel to it," Fierabend says.
"There might be two people seated next to a party of four and they'll start talking, or a family takes up the whole community table," Fierabend says. "People gravitate to different things depending on their mood. Sometimes they may want to sit at a two-top and have a glass of wine and read or sometimes be a part of something larger. It feels very communal with everyone sitting around a pizza, cutting it and passing it around."
Walls are made up of reclaimed wood leftover from making the dining tables and scraps from other job sites that create an artful effect in various colors and depths. An accent wall in the dining room is painted with the image of a white 1949 REO Speed Wagon, the very truck that the owners used to launch Nomad, and is still used to cater private events.
Adaptive reuse projects can be challenging — and expensive. "It costs twice as much and takes twice as long as you thought possible," Grim says. "If you can afford to get professional design help, that would be great, but be prepared to exceed your budget because opening a restaurant is expensive."
But in Nomad's case, taking a different approach to its restaurant design and repurposing the existing structure have already been worth it. It's elevated the brand and with the patio as a focal point, it's become a beacon instead of an eyesore for locals.
Adds Zinder, "The structure has now become this vital element. There are long lines of people waiting to get a seat, and everyone is talking about how it's transformed the front of the shopping center."
Exterior photos courtesy of Joshua Zinder Architecture + Design; interior photos courtesy of Groundswell Design Group. 
Project Team
Snapshot
Owners: Tom Grim and Stalin Bedon
Opened: May 2016
Dayparts: lunch and dinner; closed Mondays
Square footage: 2,000 square feet
Seats: 70 inside, 62 outside
Average check: $50
Build-out: 9 mos.
Cost: $750,000
Save