One of the key tenets behind this publication is to get closer to you — the readers — to better serve your needs and to be a resource in your work lives.
As the new editor, I've been scrambling to get my bearings, to nail down all the fine details, to build the right organizational systems and to develop my own voice within that of the established magazine. And that's been challenging and rewarding. But the best moments have come from getting to know our readers and getting a better understanding of their jobs, their companies and their interests.
I've reached out via email to many design and development professionals (and fielded a few emails and phone calls as well) in the last few weeks and have been richly rewarded with stories about their interests and their new projects. For example, Mark Ripple, principal of New Orleans-based Eskew+Dumez+Ripple, reached out to tell us about his work on Fogo de Chão's desire to incorporate local design elements (and ended up in our Buzz section).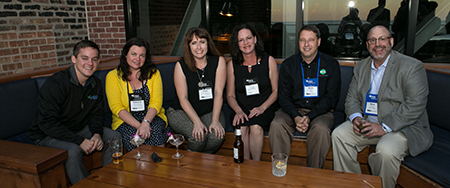 Our staff making friends with attendees at the FED Thought Summit (left to right): Production Assistant Eric Uhl, me, Art Director Anne Locascio, and Operations Manager Tracy Mugan with Kevin Kochman, President of Kochman Consultants Ltd., and Steve Starr, President of Starr Design.At our first-ever joint venture with our sister publication Foodservice Equipment & Supplies, the Pulse by Gettys, I was lucky to meet numerous attendees (you will likely meet many of them in future issues) and listen to inspiring speakers. Pulse by Gettys Founder and CEO Bob Puccini spoke about brand storytelling while Pulse by Gettys' Senior Director Jackson Thilenius gave an inspirational talk on staying real in an increasingly virtual world. You can view the agenda and click through to see every presentation on our FED Thought Summit page.
One unexpected avenue of connection has been Instagram. The design community is prolific on my favorite platform and it continues to be a source of inspiration and networking. It's already led to meetings via email and even in person. I got to meet some great folks by visiting the offices of d+k, a full-service architecture and interior firm based in Chicago that recently completed the design of HalfSmoke Restaurant in Washington, D.C.
I've got more visits and introductions lined up, and I can't wait to get to know more people in this vibrant, creative, hardworking industry. But don't wait for me to get to you: Please reach out and share your projects, your passions and your feedback via any of these means:
This email address is being protected from spambots. You need JavaScript enabled to view it.
See you in 2017!