In just the past few years, a growing crop of well-trained and well-traveled chefs have made Milwaukee their stomping ground, exciting the palettes of locals and visitors alike. These popular restaurants feature both great food and unique design details.
Carnevor
For the complete redesign of Carnevor, a popular steakhouse nearing its 10th anniversary, Jeremy Shamrowicz of Milwaukee-based Flux Design incorporated unique design elements that evoke tribal and animal — even Jurassic-like — imagery. In the newly expanded space, Shamrowicz divided the 150-seat steakhouse into different zones, including an entryway, bar, main dining room, smaller side dining room and back dining area. A row of tepee poles greets guests when they arrive and introduces the aesthetic. Curved wooden beams protrude from one wall and hang over diners' heads in the main dining room, meant to be reminiscent of an animal's rib cage. Elsewhere, Flux Design custom built repurposed wooden panels for wall decor interspersed with boxed-in light fixtures surrounded by neutral, hexagon-shaped tiling resembling a honeycomb.
Behind the bar and in the side dining room, light-colored stone walls evoke a cave atmosphere. Brown leather chairs and matching brown tables flanked by muted, lightly patterned carpet resembling soil add warmth. At the back of the room, a series of metal frames and columns block off the private dining area. Photo by Michael Sears
Ardent
The brainchild of James Beard-nominated Chef Justin Carlisle, Ardent features a seasonal fine-dining tasting menu. To bring light and life to the 23-seat underground space, Carlisle worked with a Chicago-based installer to build a green wall at the front door decorated with terrariums and other plants. Carlisle designed the restaurant himself and took a minimalist, handmade approach. He commissioned local artists to make colorful abstract paintings on slabs of old barn wood to hang throughout the dining room. Hand-cut bare wooden tables were sanded down to reveal their natural grain. Carlisle's mother knit shawls and afghans that hang over the backs of simple wood dining chairs, adding warmth to the space — and the guests, if they are inclined. She also sewed cloth smartphone cases that are brought out atop little hand-cut wood slabs, meant to encourage diners to take photos of their food. Tabletop installations include rustic place settings handmade by local potters.
A small open kitchen, separated only by a counter, sits on one side of the dining room, offering guests a peek at the artful plating action. A grill out back smokes meat, fish and vegetables. The kitchen has just two induction burners, two immersion circulators and an oven — all without the need for a hood. Photo courtesy of Ardent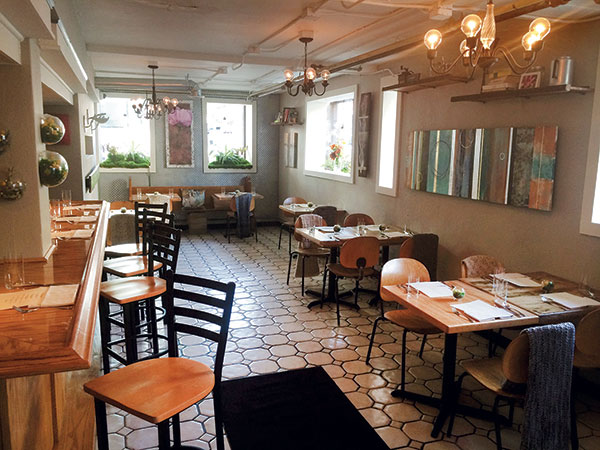 DanDan
The new restaurant from award-winning chefs Dan Van Rite and Dan Jacobs pays homage to Sichuan dandan noodles, a childhood favorite of both chefs.
Located in a historical building in the city's Third Ward neighborhood, DanDan's interior was designed by local firm 360 Degrees. By weaving the yin and yang of traditional Asian design with urban elements, the ambience reflects the street culture of the menu.
The focal point of the space is a custom-printed mural illuminated by a custom-designed light installation over the bar. Vivid colors abound, bringing a visual intensity balanced by abundant natural light. The space recalls a pergola with a wood and steel facade and stained concrete floors. Light and dark woods provide further contrast; custom tables alternate between ebonized white oak with brass accents and maple with ebonized borders and stenciled images. The natural elements in the design bring a modern feel to the historical building.
Multiple seating options accommodate a wide mix with an 80-seat main dining room; a 36-seat semiprivate dining space; and EsterEv, a 20-seat private dining room available for seating Thursday, Friday and Saturday evenings that features an ever-changing eight-course tasting menu.
Tabletop is also important to the dining experience at DanDan, with shareable platters and smaller dishes arriving on colorful and rustic handmade pottery by Dan Jacobs' wife Kate Riley, founder of Plate Collective.  Photo courtesy of DanDan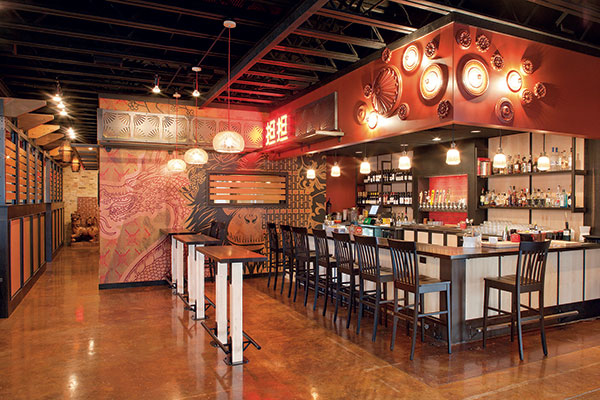 Movida
StandEatDrink Hospitality Group's Spanish tapas restaurant opened in the Walker's Point neighborhood in August 2014.  Movida's owners, Aaron Gersonde and Andrei Primakow, conceptualized a social dining environment for the 50-seat main dining area. The design offsets the building's naturally high ceilings with an eclectic mix of mismatched tables and chairs as well as wooden booths for both small and large groups. Candles and strategically placed chandeliers create an intimate feel at each table, while exposed cream-colored brick is reminiscent of many Milwaukee buildings. The name "Movida" signals Spain's counterculture movement  of the 1970s and '80s. Black-and-white photographs feature  Hemmingway, Picasso and other artists of the era.
A 10-seat bar is illuminated with light-up signs promoting signature drinks of Spain with hashtags: #sangria and #gin&tonic. Nearby, muted blue wallpaper with a floral-like pattern graces one wall, while shelves hold decorative porrons, glass decanters used for pouring Spanish dessert wine at the end of the meal.
In a corner, a geometric wooden wine shelf holds various Spanish and other thoughtfully selected wines, while just above, large oak wine barrels add to the decor. Upstairs, an open-air private dining area overlooking the main dining space seats an additional 20 guests. Photo couresty of Movida