Commercial kitchens are a unique environment that exhibit specific challenges for floor and wall coverings. Repairs and maintenance are disruptive, time consuming and costly so it's important to ensure that all practical measures are taken upfront to avoid unnecessary failures.
Consulting with specialty providers of commercial kitchen environments will ensure that the needs and challenges of the space are thought through thoroughly and fit the purpose for these products to meet specific technical performance specifications. There is no reason why a 20-year lifecycle should not be expected from a correctly installed floor or wall surface.
The Devil is in the Details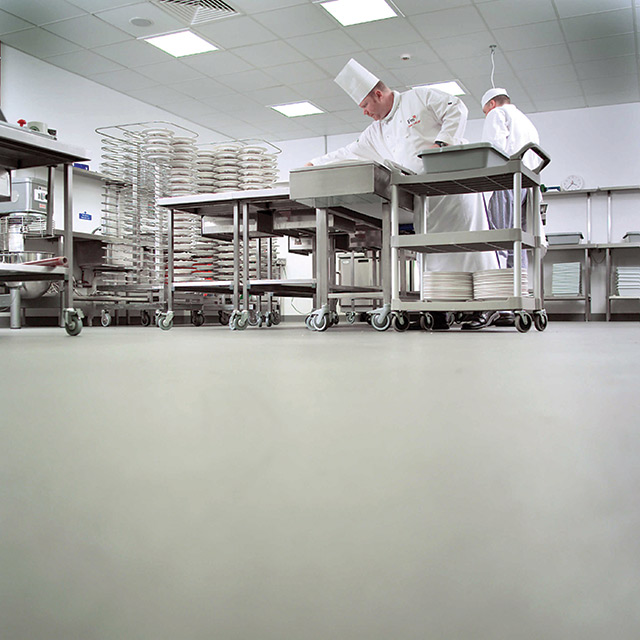 Not all commercial kitchen products are created equal. The finish you are considering will have several variations, depending on the type. What is important is that the floor covering provides the following:
Sustained high levels of slip resistance – Many products only offer surface level slip resistance that can wear quickly in high traffic areas resulting in slip hazards. Selecting products that offer sustained or guaranteed levels of slip resistance minimizes this risk. These products typically contain slip resistant particles through the entire thickness of the product and do not wear.


Comfort underfoot – Products that do not require anti fatigue mats provide costs savings, eliminate ongoing maintenance and potential trip hazards, and protect employees from leg and back pain.


Ease of cleaning – Critical to a commercial kitchen as products that have high levels of slip resistance do require specific cleaning regimes.


Hygiene control – Surfaces should be non-porous and resistant to damage and cracking.


– There are many third-party certifiers available, and these companies ensure additional scrutiny has been met by the supplier. Food Safe Accreditation


Aesthetics – If your design includes an exposed kitchen, it's important to consider products that offer a high technical performance, look good and meet the overall design brief you have in mind.


Floor Wastes – For every type of floor covering there are specific floor waste systems that should be specified. The incorrect floor waste will result in quick failures and expensive fixes.


Correct Accessories – Ensuring the correct finishing trims, adhesives and sealants will extend the kitchen's life expectancy. That last 5% of detail will make all the difference.


Experienced Quality Installers – You get what you pay for. Any product is only as good as it is installed, so vetting installers should be standard practice, especially in a commercial kitchen environment. Rectifying poor workmanship results in shut downs and massive disruption. Upfront homework and selecting those that specialize in these spaces will pay off in the long run. Most reputable installers are happy to provide references.


Integrated Systems – A commercial kitchen is an incredibly challenging environment. Specifying floor, wall and accessories systems that fully integrate will ensure longevity and a totally sealed hygienic environment that is nonabsorbent, impact resistant and washable.
Considering these points, working openly with your suppliers and ensuring that the specification calls for clearly defined technical performance criteria will provide an effective fit for purpose solution for the client and ensure you get it right the first time.