When purchasing your restaurant's furniture, there are many factors to consider. Vendor selection, product mix, materials, durability, lead times and finishes…the list goes on and on. Unfortunately, now more than ever, long lead times and material shortages have caused headaches for operators across the U.S.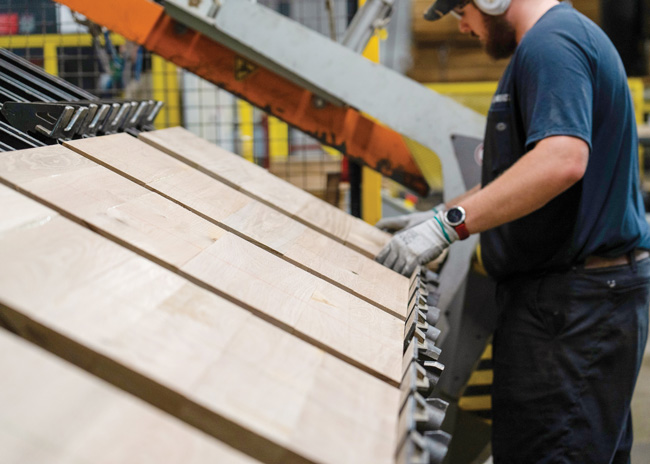 Wood staves are carefully cut, placed, glued, and clamped to create solid hardwood tabletops.During the COVID-19 pandemic, there were significant disruptions in many supply chains. This disruption has led many procurement professionals and small businesses to reconsider their strategies. Marshall Sherman, Crow Works' materials manager, observes that "Crow Works' a regional supply chain has proven to be invaluable to our success in meeting demand as businesses have opened back up. 'Made in Middle America' not only ensures quality, but it helps to avoid the potential for delays due to the pandemic as well as port and canal shutdowns."
When you buy products that are made in the USA, you can expect higher quality and shorter lead times because the distance the product will have to travel to get to you is significantly decreased. Consumers are demanding for businesses to increase their transparency around ethical supply chains as well as social responsibility. Buying products that are made in the USA has a direct impact on sustainable sourcing, reduction of waste and a reduced carbon footprint.
It is important when searching for a domestic manufacturer to make sure they are the right partner. Crow Works was founded in 1995 by Dennis and Denise Blankemeyer with a mission to "Restore Middle American Grit & Ingenuity". Crow Works specializes in building long-lasting furniture with solid American hardwood, bringing an element of natural materials into the design aesthetic.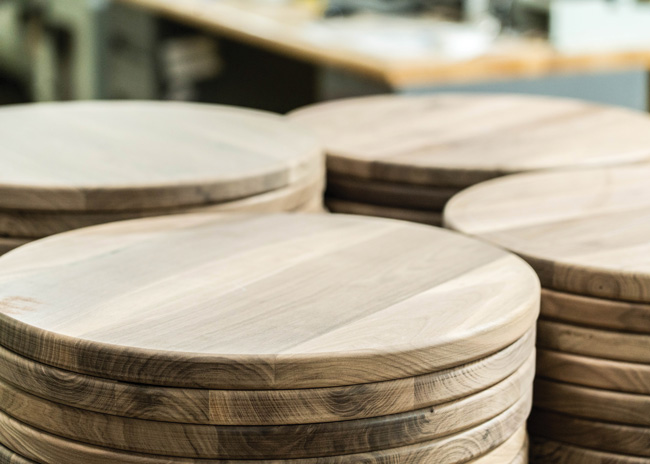 Tops are sanded and filled by hand, then sealed with a commercial-grade, food-safe top coat.Crow Works manufactures its products in Killbuck, Ohio, which enables the company to responsibly source from the Appalachian region's hardwood forests. They use responsibly-sourced lumber certified by the Forest Stewardship Council, reduce environmental impact by repurposing waste materials and reinvest into the environment with the "Tree for Every Top" program, which commits to planting one tree in the Killbuck area for every tabletop sold. Perhaps their strongest commitment is reflected in their dedication to their community by the partnerships they have built with local craftspeople.
Crow Works is also committed to building strong relationships with its clients. A dedicated account manager works on each project so that communication is clear and you always know who you're working with. From global to local brands, Crow Works can support large-scale contract manufacturing, and it offers a wide selection of made-to-order and quick ship products.
From tables and chairs to banquettes and drink rails, Crow Works can build your vision for high-quality, handcrafted commercial furniture. Whether for quick-service, fast-casual or full-service, it can provide the perfect front-of-house solution to coordinate with any design and aesthetic.