COVID-19 has affected everyone in the foodservice industry and finding new and creative ways to provide safe and welcoming spaces is an important aspect of recovery.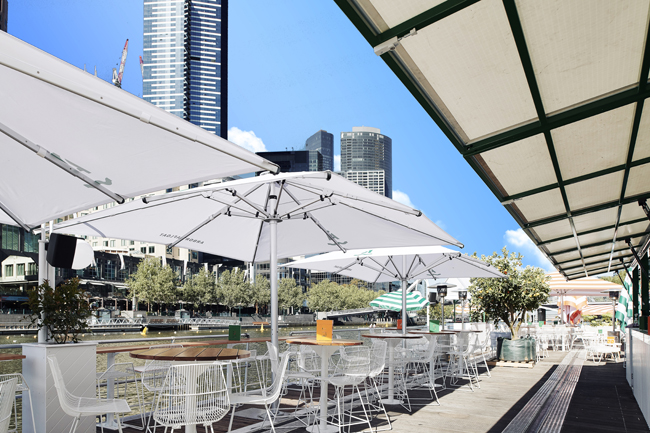 Restaurants can utilize umbrellas to create a new outdoor dining area or expand on an existing one.
"Right now, outdoor seating is a must," says Marc Kaufer, president of Frankford Umbrellas. "Restaurants are seeking strategies not only to provide customer comfort, but also enhance curb appeal. Most importantly, they need to announce they are open for business."
There are a number of shade design strategies that help create functional and profitable outdoor spaces and provide comfort and protection for customers from the elements.
Many are contending with seating restrictions that are half of their normal capacity. Umbrellas can be used to create a new outdoor dining area or expand on an existing one, serving as a visual space marker that also assists with social distancing requirements.
In addition, outdoor space can be designated in parking lots and cordoned off with rope or fencing and decorated with planters, greenery and flowers for visual appeal. Those restaurants with increased curbside and pickup transactions can utilize umbrellas as a space marker to help navigate customers to designated areas. This increases efficiency and orderly flow, while providing a shaded area for clients waiting in line.
"It's important to provide customers with a pleasant outdoor dining experience so they want to return." says Kaufer. "Shade is an integral part of this experience. Umbrellas are the first thing your customers see when approaching or driving by your restaurant. Subconsciously, it creates a lasting impression while letting them know you're open for business."
With time of the essence in today's environment, order delays result in lost revenue. "Frankford Umbrellas' Quick Ship items are out the door in five to seven days," says Kaufer.
There's no need to settle for cheap umbrellas that don't last for even a season. "Cheap polyester umbrellas compromise the environment; many end up in landfills," says Kaufer. "Frankford Umbrellas know all about abuse from harsh weather, which is why we manufacture our products with the highest quality materials. We consistently assess our lines and make improvements to our quality without building obsolescence into our products.
Backed by 122 years of experience, Frankford Umbrellas provides premium shade without the premium price. There are a wide variety of umbrellas to choose from at price points to satisfy any budget.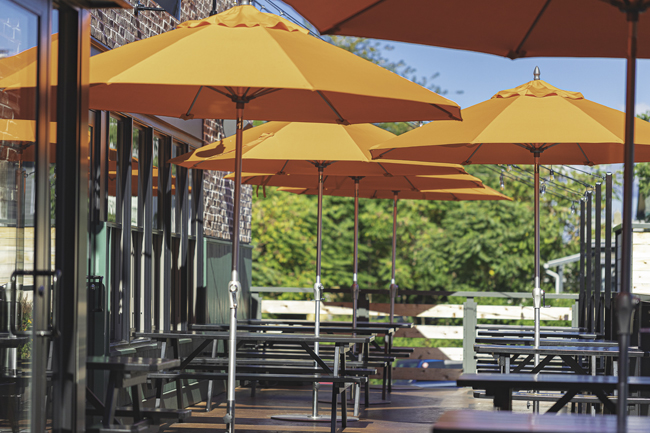 Umbrellas can help navigate restaurant customers to designated areas for curbside and pickup transactions.
Its commercial-grade product lines are produced with durable marine-grade fabric and stitched with 10-year thread. Stainless steel hardware, easy glide pulleys and fiberglass or heavy gauge aluminum ribs ensure many years of worry-free use in all types of weather. Customization and branding are also a large part of the business, as Frankford Umbrellas can be found at some of the largest resorts and restaurant chains in the United States, Canada and the Caribbean.
"We know what works, and we are always proactive when it comes to our customers' needs," says Kaufer. "Most importantly, in today's evolving environment, we make sure our restaurant and design clients have what they need when they need it, and at the same time, create a lasting impression and outdoor dining experience for their customers."