Page 1 of 6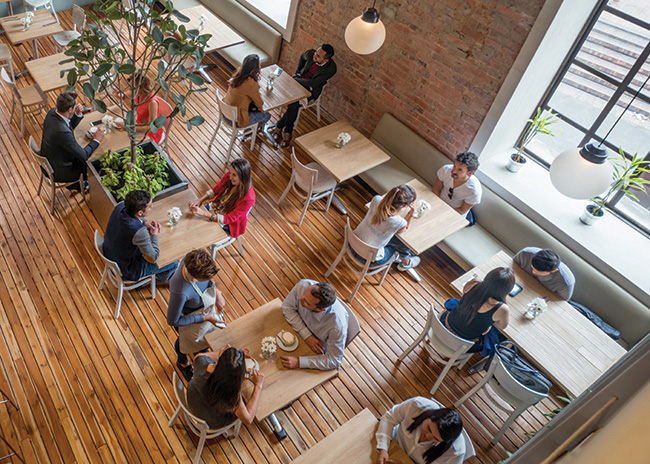 Every part of restaurant design is important — the furniture, the lighting, the decor. But the more prosaic surfaces in the restaurant, like floors, walls and ceilings, are just as important in making an overall impression on the guest. Moreover, they have a direct effect on the day-to-day operation of the restaurant.
Take floors, for example. Especially in the back of house, slip and grease resistance is an absolute must. Floors that are easy to maintain and sanitize will save staff time and labor. Heavy-traffic areas, such as the passage from kitchen to dining room, may need extra heavy-duty flooring. And in the kitchen, where the food prep staff may be standing for hours at a time, comfort is also a consideration.
Wall coverings have to be more than merely decorative. In the dining area, they can help manage acoustics so patrons can hear each other talk. But they also have to be resistant to scuffs and abrasions (watch where you're putting that chair!). While appearance may be less important in the back of house, it's crucial that the walls there be easy to clean, moisture-proof and resistant to mold.
Ceilings also help manage the sound level in the dining area, and have to work in conjunction with the lighting and sound systems to provide an aesthetically pleasing surface that's not harsh on the eyes or ears.
The stories on the following pages are loaded with ideas to help make your walls, floors and ceilings not only look great but perform efficiently as well.