The nation's largest franchised companies continue to grow even larger, according to Technomic's Top 400 Franchise Report.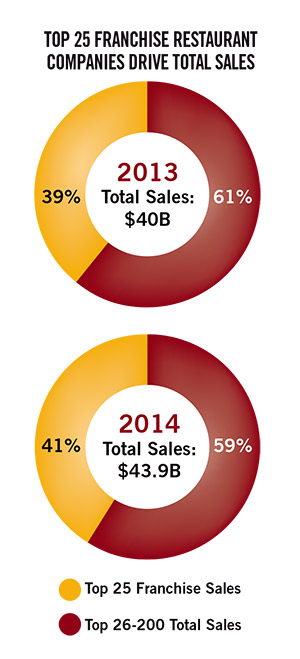 Striking while the restaurant acquisition market is hot, these leading companies continue to add locations to their portfolios at three times the rate of unit growth for the chain restaurant industry as a whole. In fact, the largest 400 franchise operators increased their location numbers by 6.5 percent last year, compared with a rate of 2.1 percent among the top 500 chain restaurants. Out of that number, the top 200 franchisees collectively grew a record-setting 8.2 percent, compared with an average of about 4 percent, and they logged a collective 6.1 percent gain in unit count last year.
Much of the growth of the past few years has come through private-equity backing.
"The companies tracked in the Top 400 Restaurant Franchise Report are taking advantage of a seismic shift in the restaurant industry toward franchise-led expansion and investment, and many of them are getting big enough to wield the purchasing power and territorial reach of a super-regional restaurant brand," says Darren Tristano, Technomic's executive vice president. "Industry players can benefit greatly from knowing who these major franchisees are, where they are expanding and which restaurant brands could round out their portfolios."
"Low interest rates and the availability of capital have made it an excellent time for multi-unit franchisees to grow by acquisition," says John Hamburger, president of Minneapolis-based Franchise Times Corp., which collaborated with Technomic for the study. "Franchisees have never had it so good in the capital markets."