Creating restaurants that welcome everyone, including guests with special needs, is good for business
On July 26, 1990, President George H.W. Bush signed the Americans with Disabilities Act (ADA). Since then, restaurant designers have been following the ADA to make sure anyone, no matter what their special needs may be, can access the dining establishments of their choice.
But the challenge is in thinking beyond the basic mandates of the ADA to create seamless design, and to go that extra step to make people with special needs feel taken care of — ideally without them knowing it's been done deliberately.
"Restaurants are becoming darker and louder and more confusing," says Jackson Thilenius, senior design director for PULSE by Gettys, The Gettys Group, Chicago, whose designs include Ormsby's, a neighborhood restaurant in Atlanta, and Elevage, a mid-scale restaurant in Tampa, Fla. Often, as operators chase younger consumers with trendy, Millennial-friendly designs, they and the designers who work on their projects lose sight of the need to tune in to consumer groups who may find such environments less than welcoming
Wheelchair Welcome
Wheelchair-bound guests have particular challenges navigating and being comfortable in many restaurants.
For example, most restaurants have a bar either for waiting guests or for drinking clientele. But wheelchair-bound guests typically miss out on being able to enjoy the convivial atmosphere at the bar because they're too high, says Thilenius. He has overcome this at a restaurant at an as-yet unnamed hotel on Walnut Street in Chattanooga, Tenn., which has a very long, 50-seat bar. He designed it so about half the bar is high-top seating, but at a curved section the bar drops into a 48-inch wide, wheelchair-accessible communal table.
"Not only is it accessible, it breaks up the bar by offering a variety of seating options," Thilenius says. "It's an integral part of the experience — the bartender can engage the table and bar while serving both."
Brent Bueche, president and owner of BBI Architects in Baton Rouge, La., notes that communal tables also typically fail to take wheelchair-bound guests into consideration. Often flanked by single long benches, communal tables force wheelchair-bound guests to sit conspicuously, and often uncomfortably in the way of servers and other guests, at the ends of the table. Bueche suggests a simple solution of breaking up communal table benches or using freestanding chairs, enabling a wheelchair user to pull up mid-table.
Floors can present an even bigger obstacle in restaurants for wheelchair-bound guests and those with difficulty walking. According to the U.S. Department of Labor, slips, trips and falls are responsible for the majority of general industry accidents. Together they cause 15 percent of all accidental deaths, which puts them in second place behind car accidents as a cause of deaths in this country.
"Slippery floors and one-step transitions in restaurants are the biggest tripping hazards of all times," Thilenius says. "Sometimes single steps are unavoidable. If that's the case, I try to include as many signifiers that telegraph a transition is happening as possible. Lights at the step, changes of material and/or color, pattern contrasts and handrails all help to signify there is a change in floor height."
In designing dining rooms, Thilenius also constantly keeps wheelchair access in mind. When creating the table layout, for instance, he does so with the chairs pushed back from the tables — as they are when someone's sitting in them. This helps Thilenius allow ample room between the chairs and tables for a wheelchair to pass through. A side benefit of this space is it gives each table plenty of privacy, he adds.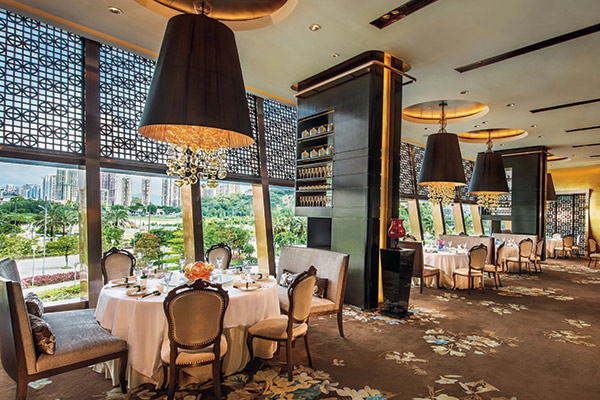 In fast-food and fast-casual restaurants, it's vital to consider the height of the trayline, says Dan Kwan, senior vice president and managing director of Wilson Associates in New York City and the founder of Blueplate Studios. "We make sure the trayline is at the same height as a walker. It's ideal for wheelchairs, too, though a bit low for able bodied people – but they bend more easily."
Also make sure the food assembly line is less than 3 feet high, which sometimes involves dropping the floor behind the trayline, Kwan explains. Doing so provides employees behind the line with easy and ergonomic access. "This makes a huge difference for servers, especially if they are on their feet all the time."
Some people in wheelchairs, however, can walk short distances. Because of this, Kwan incorporates wheelchair parking areas in some of his midscale restaurant projects. "We make it look like a lovely trolley park with a concierge — it's tucked away behind the reception or concierge. It's not visible," he says.
Bathroom Basics
When considering special needs, bathroom design becomes equally important. The space must allow sufficient room, namely a 5-foot turning circle, for a wheelchair to turn around as well as space for other people in the bathroom. Thilenius also makes sure the doors aren't too heavy to push from a seated wheelchair position.
Because of this space requirement, sometimes bathrooms become larger than designers would like them to be but darker paint or tiles on the walls can help "shrink" the space, Bueche says. From there, he says he plays tricks with the lighting, the color scheme and patterns on the floor "so it can seem that it was intended to be that way and not for special needs."
Designers should also consider restroom sinks. Trough sinks may be in vogue but most are poorly designed for accessibility, Thilenius adds. "If a trough sink is part of a design, I try to make certain there is plenty of deck space for people to put personal effects down without getting them wet. Depending on the location, it can be beneficial to include a lower shelf or cubby as part of the sink front. Purse hooks and hangers near the sink are also very useful for people who require a temporary place to put a cane, jacket, medical bag or toiletry pouch."
Trough sinks can also be very challenging for the visually impaired, he notes, since these people often use individual sinks (both recessed and surface mounted) to help orient themselves with the faucet.
Senior Moments
The U.S. Census Bureau estimates that the elderly population will double by 2050, which will equate to 83.7 million people aged 65 and over in this country.
"Not only is the elderly population growing dramatically, but we're living longer and have a desire to be relevant longer," Thilenius says. "If we don't design for this group of people, we're missing a huge opportunity of people who want to eat out and have the disposable income to do so."
Sound can become perhaps the biggest deterrent when elderly people pick a restaurant. It's not just the music, but also the general clatter and chatter of a restaurant with not enough sound-absorbing materials.
Table orientation in relation to wait stations and kitchen access is a big factor in controlling noise. "Designing these with appropriate shielding, either through walls or screens, can dramatically help sound levels," Thilenius suggests.
Sound absorption materials can help, too. Absorption panels have come a long way, Thilenius says. Designers can choose from customizable options with multiple texture and printing options. Vendors can make the sound absorption panels look like hanging works of art or incorporate them into light fixtures.
Dropping the ceilings represents another sound-quelling approach, says Josh Zinder, principal of Joshua Zinder Architecture + Design in Princeton, N.J. He often places acoustical panels on the higher ceiling, and has made an additional lower ceiling level be more decorative. "The idea is that when you light the space your eye catches that lower ceiling but your body still feels it's in that larger space," he says. "We've also sometimes painted the space above it blue so it feels like the sky."
For the sound of the music itself, certain options give diners some control since so many devices incorporate Bluetooth technology, and designers can choose from a seemingly endless array of speaker options. "These can be cleverly integrated into a table, or even the table setting and there are companies that can customize a Bluetooth speaker into most anything you can think of. So it isn't difficult to imagine that even a chandelier could have built-in speakers that guests or servers can control from the table," Thilenius says. Each speaker, he adds, can have a preset volume but each table of guests can adjust their volume to what suits them personally.
In terms of lighting and better enabling guests who are older or visually impaired the ability to comfortably read menus, Davis has a simple solution: Put a dimmer on the light above each table, he says. It's an inexpensive feature and it also means staff can crank the lights up for cleaning.
For lighting to be both useful and warm, Michael Davis, principal, Michael Davis Architects in New York City, strives to always have more than one source of light, which distributes it more evenly. "If you have sconces on the wall, or a table lamp [in addition to ceiling lights], all these different sources work together. And it helps if these are on dimmers and can offer a brighter scenario in the case of special needs guests."
A restaurant's choice of chairs, too, makes a big difference in the dining experience for seniors. "You have to consider the weight of chairs; they can't be too heavy for an elderly person to pull out and slide back in," says Thilenius. And make sure the table's not too flimsy, he adds, since seniors will often use it for support to sit or stand.
A good seating arrangement for older diners is high-back booths, says Bueche, because they help obstruct sounds from other tables. However, lower backed seats can be better for support for older people, he says. "They can use the backs of the booth as a balancing point."
Chairs with backs and arms also make things easier for elderly people, he says, and if restaurants go the extra step and have cushions available or built into the chair, it can provide additional support for those who need it.
Color is also an important consideration for seniors, Kwan explains. Contrasts between the table top and the chair make it easier for people to see where to sit and how to get into that position. In fact, using contrasting colors for the chair, table, placemat and floor is ideal, he adds, because they aid with depth perception.
As for otherwise disabled guests, bathrooms can be tricky territory for seniors, too. "We always put extra seats in [the] bathroom so people can rest," Kwan says, and he always uses contrasting colors here, as well. "We find dark colors make it difficult for the elderly to have depth perception so we have a lot of contrast and the room is very light—both from colors and the light itself."
In general, these designers say, incorporating such simple and low-cost strategies that help make seniors and others with special needs feel welcome, safe and comfortable, isn't done enough in the industry. Demographic trends, however, increasingly suggest that it should be. Comfortable guests, after all, are far more likely to be loyal, profitable guests.