The AAA Four-Diamond rated Seminole Hard Rock Hotel & Casino in Hollywood, Fla., in late March unveiled its newest dining venue, Kuro Japanese Craft Kitchen. Designed by New York-based David Mexico Design Group, the 240-seat restaurant features an open-concept incorporating elements of land and sea throughout the space. Guests enter from the resort lobby, passing a feature wall comprised of 100,000 hand-placed sea shells.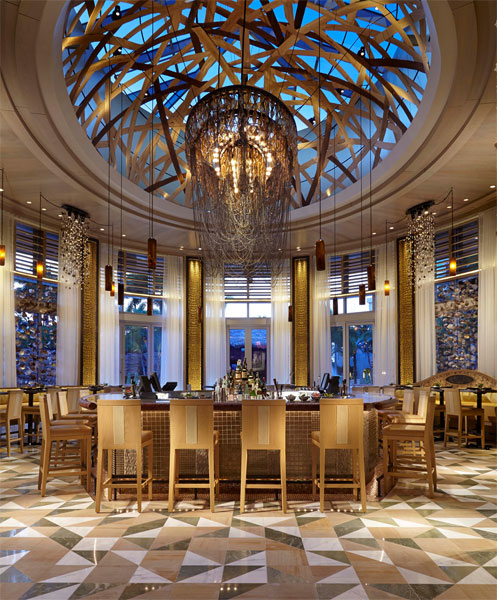 Inside, rows of driftwood on the walls and ceiling imitate waves; textures and patterns of Florida beaches appear within the geometric floor tiling in the bar area and river rock and beach glass encapsulate the base of the bar itself. Chandeliers were constructed from nearly three miles of chain and crafted to resemble floating jellyfish.
Floor-to-ceiling bay windows line the perimeter of the 9,500-square-foot restaurant and the dining room offers a variety of seating options, from a cypress wood communal table and boardwalk oak tables to long banquettes and rounded booths overlooking the pool.
The sushi bar offers an unbroken sightline into the kitchen. Adjacent to the sushi bar are two private dining rooms, one featuring an elevated Chef's Table and the other doubling as the glass-enclosed wine cellar. Kuro's poolside terrace façade incorporates imaginative interactions where guests can dine at tables positioned atop a glass floor with water flowing underneath.
Photos courtesy of Seminole Hard Rock Hotel & Casino