Fiesta Restaurant Group once operated as a division of Carrols Restaurant Group, the nation's largest Burger King franchisee. But in early 2012, Carrols' board of directors concluded the two entities were worth more separately and in May of that year spun Fiesta — parent to fast-casual brands Pollo Tropical and Taco Cabana — off as a standalone public entity.
Tim Taft, who'd been brought in as CEO in the fall of 2011, quickly got to work. He moved Fiesta's headquarters to Addison, Texas, from Syracuse, N.Y., and assembled a new management team. Taft introduced a new prototype for Pollo Tropical and a new brand expression for Taco Cabana in preparation to take each beyond its core market — Florida and Texas, respectively. Average unit volumes outshine competitors in their segments, at $2.7 million for Pollo Tropical and $1.8 million for Taco Cabana. FRGI's stock price had risen from just over $12 to more than $65 per share by late February.
rd+d: Your team has had a productive three years. What has been the impact on unit development?
TT: As part of Carrols, Fiesta Restaurant Group was building two, maybe three new units a year. In our first year as a separate company we built 6, the next year we built 10, last year we built 12 and this year we'll do 24 or 26 new units. We're fond of talking about the dynamic nature of this company. It took Pollo Tropical 26 years to get to the first 100 restaurants domestically. We now have 110, and we'll get to the second 100 in 3 or 4 years.
rd+d: So it's Pollo Tropical that will drive much of Fiesta's growth?
TT: We see a lot of opportunity with Taco Cabana, and we're developing some new strategies with that brand, but right now what we look at more than anything is capital allocation. We've determined that we can get the greatest return with Pollo.
rd+d: To that end, you've made some significant changes to Pollo's design prototype.
TT: A big part of our strategy is to take Pollo beyond Florida and into Texas. But in doing customer research we found that despite the fact that our brand is built around Caribbean-style, citrus-marinated grilled chicken, even long-time, regular guests said it looks like a Mexican-style restaurant. As we looked at moving the brand into Texas, the last thing we wanted was for someone to look at it and say, "Oh, it's just another Mexican restaurant." We worked with branding and design firm FRCH to develop a distinctive new prototype that we call Big Blue. It screams Caribbean, is brand appropriate and consistent with the image we're trying to convey with our food and service. We liked the prototype so much that we're introducing it in Florida as well, starting with the Orlando market and then working it back through the system.
rd+d: What are some of the Big Blue design highlights?
TT: It looks like it belongs on a beach in the Caribbean. It starts on the exterior with the blue color, painted wooden shutters, white trim and trellis. Inside, the colors are vibrant and tropical, there's bleached wood and we've played up signature features like our Saucing Island. If you looked at the old design and the new [design] side by side you'd never believe it's the same brand. We feel it's a prototype that's going to be fresh and relevant for us for the next 10 to 15 years.
rd+d: Did the ideal real estate type or footprint change much with the new prototype?
TT: No. For both of our brands we look for spaces that run between 2,900 and 3,500 square feet and that allow for drive-thrus, which we have at all of our restaurants. As for locations, we want to be at the corner of "Main and Main" – i.e., at a hard corner in front of a traffic light in front of a Walmart, mall or Target, etc. We also look for areas with a lot of rooftops and potential for building our catering and home-meal replacement business.
rd+d: How does Taco Cabana fit into the growth strategy?
TT: Our growth vehicle on that side is an extension of the brand called Cabana Grill, which is the format we'll grow with outside of Texas. Unlike Taco Cabana, it's not open 24 hours and it doesn't serve breakfast. It's fast casual and is largely the same menu as Taco Cabana – with a few signature items added – but it has an elevated design, including higher ceilings, larger windows and upgraded seating areas and finishes. So far we've opened Cabana Grill units in Atlanta and Jacksonville and we're using the same prototype for new and refreshed Taco Cabana units in Texas, which we'll continue to fill in under that brand name in Texas only.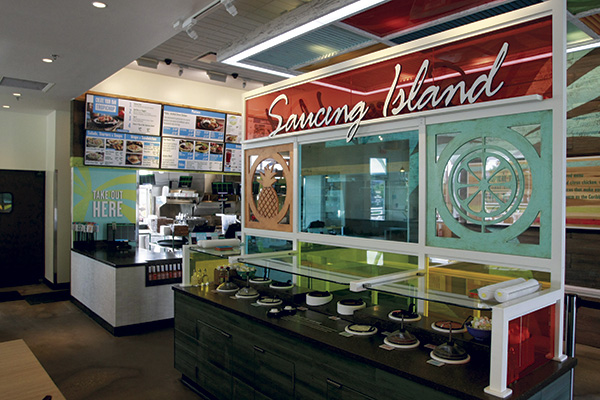 rd+d: What are the biggest obstacles to meeting development targets right now?
TT: The biggest by far is human capital. We restructured all of our debt last year from almost 9 percent to around 2 percent and we're incredibly pleased with the availability and quality of real estate we're finding in Texas. But our development pipeline is something that could really crush operations if we let it. We have to make sure we have the right people who are well trained and able to deliver on brand promise. It takes a special kind of GM to handle the volumes we're doing.
rd+d: Beyond entering new markets, what do you see as strong opportunities to grow sales?
TT: Catering and home-meal replacement are major opportunities. We should be in the high single/low double-digits in catering and right now we're at about 1.5 percent for Pollo and less than that for Taco. And we see very clearly that the future, not just for fast casual but the industry as a whole, is going to be around two things: convenience and food quality. We already have very fresh, high-quality product, so how do we make it more convenient?
rd+d: Is technology a big part of the answer?
TT: It is. We're working hard to make our online ordering systems and drive-thrus more convenient and efficient. One example is a new app that lets guests order, pay and indicate a pick-up time. When they pull up on site, they just hit the button on the app and an employee brings their order right out to the car. We're also using a new iPad-like remote ordering system that employees can use as part of drive-thru and internal line management for to-go orders. It gets those orders to the kitchen faster, speeding service and thru-put.
rd+d: You came out of retirement to lead the "new" Fiesta. What was the appeal?
TT: I really enjoy the challenge of working with mature brands to reinvigorate them. In a previous positon, at Whataburger, the brand was 45 years old when I started there in 1994. Within 11 years we had tripled average unit volumes. When I joined Fiesta, Pollo was already 23 years old and Taco was nearly 33. It's exciting to blend a group of new professionals with folks who have been with these brands for a while, to have these teams gel to create something really special. That's what you're seeing right now at Fiesta.