Milano Restaurants International, which operates the Me-n-Ed's Pizza Parlor, Victory Grill and Coney Island Grill concepts, entered the fast-casual pizza fray in 2013 with Blast 825° Pizza. 
The company celebrated the opening of its fourth unit in December, in the Sacramento, Calif., market and in mid-January secured $9.6 million in financing from GE Capital to help it continue to grow. CEO John Ferdinandi says franchising is in the cards.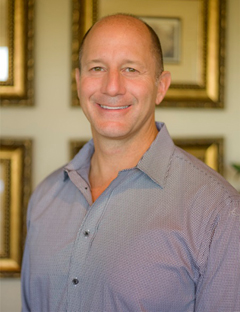 John Ferdinandi
rd+d: How does Blast 825° Pizza differentiate itself in the rapidly expanding fast-casual pizza segment?
JF: We differentiate ourselves with our crust, our approach to toppings and our ovens. For example, a lot of other companies use a press to make their pizza crust but we really believe in hand-tossed. We make our dough fresh every day. It's hand-stretched and pre-fired to give it a bit of body before it goes into our dough case ready to be topped and finished. In addition to offering a wide array of fresh toppings, we also do something a little different in that we roast a lot of our toppings off in the oven every morning – things like roasted peppers, pineapple, garlic, mushrooms and leeks. And we offer 15 different finishing seasoning blends. Our oven is unique, as well. We cook at a higher temperature – most of our competitors are cooking at around 500 degrees and we're at 825. It's a gas-fired dome oven, which we feel gives a better product, and it's coated in black steel, which gives it a really distinctive look. Finally, we have our five house-made, fresh-squeezed Blastades, which are signature drinks.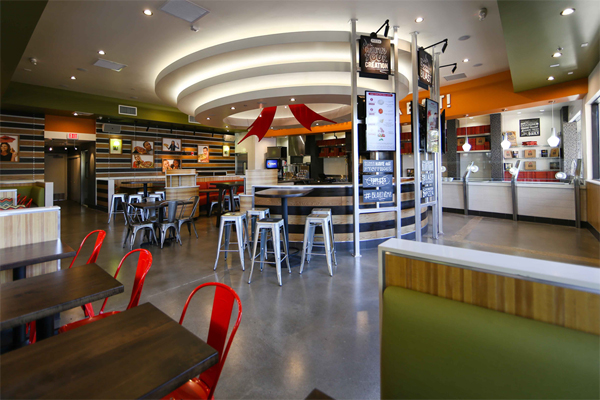 rd+d: What are some of the highlights of the prototype look and feel you've created?
JF: It's a contemporary design—clean, bright, fun and interactive. We have a large representation of the round shape of the oven with a flame feature that's a big center ceiling treatment. That same rounded shape is echoed in curved counters and booths. A big community table sits beneath the ceiling feature, we have live basil plants in the restaurant, and we use a lot of monitors both to show off our fresh food preparation and to incorporate social media. People can win a pizza every week by taking a picture of themselves creating or enjoying their pizza and sending it to us. We pick a weekly winner and the photo goes up on those social screens in the restaurants, so if you're in that restaurant you might see yourself or your child or your friends if the photo was selected. Those are design elements that will exist in every store.
rd+d: What's the sweet spot for unit size and real estate type?
JF: We have a range right now, but it's looking like 2,200 square feet is ideal. We look for high-visibility locations – end caps in retail center spaces or mall areas with anchors like Target and co-tenants like Chipotle and Panera Bread. The big challenge is finding good real estate, particularly with so many new players in the fast-casual space vying for a limited number of prime spots.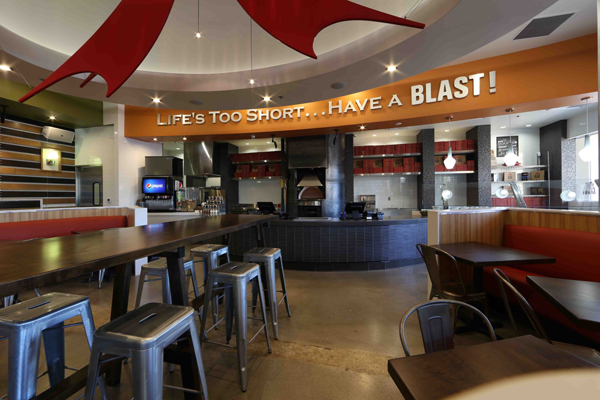 rd+d: What's ahead for Blast 825° Pizza in terms of near-term development?
JF: We have four stores open and two in development—one in Cupertino and one in Elk Grove, Calif. So we will initially develop in the Sacramento and Bay Areas. We're also looking at other parts of California, including Los Angeles and San Diego, as well as at Dallas, Austin and San Antonio, Texas.
rd+d: You've mentioned you're seeking franchisees. Are current locations franchised or company owned?
JF: They're company owned, but we are looking to franchise and we'd flip these existing stores over to franchisees and keep developing new company-owned stores and flipping them. As we get more traction, we hope to attract multi-unit operators who are large enough to do several stores in market.
rd+d: When you decided to wade into the fast-casual pizza waters, did you anticipate the segment becoming so crowded so quickly?
JF: We knew it was really growing fast, but like with anything the market will start to clear itself out. I think there's a good, solid 12 players that are working hard to make it on a regional or national level and we intend to be among them.