Starbucks Coffee Company has opened the doors to its first Starbucks Reserve Roastery & Tasting Room in Seattle. The new concept is dedicated to roasting, coffee education and increasing availability of the company's small-lot Reserve coffees, all of which will be roasted in this facility.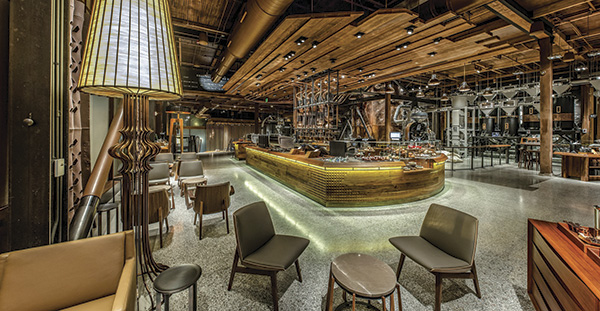 The 15,000-square-foot space includes 6,654 square feet devoted to the Starbucks Café and Tasting Room, which is designed to have 360-degree views from any vantage point. Freshly roasted beans are delivered from two roasters to a whole-bean scooping table or a custom-made bar where baristas brew handcrafted beverages using six different brewing methods.
Starbucks restored the 1920s building housing the Reserve Roastery unit to its original façade and reclaimed many of its original materials, including wood in the decorative ceiling and original Terrazzo and concrete flooring. While it maintains the building's historic character, however, the Roastery also incorporates state-of-the-art technologies.
Highlights here include a digital "clacker" board with mechanical flaps displaying what's roasting and by whom, and a Coffee Passion Projection Wall made of smart glass, which displays images of coffee at the company's farm in Costa Rica. In the coming year, Starbucks will debut technology that allows customers to access information about freshly brewed coffee via their smartphones.