Big Boy is dead! Long live Big Boy! That seems to sum things up for the Warren, Mich.-based franchisor. It would appear, on one hand, that better days are behind the aging brand despite an attempt four years ago to rev sales with a new full-service prototype. 
Yet on the other hand, the legacy brand is re-inventing itself. "Quite a bit has changed in four years. The model has had to change," concedes CEO Keith Sirois.
The new model is a fast-casual concept dubbed Big Boy Burgers & Fries. It's slated to open this year in northeast Ohio, where the chain has operated full-service eateries for years. This isn't the privately held company's first crack at fast-casual. In 2010, it opened @burger in nearby Ann Arbor, Mich. The premium burger restaurant lasted just 11 months. Now, facing a lack of potential franchisees for the full-service restaurants, Sirois is betting again that a smaller, limited-service format is Big Boy's salvation.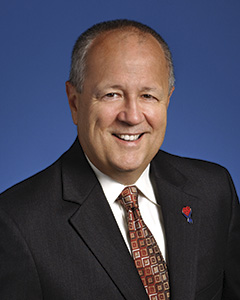 Keith Siroisrd+d: Where do you plan to begin opening the new Big Boy Burgers & Fries units?
KS: We are going to open the first two prototypes in the Cleveland area just as soon as we can. Then we'll tweak to improve it, financially modify it and value-engineer the build out. And then, I suspect, that will be the prototype of the future.
rd+d: Will you open any more of the full-service Big Boys that now populate Michigan, Ohio and California? Or is that model history?
KS: In terms of development as a franchise vehicle, it's mostly history. The unit economics just don't work, not in the realm in which we are competing for franchisees today. We'll probably open some in Michigan to offset what we have, but beyond that I don't think we will. To build a free-standing Big Boy, it's going to be 4,000 to 6,000 square feet. The cost of the land is north of $2.5 million. The fast-casual investment is much less. It's a third of that figure.
rd+d: What has Big Boy's history been with multi-unit developers?
KS: We don't have a lot of them. Way back in the '70s there were large developers, like [franchisee] Alex Shoenbaum. Today, our largest franchisee operates three or four Big Boys.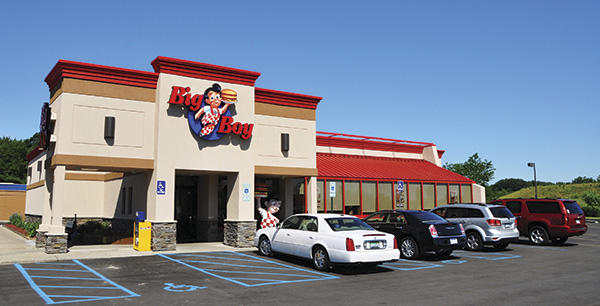 Big Boy refreshed its full-service prototype four years ago (top and bottom), but is now developing a new fast-casual model.rd+d: Let's talk for a minute about your previous attempt at a fast-casual burger concept, @burger in Ann Arbor, which closed in less than a year. What happened?
KS: We just made a whole lot of mistakes. We didn't call it Big Boy, for one thing. We had limited parking in the location. Since then, we've had four years to watch chains like Chipotle and other fast casuals go about their business.
rd+d: What were some key things you learned operating @burger that might transfer to the new burger concept?
KS: Certainly, the quality of the product was terrific and people raved about it. We will take that proprietary approach in the new Big Boy fast-casual concept. We'll have the traditional Big Boy Burger, but our upscale offerings will use a proprietary blend of meat. We also learned, by the way, that we spent too much money overdoing things in the facility that were nice for us but didn't matter to the customer.
rd+d: I understand from people who visited @burger that fresh cues were all over the place. Will you be picking up on those in the new concept?
KS: Graphics will address those kinds of things in the prototype. At @burger you could see all the food being made. That speaks to fresh. That is something Subway taught us all. We are going with fresh French fries, so people will see us cutting them. We are breading our chicken and people can see that being done fresh, too.
rd+d: Do you have renderings or a model built yet?
KS: We've built a full-scale cardboard prototype. Because we manufacture food here [in Warren, Mich.], we have a good relationship with a corrugated manufacturer. We sent him our equipment specs and he built us a cardboard model. What we have is a layout of the kitchen and the flow for the guests. We bring in cooks and managers, and have them walk through and touch it and tell us what makes sense and what we missed.
rd+d: How large is the new concept, and why did you pick Greater Cleveland for the first two of these restaurants?
KS: It will be 2,000 square feet, plus or minus. We will lease space so we will be constrained by what's available. As for Cleveland, we have two restaurants there. We're taking a regional perspective, surrounding the restaurants we have there. We like the Northwest quadrant — the Rocky River, Fairview and Strongsville areas; and we like Mayfield, Willoughby and Mentor to the East. When we look at our menu mix, Cleveland customers use us like they do in California, very much for burgers and fries. And I am not going to California under any circumstances.
rd+d: Why not? The state's economy is pretty strong.
KS: It is strong, but the labor laws, environmental laws, et cetera are just incredibly oppressive to business. If I were fonder of the business environment, I would have loved to open our prototype there. After all, California is our history, where we started.
rd+d: What are some points of differentiation in the new model?
KS: Our design will be a combination of new and rustic elements. You might have a brick wall and/or a mural. Even the colors, while giving a nod to heritage, will still be trendy. The graphics will be the historical Big Boy stuff. Technomic's Ron Paul refers to us as the "original better burger." We will play up that theme.
rd+d: How will you communicate the "original better burger" idea to the customer?
KS: We will tag it on everything we do. A lot of people don't know that Big Boy started in 1936 as a little 14-stool burger-and-fry joint. So we'll be telling the story in various ways throughout the restaurant, talking about the history.