It's not an easy time to be in the restaurant industry, with labor woes, supply chain issues, rising costs and the lingering effects of the pandemic.
But those who choose to work in this industry are a hardy bunch, and that tends to start from the top. We talked to five restaurant chain leaders to get their take on where the restaurant industry is right now and where it's going. 
Let's start with real estate: What's the current outlook for your concept?
Specht: With rising costs and an extremely competitive commercial real estate market, we continue to invest heavily in identifying and securing preferred sites. This is especially true in trying to identify sites that can accommodate drive-thru locations.
While the costs of construction begin to level off, they are still higher than a few years ago. In addition, interest rates have increased, which makes it more difficult for developers to flip properties to long-term investors.
Borstein: The trend toward smaller dining rooms continues, even more as digital sales grow. We're also seeing more interest in pick-up windows for digital orders. The advantage we have is we've built our concepts' foundation to allow for co-branding and shared space opportunities. We also continue to build on our portfolio of virtual brands to help franchisees increase sales.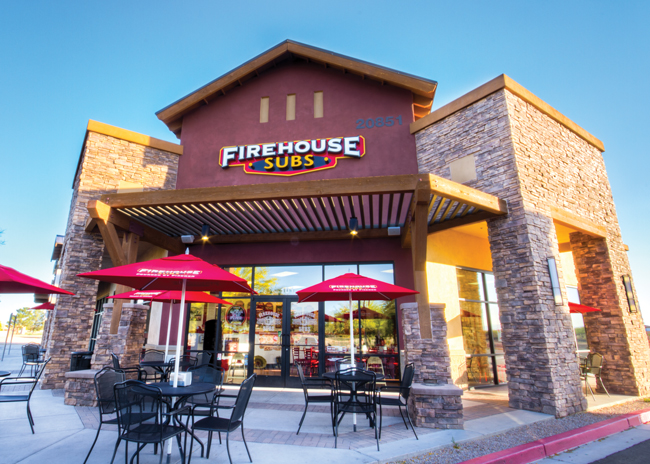 Firehouse Subs plans to enhance and grow its digital channels to remain competative. Image courtesy of Firehouse Subs
MJ Riva, CEO and President, Pizza Factory, Oakhurst, Calif.
What do you expect to be the biggest challenges to your expansion plans?
Fox: We aren't completely free of the supply chain woes that hinder the timelines for some projects. But we don't consider that to be a significant drag on the big picture, long-term progress we will make. [Staffing issues] have been improving over the course of 2022 and is less of an issue. But when staffing was more of an issue, coupled with the incredible sales gains we were experiencing, some operators had a tough time directing their focus to new development.
Riva: For many restaurant franchisors, sourcing equipment has been a roadblock, especially with product shortages. The challenges we face in this area can affect opening timelines where sometimes new locations are not able to open for multiple months after initially anticipated.
Fischer: The biggest challenges we are experiencing are the supply chain issues and the time it takes to get permits and inspections through the cities, counties and states. The cycle time has really extended since the pandemic, but we expect this to improve over the next several months. And labor continues to be a challenge.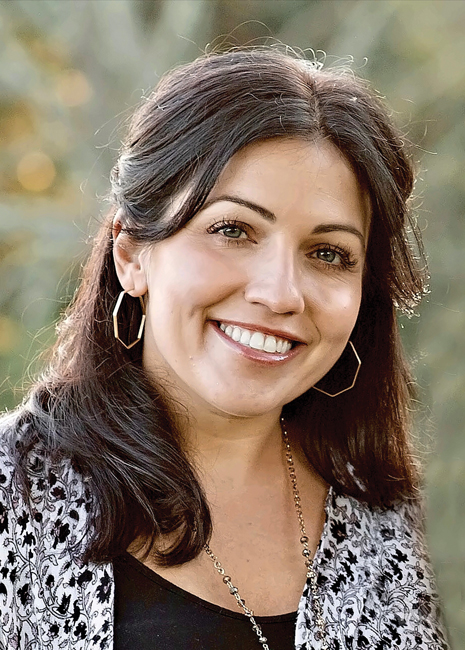 Lauriena Borstein, Chief Brand Officer, Saladworks, Frutta Bowls and Zoup! Eatery, (Woworks), St. Petersburg, Fla.
Specht: The biggest challenge we face entering new markets, outside of securing preferred sites, is brand awareness and recognition. We've successfully built a name and reputation for ourselves in our home state of Wisconsin, but now we're entering new markets. As a result, we have to work diligently to tell our 50-year story, build guest loyalty and capture established market share.
From an operations perspective, we expect similar challenges to what we face in existing markets. Staffing has been an issue for the last several years and we have a comprehensive recruiting plan to address these challenges. Our competitive benefits package, individual development plans and family-based culture earned us the Milwaukee Journal Sentinel's Top Workplace award for the past two years in a row.
What are your expectations when it comes to labor shortages and supply chain challenges?
Riva: I don't think restaurant owners are going to see labor challenges disappear. Executives need to shift their priorities to find different avenues to incentivize and keep employees. One way to do this is through carving a strong career path for all employees, communicating their growth potential at the company. We're invested in every employee and believe in nurturing their skills so they're with us for the long haul.
Don Fox, President and CEO Firehouse Subs, Jacksonville, Fla.
Fischer: [We] have been fortunate to make it through the supply chain and labor shortages, due to the simplicity of our product, training and business model. But the real secret to retention, both in stores and at our support center, is the culture. It's important to our team to try to see an individual as a whole and the value they bring to the table.
As for supply chain issues, while we haven't directly lost any franchise deals over it, it does extend our cycle time for opening locations. We have begun ordering equipment ahead of time to help ease some of the wait times and it ensures our locations are ready for inspection and permitting when local officials are available.
Borstein: We've accepted the labor market has forever changed. It isn't going to get more affordable, so we have to look for operational efficiencies. We're looking at recipe changes that reduce prep time, layout changes that can take seconds off time to make meals, and even how we utilize technology to reduce labor. Increasing our virtual brands' sales also helps our restaurants be more efficient with the labor we have.
We have definitely seen an improvement in supply chain challenges. But we expect costs will remain elevated. We're continuously looking at menu optimization, in different ways for each of our brands but always with a focus on franchisee profitability. In some cases, it's as simple as reducing SKUs. In others, it's simplifying the menu structure to improve speed of service, and in some it's looking at additional lower cost product line extensions. We've also begun to look at where we can get better efficiency and buying power across our brands.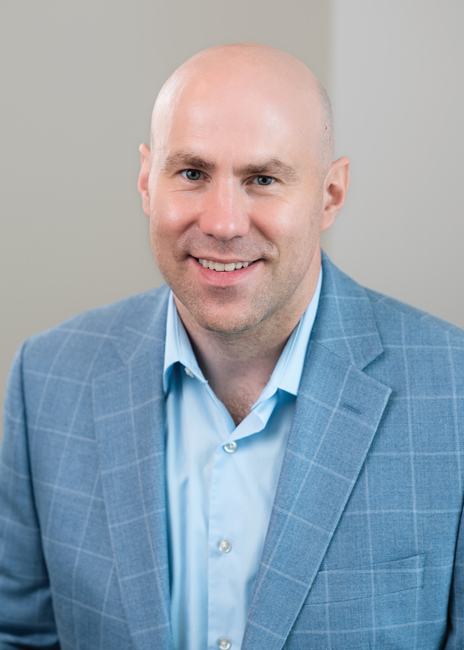 Jon Fischer, Chief Development Officer, Wetzel's Pretzels, Pasadena, Calif.
Specht:Regarding supply chain, the cost of our top 50 items is up 15% versus last year. We expect that to drop back to normal levels [which would be between 3% and 5%] in 2023. Another supply chain pressure is construction costs, which are up 20% versus last year, meaning we also feel these pressures during the build-out phase, before the restaurant is even open.
In an effort to avoid passing all of the burden to the consumer, we've looked at cutting other costs. This includes reviewing all service contracts to see if some of them could be stretched over a longer period of time.
What new roles do you anticipate technology will take going forward?
Fox: The more we enhance and grow our digital channels, the stronger and more competitive we will be. Operational execution on this front, enabled by quality technology, is paramount.
Fischer: We like to keep operations simple and look for new ways to streamline our processes. We will soon be rolling out new technology and a mobile app to offer our fans a new streamlined ordering experience, while also offering delivery.
Borstein: For training and operations, [we'll be] increasing our video training assets and digitizing manuals in the back of house. We're talking to our team members in a way they want to consume information. Well-trained team members take less time to do a task and are more likely to be satisfied with their job.
The launch of our new technology stack across our brands opens up opportunity for new revenue channels through virtual brand expansion and allows us to maximize the benefits of our loyalty partner. It also enables us to share best practices we acquired through some of our brands and "Woworksatizing" them for all brands.
The faster we can adapt to get information to franchisees in a digestible way, the more they can focus on building their businesses.
Specht: We plan to implement kiosks in our restaurants to offset rising labor costs. To reduce the workload of our maintenance team, we are looking to add QR code maintenance training to our equipment. This will offer training at our team's fingertips to quickly solve common maintenance problems. For example, there may be a QR code on the fryer that takes staff to a training video for basic tasks like lighting a pilot light. These training videos can answer easy questions our managers and store staff have and can free up time for our maintenance team to focus on bigger issues.
We will also explore AI. If something makes sense for our brand with AI, we will take a close look at implementing it.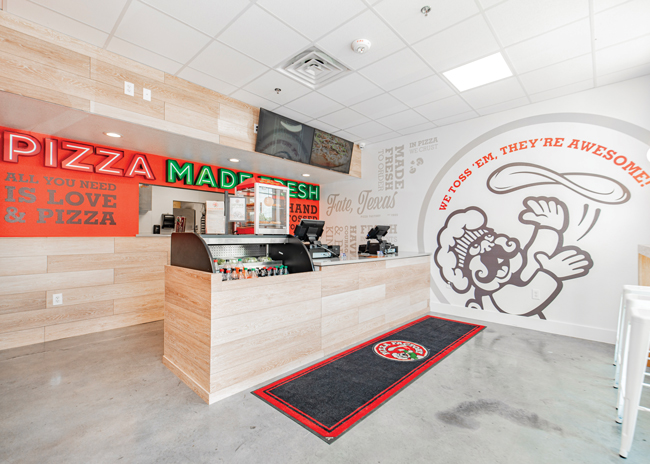 Pizza Factory recently launched an express prototype to capitalize on the popularity of off-premises dining.
What's your approach to hiring, training or retention of employees?
Fox: We have a community mission that is head and shoulders above any other brand I'm familiar with. Supporting the mission of the Firehouse Subs Public Safety Foundation leads to more life-saving equipment being granted to more first responders. As a result, more lives are saved. I can't think of a more aspirational reason to wake up in the morning and tie on an apron.
Riva: Our corporate team does an awesome job of encouraging open dialogue. We use an online forum to give best practices and create a space for franchisees to communicate and share successes.
Fischer: Our team has implemented new ways to hire, including apply-by-text and utilizing social media to find potential candidates. We are also digitalizing our training materials, making it more interactive with trivia and games, appealing to the next generation of the workforce.
Borstein: We've been focused on developing a culture inside our restaurants that improves retention. Providing a top-notch onboarding and initial training program is a great start but this needs to be reinforced through ongoing improvements in team communication and training. Team members who feel prepared to handle their jobs are more satisfied. Specific initiatives include revamping our digital training tools, as well as shorter training videos that are easy to access.
Specht:We treat our team members with staff parties, surprise meals and even host staff appreciation days for special occasions and milestones, where our corporate support center employees work shifts at the restaurant to allow staff members to attend an off-site team outing.
We also continue to develop our online training platform, CousinsU, to ensure employees receive consistent and thorough training. To appeal to our younger demographic, we've added gamification aspects to our online courses to make them as engaging as possible. They are short and to the point and take training in small bites versus watching one long video.
We are currently testing a new employee incentive program that allows team members to earn points for achieving certain metrics (on-time arrivals, sales incentives, etc.), and then cash those points in for gift cards. Additionally, we implemented a daily pay option at select locations.
On the recruitment side, we plan to test tablets in-store for candidates to apply quickly and easily via an app. We also recently began using a calendar invite app that allows candidates to schedule their own interview times. The app provides automatic reminders to the candidates, and we found it reduces no-show interviews.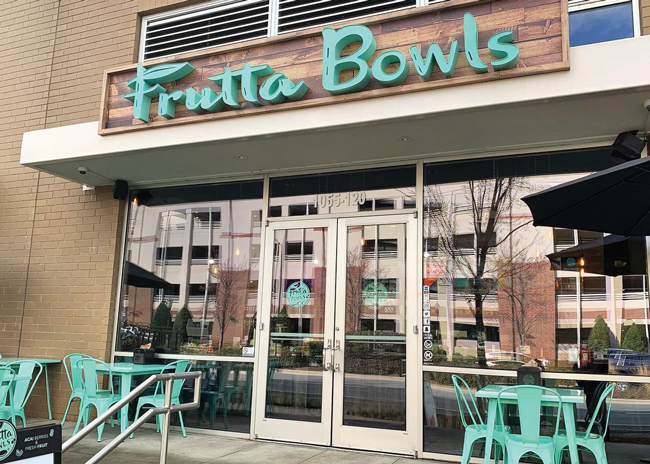 Woworks brands like Frutta Bowls are experimenting with expanded grab-and-go items and kiosk ordering. Image courtesy of Frutta Bowls
Regarding the design of your restaurants, are there any big-picture changes coming?
Riva: We recently launched our Pizza Factory Express model that's a smaller version of our fast-casual format. It's designed to optimize delivery, curbside and takeout orders [and] communicate [our] reputation as a fresh, lively and community-rooted brand. With large, floor to ceiling glass windows, the new prototype entices guests to come into an inviting space.
Fischer: In early 2023, we plan to begin franchising our new street concept. We've opened several test locations and plan to target power centers as well as retail near colleges and universities as this new design will cater to driving an experience. It's a new way to experience Wetzel's, with a new fresh and fun design, and menu items not found at your typical Wetzel's Pretzels.
Borstein: We are experimenting with things like expanded grab-and-go items, second service lines for digital orders, and kiosk-based ordering. We want facilities that cater to zillenials and encourage social media opportunities.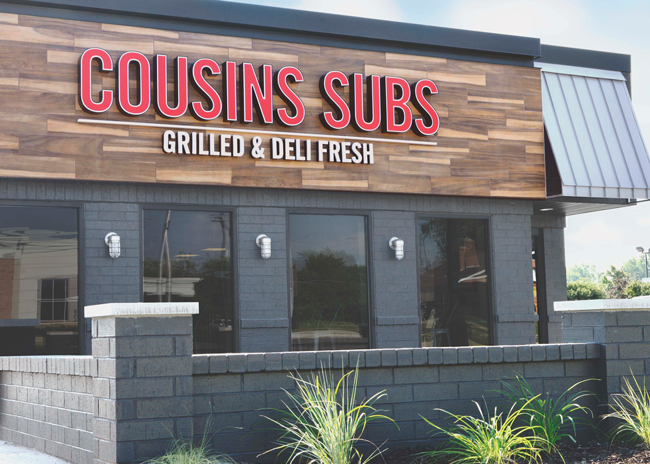 Image courtesy of Cousins Subs
How do you see marketing evolving over the next few years?
Fox: Consumers' eyes and ears are consuming a greater variety of media than ever and unlocking the way to get your message into the media types and programming that to get to your desired audience is one of the more challenging aspects of the business.
Riva: Having a local marketing plan is just as important as having a national presence, especially when it comes to creating brand awareness within the community and attracting employees. Jumping on YouTube, Instagram and TikTok is more important than ever. We recently launched our own TikTok strategy to highlight our awesome food and fun culture. It's important to stay ahead of how social media can best support our brand's marketing efforts.
Borstein: I am a huge believer in digital marketing, specifically the power of community engagement through local social media activity. Guests want to connect with brands that make them feel good and give back to their communities. Our partnership with No Kid Hungry is one way that helps franchisees connect with their community in restaurants. Taking this concept the next level down into their communities — team member sports, schools, religious organizations — also builds a connection with team members and helps with retention.
Specht: We've invested heavily in data collection and analysis to gain a better understanding of our customers and their behaviors. Through our loyalty program, we continue to transition to personalized messaging and offer personalized deals based on our guests' activity and purchase behaviors. +