John Kirk, AIA, Partner, Cooper Robertson John Kirk, AIA, partner at Cooper Robertson, has led master planning efforts for town centers, campuses and new communities. He's also served as partner-in-charge and designer for a range of educational, residential, resort, club and specialty building projects. The firm completed the master plan and architectural design for the historic Farmington Country Club in Charlottesville, Va. It included numerous components, but key to success was a renovation and expansion of the club's food and beverage areas. Here, Kirk discusses the project.
Can you give us a bird's-eye view of this project overall and how the F&B program fits into the big picture?
JK: The original property was owned by the Diver family, and in 1803, Thomas Jefferson, while president of the United States, put an addition on to the original house. It's now lovingly known as the Jefferson Room. It remained a private house but grew by accretion over time. In 1927, it became a member-owned club. We did a master plan for Farmington that was completed in 2012-ish. We asked: What will Farmington look like at 100, in 2027? A number of capital improvements were envisioned by that master plan. Basically since 2012, we have been playing them out. The first piece was a new dining room on the north side that has views of the Blue Ridge mountains. It's now the Blue Ridge Room. We put a brick terrace out in front of that and a firepit. The second piece was the renovation and expansion of their grill on the south side. And then a brand-new kitchen, which they woefully needed. They were victims of their own success. They were doing a great job with respect to meal service — but in this undersized and outdated existing kitchen.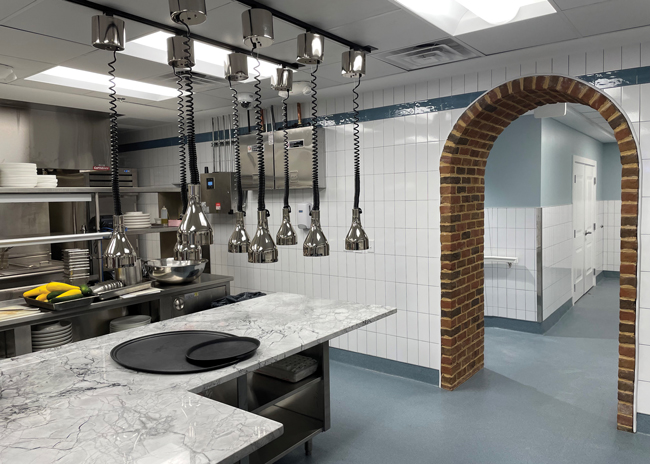 A new kitchen was a key component in Cooper Robertson's work at Farmington Country Club. Images courtesy of Cooper Robertson
What was the biggest challenge in adding on to a historic structure with a membership to answer to?
JK: When I interviewed for the master plan, I said that if we do our job right, you'll never know we've been here. The point has been to make these interventions in a way that looks seamless.
We added a good bit of square footage. We did the entire new kitchen without touching the existing kitchen. As soon as the new kitchen was operational, we renovated the old kitchen for additional uses.
One of the big hurdles is that Farmington is a not a sprinklered building. A lot of it is historic, and our piece had to be 100% fire separated from the existing building.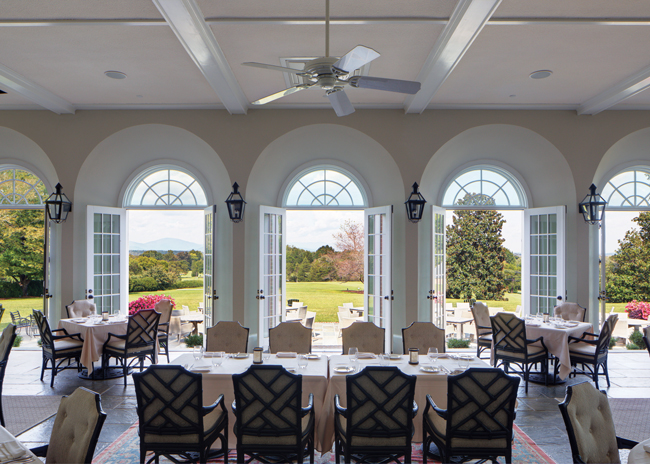 The kitchen was serving a large main dining room, a ballroom and a grill. The addition you completed offered an entirely new kitchen area. Can you detail that for us?
JK: One big issue of many was that the dishwashing area was just beyond a pair of French doors from the main living room, so if any event was happening in the main living area, they couldn't wash dishes because it made too much noise. Also, food was passing in publicly trafficked areas.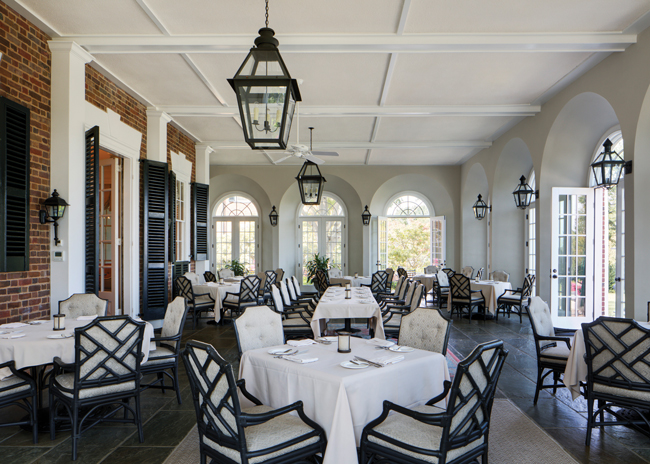 Another issue they had was that the pastry kitchen had to cross the grill areas with its hot hoods and ovens, so ice cream would be half melted by the time you got it to the guest.
We also added an employee break room that's really nice. We added a wine-tasting room that could be a private dining room as well. In the new kitchen, there's a demo kitchen so members can come in, and the chef and his staff coach them through making a fancy meal.
Farmington is a bit enlightened to invest as much as they have in back-of-the-house areas.