Founded in 1979 by Herman J. Russell Sr. in Atlanta, airport food and beverage operator Concessions International (CI) got its start as part of an FAA program to support minority- and women-owned businesses. 
By the mid-1990s, it had outgrown that program and has since become a leader in the segment. Today, CI operates 40 different foodservice concepts in eight airports nationally. It handles everything from leasing to designing, building and operating national, regional and local brands. Anthony Joseph, CI's president, talked with rd+d about how the company navigates the high-flying airport arena.
rd+d: Airport foodservice used to have a lousy reputation for quality and price. That's now changed dramatically.
AJ: Over the past 10 to 15 years, airports have introduced more internal competition and many have broken leases into packages. As such, you might have two, three or four different operators in a terminal competing with each other. The result is more opportunity, greater diversity, higher quality and better service.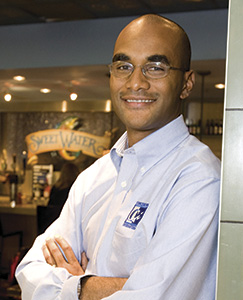 rd+d: Airports also seem to be allotting more space to restaurants and bars.
AJ: Absolutely. Airlines have had a very difficult time starting with 9/11 and then the recession. Traffic decreased dramatically, which led to consolidation and increased competition among airports to host the shrinking number of airlines. One of the ways they compete is to keep landing fees as economical as possible. One way do to that is to generate more non-airline revenue through more and better restaurants, bars, retail and other services.
rd+d: What types of brands seem to be most in demand in the airport environment today?
AJ: They're increasingly looking for a mix of national brands and local concepts that convey a sense of place. We've been in the Atlanta airport since 1995, for example, and one of the brands that we've operated continuously is Pascal's, a local Southern concept founded in Atlanta in 1947. If you're connecting through Atlanta and visit Pascal's, that might be your only authentic local experience. At Reagan National Airport in D.C., we're opening six new locations and four of them are local restaurants, including some well-known, upscale chef-driven concepts.
rd+d: Is interest in national chains therefore declining?
AJ: Not necessarily. You need a balance. Many guests look for what they're familiar with when traveling while others look for a different, more local experience.
rd+d: What are some of the toughest issues brands face when considering expanding into airports?
AJ: The time and effort it can take to modify their models can be significant. Their typical prototype might call for 800 or 1,000 square feet, for instance, but here they might get 550 square feet. And there may be no gas available when they use gas exclusively. We might have to add breakfast, significantly scale down the menu and reengineer processes to reduce service times. If it's a local operator, we need to see strong operating procedures in place and there are supply chain issues to consider, particularly with regard to security clearances and insurance costs. If a concept has a network of local suppliers that are unique to that region, those suppliers may not have the capacity to get the insurance required for their drivers to drive on the tarmac.
rd+d: What do the brands that have the greatest success in airports have in common?
AJ: Regardless of the concept, the ones that do the best are those where you don't feel like you're getting a substandard experience because you're in an airport.