Wingstop opened its "restaurant of the future," a cashless takeout-only prototype that allows for rapid testing of new equipment and layouts and serves as an innovation lab for menu and guest experiences.
Located in a bustling shopping center on Lover's Lane in Dallas and just a short drive from Wingstop's Global Support Center in Addison, Texas, the restaurant is just 1,300 square feet, nearly 400 square feet less than Wingstop's average footprint. It is modularly optimized to test a variety of configurations and serves as a blueprint for restaurants to come. 
"A glimpse into our Lovers Lane location is a glimpse into the future of Wingstop — focused on 100% digital transactions, seamless back-of-house operations, ongoing flavor
innovation, and a business model centered around our fans, who love to dine off-premise with friends, while gaming, or just about anywhere you can think of," says Marisa Carona, chief growth officer. "We're excited to continue optimizing the size and layout of our restaurants as we drive toward our vision of becoming a Top 10 Global Restaurant Brand."
With delivery and carryout accounting for nearly 100% of Wingstop's total orders, the restaurant design is focused on the digital experience of the carryout guest and delivery driver. This includes a lobby area without dining tables and an optimized back and front of the house flow to create efficiencies for team members.
Additional enhancements to the prototype include:
Digital-focused ordering to help deliver on Wingstop's goal of digitizing 100% of transactions, complete with QR codes in-restaurant for easy ordering
Totally cashless environment
Focus on sustainability including Energy Star equipment and grease extraction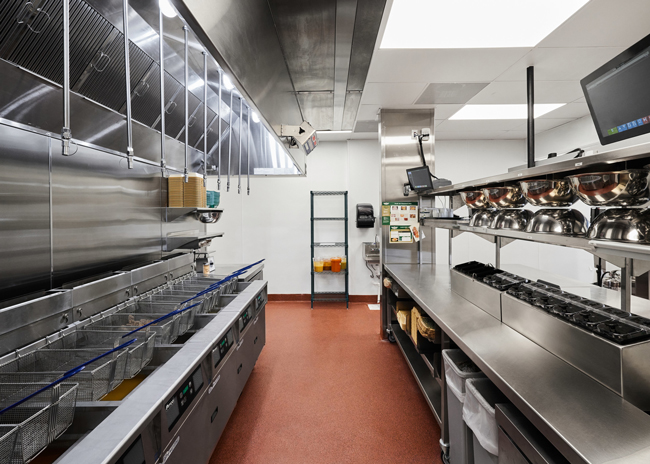 Visitors to the prototype location will also see team members dressed in Wingstop's new sustainable uniform line, which features an array of stylish threads manufactured from recycled water bottles. Wingstop currently has 1,650 locations across the globe. In the fiscal year 2020, Wingstop's system-wide sales increased 28.8% year-over-year to approximately $2.0 billion, marking the 17th consecutive year of same-store sales growth.