Fax machines, cash registers and loyalty punch cards have been part of the business mix for restaurants for years. But modern consumers expect a different level of technological engagement.
"You need to embrace technology; if you don't, you'll fall way behind," says Scott Scherer, CIO of the 1,900-location Jersey Mike's chain.
Today it's not enough to be passionate about food and about hospitality to run a restaurant company. Operators also need to be ready to embrace technology and to run it like a tapestry throughout the operation, from virtual restaurants to an app, loyalty program and marketing — whether a large or medium chain or a mom and pop restaurant.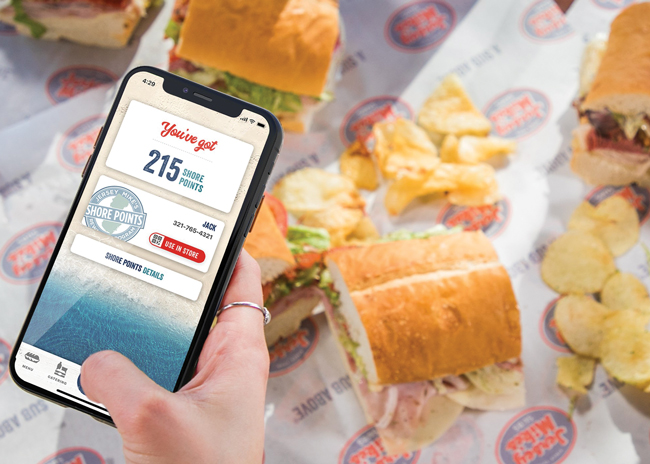 Jersey Mike's has an app for that but it also has a proprietary POS system that offers convenience and provides a treasure trove for marketing. Image courtesy of Jersey Mike's
The Large Chain
Jersey Mike's implemented a POS system and started doing data collection around 2006 "so franchisees could look at what was selling and that became the heart of our system," says Scherer.
Melt Shop sees an average increase of 20% on guest checks when they use in-store kiosks that offer suggestive selling techniques. Image courtesy of Melt ShopFrom there, he says, the company just added on. "We had probably one of the first electronic-based loyalty programs in the industry, and that was the next layering, followed by online ordering, followed by an app," he says.
Jersey Mike's took it a step further and created a proprietary POS system. "That's a foundation that allows us to manage databases, capture all our customers' transactions and it's a treasure trove for marketing," says Rich Hope, chief marketing officer. Because of this the franchise company was one of the first to have online ordering and a digital app, the third iteration of which launched last August. "We just keep our heads down and keep on developing," Hope says.
But it's not all been smooth sailing. "There have been hiccups," says Hope, "but because we developed [our technology] in-house, we can fight through things more quickly."
And when COVID-19 arrived, Jersey Mike's was ready for it. It had released the third iteration of its digital app seven months before and had launched a new loyalty program, so it was easy to keep up with the ballooning of online orders and added curbside pickup and delivery almost overnight. "Because of the way we developed our original app we could layer it in and get it out very quickly," says Scherer. "If we anticipate, we can be there quickly, and if we don't we still can."
Technology makes marketing easier, too. "Having such close access to people means you can market to them in a very timely manner, Scherer points out. "We do it through notifications through the app, through emails and text."
Technology also allows the company to get the word out quickly about new products, such as a portobella sub that launched earlier this year. "We've only marketed it through digital means so far — website, homepage of the app, app notifications, email, SMS," Scherer says, though the company will market it fully in stores this spring.
Even Jersey Mike's Month of Giving that runs every spring relies heavily on technology. In its eleventh year, the company raises money for a couple of hundred charities and customers can donate online, or can round up for charity at the POS, and the company sends out messaging to its app users. "We've really extended technology to every part of our business," says Hope. "I don't think there's any part that technology does not affect."
Jersey Mike's leverages technology to get the word out about new products in store. Image courtesy of Jersey Mike's
The Small Chain
Spencer Rubin opened his first location of Melt Shop in 2011 in New York City and now has 15 locations of the comfort food fast-casual in New York, New Jersey and Pennsylvania.
"I got into this business for food but technology is playing an increasingly critical role," Rubin says. "I wouldn't claim we're a technology company yet but we're far closer than we've ever been."
Image courtesy of Melt ShopIn the wake of the pandemic, Rubin realized he needed to increase the company's digital footprint and opted to do so via virtual brands. In April he launched Melt's Wing Shop, a virtual brand that now operates out of every Melt Shop location. Virtual brands Mac Shop and Crispy Chicken Shop soon followed and are co-located in three stores so far. The chain also has two additional virtual brands under development.
Rubin worked to develop a proprietary app "that allows us to drive traffic to any of our virtual brands on our own native site." He did this to create a strong brand experience for the virtual brands and to see which took off with customers.
The app also makes it easy for large groups or families to order. By putting all virtual brands under the Melt Shop umbrella, multiple people in a given household can order from the various brands but check out of a single cart and have all food delivered at the same time for one delivery fee. "The convenience layer we're adding is really going to make people want to dine with our virtual brands more," says Rubin. "That's a big technology differentiator."
Customers can also use Melt Shop's new loyalty program for any of these brands and that's a big incentive. The chain launched a new program in December that awards points for every $1 spent, gives freebies on customers' birthdays, and pushes out unique offers and deals for loyalty members.
Melt Shop's SMS program launched at the end of 2019. Rubin says it sends out a weekly text featuring everything from teasers to direct offers, and this effort garners the most immediate reactions from customers, he says, partly because the offers are usually timely. The brand's not ignoring social media, which is "where we've developed our brand voice the most," says Rubin, pointing out that most of his energy is focused on Instagram, because it offers "amazing engagement."
Technology also helps Rubin refine and improve the brands' menus and recipes. For example, he eliminated a specific menu item because once customers ordered it, they tended to not return. "Using data to make decisions like that will help us make the best product and make the best decisions," he says.
During the past year Melt Shop has added kiosks to all four New York City stores, an expansion from one test site pre-pandemic. Adoption was immediate and between 60% and 80% of walk-in traffic now uses the kiosks — and check averages rise by about 20% when customers use them "because of the suggestive selling algorithm and the ease of use," Rubin says.
Finally, Melt Shop elicits feedback from its customers via technology, sending survey requests via Tattle and also requesting in-store that customers complete surveys. Melt Shop typically receives back around 30 surveys per store per month. "That's critical to our constant improvement," Rubin says. The company also sends out an automated email after every guest order asking for feedback.
The Mom-and-Pop Shop
Shaz Khan may only operate three locations of Saint Paul, Minn.-based Tono Pizzeria + Cheesesteaks (two traditional and one noncommercial), but he's a huge advocate of technology.
"We pride ourselves on being on the forefront of technology," Khan says. "It gives us a unique experience that feels like a much larger organization without losing the hometown touch."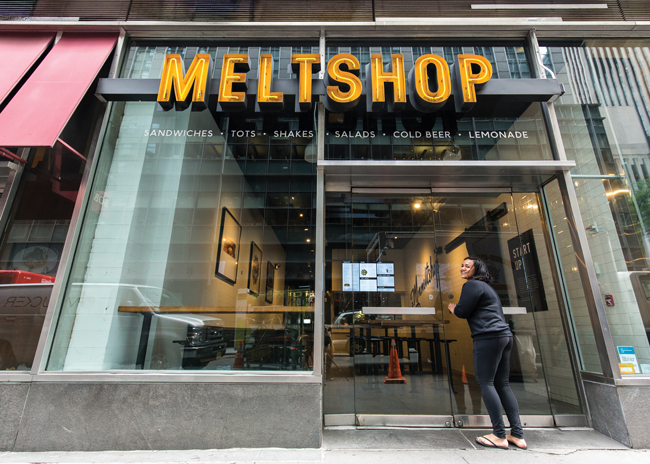 Image courtesy of Melt ShopOn the customer-facing side, Khan got into mobile early. "I knew people would be gravitating towards their phones more than their desktops," so he developed a mobile-friendly website that was "responsive and intuitive (as few clicks as possible for customers) and worked on many different devices."
He uses pixel tracking, which works almost like cookies: Tiny pieces of HTML code are loaded when users visit websites, so someone — Khan in this case — can see which other sites they visit. "I use it to understand my audience better, which helps drive down ad costs when we want to be discovered by new customers via social media. It helps us understand the correlation between consumers' other likes and their real-world behaviors and their actions." 
Behind the scenes, Khan wanted to get his core processes digitized, so he introduced mobile scheduling when he first opened in 2019, so employees could do everything from their phones, from changing and swapping shifts to PTO requests.
Khan's system aggregates all orders — both from Tono's native site and from third-party delivery companies — so everything is in one place, minimizing errors. Khan looked specifically into companies that used an API (Application Programming Interface) "so orders flowed directly to our POS."
Khan did the same with social media, so all conversations are filtered to a single dashboard. "It's about brand management," he says. Having this all in one place means the company can quickly respond to positive and negative feedback. "Being able to do that efficiently is really important and this is really where technology helps."
Next up, Khan would like to start using machine learning. Through it, his automated phone system will remember what a person ordered previously and could even answer some basic questions. "So, you'll be able to place your order fully automated with this machine that has learned your orders," he says. "This is me looking at what the big guys are doing and whether it fits into my vision for our company."
Khan is always looking ahead with technology, too, and uses Wi-Fi tracking. This shows him how many people are near his restaurants, which he can correlate with how many customers come in on a normal day, or on a day he runs a special, for example.
"This is my attempt at trying something new and you never know how it will be utilized. The key to innovation is having the foresight of what's next. No one can predict the future so the best you can do is affordable experimentation."