Juan Martinez, PhD, PE, FCSI Principal, Profitality Labor GuruAs the pandemic raged on late last year, countless quick-service restaurants debuted shiny new prototype designs. While the menus of each concept differed somewhat, the new prototypes all share one common trait: new ways for customers to pick up their food including the addition of multiple drive-thru lanes. The pandemic may have shifted the restaurant industry's attention to providing customers a way they perceive is safe to pick up their food, but these multiple modes of service will limit operators' ability to be successful if they ignore the real engine that speeds their businesses along. I am referring, of course, to the back of the house.
Simply put: Operators can add as many drive-thru lanes and pickup points for food as they want, but if their back-of-the-house production systems and operations can't keep up, the point becomes moot. In order for these new prototypes to be successful, operators must step back to ensure the back and front of the house — and in this case that includes the drive-thru and exterior elements — maintain their symbiotic relationships. If it takes customers too long to order or the food takes too long to produce, these new designs will not only compromise a brand's promise, but they will also result in poor unit economics.
It is often easy to confuse a drive-thru with a drive-up or even a drive-in service offering. One such example that comes to mind is Chipotle. When the fast-casual Mexican chain first introduced Chipotlanes, the news turned heads because industry observers felt the chain was getting into drive-thru service. But Chipotlanes offer a very different experience. Part of Chipotle's focus on digital consumers, Chipotlanes serves customers who order in advance via the chain's app. When guests arrive at the restaurant, instead of parking their cars and walking into the building, navigating the restaurant to find their orders, they simply pull up to the pickup point, receive their food and get on with their days. Pretty nifty. It's similar to curbside service, but this approach can make more effective use of labor and can also be a better customer experience.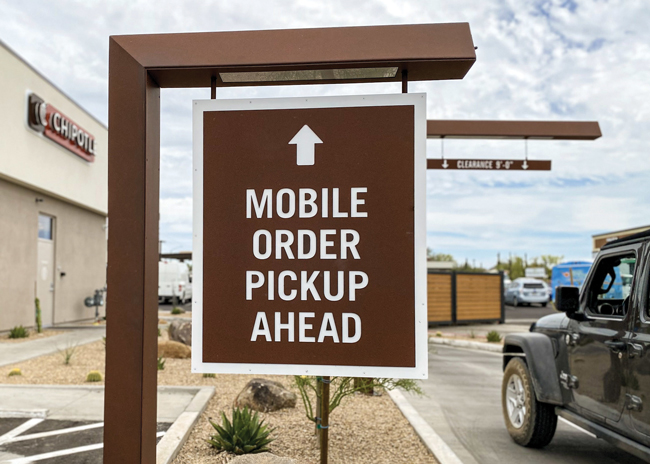 Chipotlanes serves customers who order in advance via the chain's app.While many chains have dedicated countless hours throughout the pandemic to improving their drive-thru experiences, one chain has leveraged its existing expertise and infrastructure in this area and continues to thrive. I am referring, of course, to Chick-fil-A. The chain has long used double drive-thru lanes with a significant number of employees deployed outside to speed customers through the processes of ordering and receiving their food. One of the chain's strengths has been how well franchisees train their teams to serve customers.
Just recently my car was one of 20 or so vehicles in a drive-thru line at Chick-fil-A. I ordered and received my food in less than 10 minutes. One can say that 10 minutes is way too long, but during my time in line I had three separate encounters with employees: one took my order and payment, another guided me forward and the last one provided my food. The experience from a time perspective — let alone from a human touch hospitality one — was good. This is due to the fact that the line never stopped moving, and employees were near me most of the time. According to some industry reports, Chick-fil-A no longer has the fastest drive-thru times in the industry, but perhaps the company is not as concerned with this metric. Franchisees would rather have more throughput than worry about a specific speed of service number. The chain's actions makes you wonder how much speed really matters in the drive-thru. I recently read a LinkedIn post that claimed Chick-fil-A achieved a throughput of 288 cars in one hour. That one-hour number at Chick-fil-A is a full day's service number for other brands.
How do they do it? More importantly, how can your brand do it or at least get closer to these hourly volumes?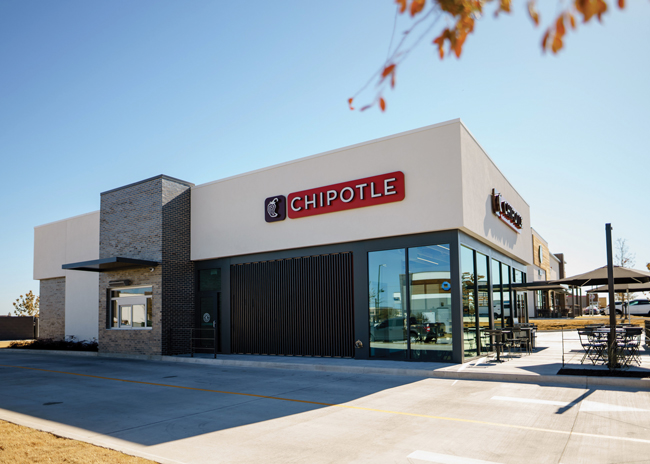 When the fast-casual Mexican chain first introduced Chipotlanes, the news turned heads because industry observers felt the chain was getting into drive-thru service. But Chipotlanes offer a very different experience. Images courtesy of ChipotleStart by realizing car service has two components. The most visible is the outside design, but without an inside that can produce to meet the outside demand, restaurants will have bottlenecks. With multiple lanes and order pickup points a concept can create a way to speed cars through the restaurant, but without the right engine to power it, the vehicles can figuratively, and literally, be stuck in neutral.
One other aspect of car service is the deployment that applies to serving multiple lanes. Having the right labor in the right place at the right time doing the right things plays a critical role in making it all work. In the case of the Chick-fil-A example, I would venture to say that between the production and service areas, the restaurant likely had more than 20 employees deployed to drive sales and throughput.
Both the kitchen and the menu have to work in concert to enable the production quantities that will support the service the restaurant offers. And it must do so without compromising food quality or safety. That means the menu can't be too complex and the individual items can't include too many ingredients.
Over the past year or so, operators from every segment have streamlined their menus in the name of speeding service as well as making more effective and efficient use of labor and ingredients. This practice will serve restaurants well as they cater to more drive-thru customers. That's because the most important rule of running a successful drive-thru is that the food must beat the car to the window. Without this capability, you don't have a chance at good service, let alone higher peak hourly throughput.
When designing for off-premises success, don't neglect the insides of an operation. Make sure that you have a functional production engine and corresponding labor deployment that can deliver to the multiple points of pickup that the system has. As if accommodating these various services is not enough, we may soon need to turn our attention to adding an efficient way to deploy drone-based delivery, possibly the next wave in foodservice delivery. But we can save that discussion for another day.