Fast-casual create-your-own-salad concept Saladworks unveiled its latest restaurant design on September 9 at its new Charlotte, N.C., location. It will serve as the prototype for all openings going forward.
"In addition to aesthetically pleasing form elements like Instagram Walls, we're redesigning for function too, such as the mechanically fastened floor specifications, mounted digital menu boards and total restaurant layout reconfiguration," says Mark Mears, chief marketing officer of Saladworks. "While strategically saving buildout costs in the process, we're honing into the Saladworks experience as part of our new "BE Original" positioning, helping guests fulfill their passion and live their best lives."
Saladworks updated restaurant design was created to reinforce the brand's commitment to its customers, those who are pursuing a healthy, active lifestyle. This idea is reinforced via visual elements such as the "WOW Wall." Also, a Saladworks manifesto is placed prominently to signify the relevance of its new "BE Original" brand positioning.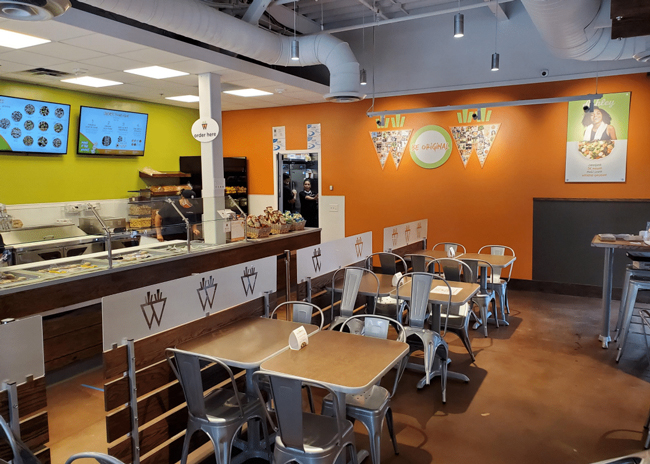 The Charlotte location also features strategically chosen cost-saving structure and design elements. These improvements include changing the flooring to clear-coated concrete, which will save roughly $10,000 per restaurant and mounted digital menu boards that illuminate the many menu options and will save $1,300 per restaurant from previous menu board iterations. Other improvements include a new chair rail, updated restroom hallway, ladder and paint changes.
Saladworks has value engineered its buildout to save each restaurant roughly $60,000 to $80,000 without changing the total footprint, per company estimates. Each restaurant will have an average of six more seats, furthering its sales-to-buildout ratio of more than 2:1 by reducing the back of house and serving lines. This improving ratio and reduced buildout cost shortens the payback period for franchisees.
"The cost to buildout has significantly decreased since I made it a focus area two years ago with our restaurants, and it's saving everyone money, our franchisees most of all," says Eric Lavinder, vice president of development for Saladworks. "We're not cutting corners in the process either. We're just being more efficient and selective with equipment, lights, flooring and the like to actually enhance aesthetics and guests' experience, too. All the small buildout pieces we're adjusting, down to a rail selection, add up to big savings for our franchise owners."