Despite a pandemic and a recession, Peter Cancro, CEO of Jersey Mike's Subs, has been giving back, plotting a course to further success and upending what a brand is willing to do for its franchisees.
Let's start by getting a little background on you and Jersey Mike's Subs.
PC: I grew up on the Jersey Shore, an hour south of Manhattan in Point Pleasant. It's a small little beach town. Every summer we were inundated with New Yorkers and people from New Jersey. At 14, I started working in the original sub shop that had opened in 1956 by a guy named Mike. Business really thrived in the summer. It was my first job, and it turned out to be my last.
At 17, in 1975, I was a senior in high school and president of my class. I was going to go study law and political science, but I never made it. And 45 years later I'm an overnight success. We started franchising in 1987, and there's been a lot of up and down times. Looking back, 1991 was our worst time. It was the recession that really hit us. We stopped growth for a few years there, but we slowly made it back. Remembering the tough times can help keep it all in focus.
Despite the pandemic, you've been busy with a major redesign.
PC: I travel all over the country, and that's where I see every new concept and new design. I am always looking at everything in businesses, really observing the light fixtures and the wallcoverings and even the register, looking at how they present the product. We did our last retrofit in 2009-2010, and it really made a big difference. It was a fresh look and what most people would have seen in our stores.
This time, we went out and researched a few different design companies and ended up with Tesser out of San Francisco. What I found was that they were real and genuine, and they really got us. We worked with them for a year and half, and we tested the design — they took us through the whole process.
What we have now is a product that's a little more upscale and contemporary, but it's still us. We have black and white photos on the wall of the shore communities where we started. When people come in they say, "Wow, this is incredible." I joked with Tre Musco [president and chief creative officer of Tesser] early on that I wanted people to come in and say, "Wow. This is a great look." But not "Wow!" with an exclamation point. I wanted a conservative, "Wow." And he laughed and said, "Okay, Peter." He even came to our national meeting and did a great video that takes you through the whole store.
In terms of the redesign, we redid the whole front of the house, including the tables and chairs, a new counter, new backline tile and new soffits. Everything in the front of the restaurant. [To remodel] we shut down on a Sunday night and get it done by Friday of that week. It's really worked out well. And the same-store sales are showing that.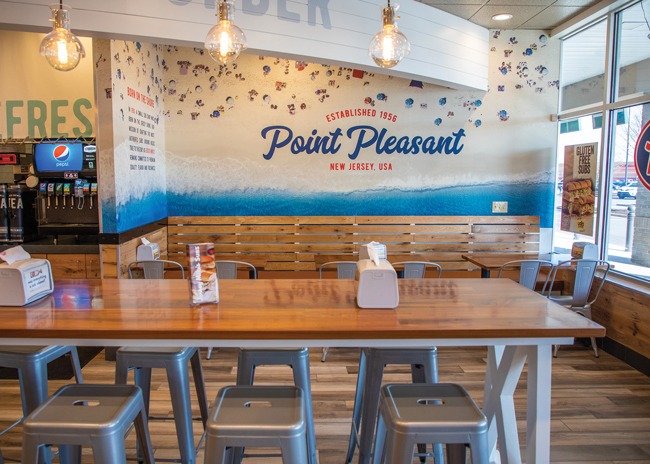 In an unusual move, Jersey Mike's is picking up the tab to remodel franchisee's stores. Images courtesy of Jersey Mike's
So, one of the most unusual things about this refresh is that corporate is picking up the tab for franchisees.
PC: In my understanding, we are the first franchise company in the history of these [types of] companies that is paying for the retrofit. Our mission statement is about giving, making a difference in someone's life. We always talk about rising up together, pulling people along, and we're into community involvement. We went on a 30-city tour last winter and we went to each city and said, "this is what we care about as a company." And I said if we're going to talk about that, if we really believe in it — and we all know it will raise sales — we're going to pay for it. I'll tell you; some owners were in tears. They were in shock. It's basically turnkey and it's going to be about $150 million in the end — about $75,000 a store. It even includes a new register system, software, etc. There are a lot of components to it.
What it did was gain us so much respect and trust from the owners. It's really a tactical move on my part. I'm going to have it done by July of next year. So, a year and a half is the total timeframe, even through COVID-19.
Looking at the news and feedback, it seems this approach is causing a little ruckus among the [broader] franchise community. A lot of franchisees are going back to their franchisors and telling them what we're doing. Now we have multi-unit operators of several brands with us and they are like, "Wow, the others are not doing what you're doing!"
Tesser said we could expect, on average, a 15% boost in sales. We said we'd be happy with 10%. And, looking at the ROI, we think it's worth it.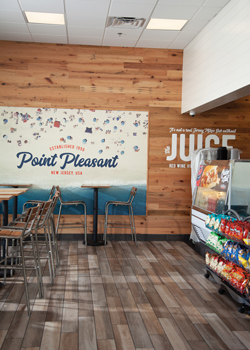 How has the pandemic impacted your plans?
PC: Everybody initially said we should stop or slow down, but we accelerated. We were hit the first few weeks like everybody, but then we did some TV advertising because we found people didn't know which restaurants were open. There were exceptions to shutdown orders, and we were one of those exceptions. So, we stayed open and served millions of sandwiches to first responders, Boys and Girls Clubs, and food banks.
We did 21 million meals for Feeding America. When we saw people in cars lining up to get food, it touched my heart. Those people didn't think they'd need to be in line for food just a couple of months ago.
How is Jersey Mike's messaging safety to guests?
PC: It's not just messaging. A lot of our stores put plastic up from the counter to the ceiling. That also helps employees feel safer. That was a big thing for us, to keep the employees feeling safe. Then we put tables in front of the order counters, so guests are then 8 feet away from the people making their food. And then we pulled tables and chairs.
Everybody [in our stores] gets it: Wear the mask, keep a reasonable distance. Our sales are mostly takeout anyway, so the bags are ready at the front door with your name on it. People can also send a text and get [their order] delivered to their car via curbside.
Did you have to make further changes to ensure you were positioned to leverage the brand's strengths in the wake of the pandemic?
PC: We have been predominantly takeout for most of our company's history. We have small stores — the original store was just 1,000 square feet. We were fortunate to be in the right place there.
We're a technology company like Starbucks or Domino's. We've won numerous national awards for it, and we spent a lot of money getting a new app last year — by the same company that did Panera Bread's app. We already had great speed of service. We did a big marketing push on news channels. We never did news channels before as we had always done marketing during sports. But there were no sports, and everyone was watching the news.
What does your development pipeline look like now?
PC: The history of our company is that every recession we end up getting a lot more franchise sales from people looking to change careers. We see that happening already. Most of our unit growth is from within, about 80%. We are always open to [unit growth via] owner-operators, because that's how I started. Our average is three to four stores per person. But we love to get individual owner-operators that haven't been in the business before. We look for energy and a willingness to pull people along.
Somebody believed in me and gave me the opportunity. During our tour last winter, when we had owners and their teams gathered together, after telling them I'd pay for their retrofits, I turned to the crew in attendance and I told them my story of how I got a chance.
I asked them, "Who out there has dreamed of having their own store?" You wouldn't believe the number of people who stepped forward.
One of Jersey Mike's methods of growth going forward will be developing managers to become owners, right?
PC: One of the people on my advisory council is Tom Monaghan of Domino's Pizza, and that's how he grew. So that's what I'm doing now. We're going to look at a location in Milwaukee and secure that and then look at opening with managers. We'd like to do 25 this year and eventually get to 100. We put up all the money and sign the lease and then they pay it back. We want owner-operators that can slice a sub and be involved in their community.
We should hit 2,000 stores next year and $2 billion in sales as well. And then we're going to ramp up and aim for 5,000 stores. We've got 750 to 800 stores in development. We have plenty of room for growth.
Every recession, every bad time, presents opportunities.