Juice It Up! is celebrating its 25th anniversary in 2020 and has announced plans to open a new flagship in Costa Mesa, Calif., this summer that will also debut the chain's new prototype.
The unveiling of Juice It Up!'s new store design supports the brand refresh process that began in 2019 with changes including an updated logo, a menu refresh and the new tagline: Smoothies · Bowls · Juices. This corporate-owned location will also serve as an innovation kitchen for R&D as well as a training and test center to develop and share best practices with franchisees systemwide.
Image courtesy of Juice It Up!
Described by the chain as "crisp, clean and fresh," the new design features Juice It Up!'s new logo and color palette. In-store elements include comfortable seating and media designed to encourage guests to stay and relax as well as an Instagram-worthy statement wall showcasing the brand's "live life juiced" motto. Focused on transparency and enabling guests to see their order made from start to finish, other store highlights include the chain's signature smoothie bowl bar front and center, an updated menu design focused on ease of navigation and an accessible pickup counter for mobile orders.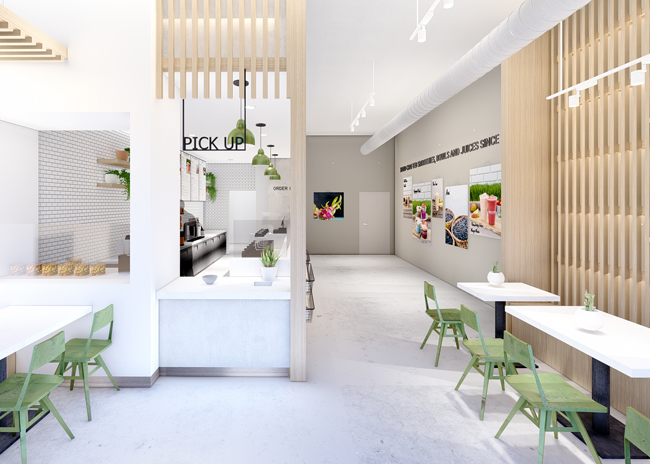 Image courtesy of Juice It Up!
The Costa Mesa opening will bring the brand to nearly 100 franchised locations open and in development throughout California, New Mexico, Oregon and Texas, 14 of which are located in Orange County, Calif.