Sustainability now...
The word "sustainability" can seem so esoteric. We hear it so much now it's not unusual to forget what it really means. But there's no longer anything esoteric or abstract about the implications of sustainability. What may have started as a simple marketing gimmick now has real dollars and clear business ramifications attached to it.
That's because the notion of sustainability has matured from an environmental, "save the Earth" focus to one that preserves natural resources as well as a business's bottom line. "It used to be that companies just focused on making a profit," says Subway's Elizabeth Stewart, who heads the chain's sustainability efforts. "To succeed today, we have to focus on the triple bottom line." That means environmental, social and economic factors all need to be addressed to build strong brands and long-term business.
More than just "saving the planet for our kids, customers are looking for restaurants to be more sustainable," says Rob Hink, LEED AP, principal of The Spinnaker Group, a Florida-based LEED consulting and design firm. "As more people become aware, it's going to be there for their bottom line as a market differentiator."
Sustainability also intrigues investors. Companies who adopt sustainable practices "have higher stock value, and research shows they outperform their competitors by delivering higher value to investors and stakeholders," according to Nick Sterling, a consultant with Natural Capitalism Solutions, a Colorado-based, nonprofit sustainability education organization. He's worked with The Cheesecake Factory and other restaurant companies on their sustainability plans.
When it comes to sustainability, there seem to be two sides to the equation: operations and design. Here's a closer look at 10 trends having a big impact on the design side today.
1. Healthy Kitchens
Local, seasonal, sustainable and nutritious food all wrapped into one megatrend takes the number-one spot among consumers, and it has a clear and growing impact on kitchen design.
The back dock may need to be set up to handle produce that comes from smaller, sustainable farms and might need another round of washing. In some cases, there may be a need for extra sinks and produce-drying equipment. Restaurants require more cooler storage to maintain their fresh produce, even opting for blast chillers over traditional freezers to flash-freeze blueberries, peppers and other fresh produce at the peak of harvest, according to Tarah Schroeder, LEED AP, principal at Ricca Newmark Design. She defines this as the basis of seasonal cooking.
Some restaurants now include cold rooms for in-house butchery, plus extra prep space for scratch cooking and preserving food (i.e., pickling). New displays and shelving in the front of the house showcase these in-house, artisan products and help drive the message home.
Scratch cooking also goes hand-in-hand with exhibition cooking because consumers want to see their food being made for them — and check out the ingredients used. Counter and "chef" seating are also becoming more commonplace, says Schroeder.
"Sustainability has clear equipment and kitchen implications for the future. With the separation of meat and meatless cooking in the kitchen and the reduction of portions, you may need smaller grills or ones customized to cook different foods," says Greg Christian, founder and CEO of Beyond Green, a sustainability consultancy in Chicago. "If you're making your own bread and other food from scratch, you may need a bigger kitchen with more prep space and electric requirements."
Increasing numbers of consumers also look for restaurants that can accommodate gluten-free, vegan, vegetarian and other special diets. In these cases, designers might need to build out space for separate equipment and workstations to avoid cross contamination.
2. Reduced Chemical Materials
Designing for wellness extends to the use of furnishings, paints, flooring and other materials free of (or that contain fewer) chemicals and off-gases, which can be similar to that "new car smell," according to Schroeder. The idea is to create a healthier environment for the people working in a space and the guests.
"Material transparency is becoming more important to designers," says Hink (see "LEED v4" sidebar). "They want to know the ingredients in the products they're researching and buying." New flooring and tiled carpet products contain less PCBs (polychlorinated biphenyls, toxic synthetic chemicals whose domestic production was banned in the late 1970s), while these days designers can choose from more fabric options that are not petroleum based, he adds.
The Farm, a restaurant management company in Kensington, Md., which operates the LEED- and Green Restaurant Association-certified restaurants Founding Farmers and Farmers Fishers Bakers, avoids buying leather products to keep in line with a vegan, animal-welfare approach toward furnishings. Instead, they choose low-VOC vinyl, canvas and other materials.
3. Green Roofs
More restaurants today bring the farm-to-table concept a step closer by building space on their properties to grow their own fresh fruits, vegetables and herbs.
Rooftop gardens might have been a far-off concept as little as a few years ago, but now designers have to consider building space and load capability into their rooftops to accommodate raised beds, vertical towers, hydroponic systems and other planters for both edible and nonedible greens.
Green roofs also serve a greater purpose — plants soak up the sun's rays to help reduce heat throughout the building, which in turn helps to reduce the amount of energy needed to cool the indoor space.
4. Water Uses
Aside from just using water-efficient equipment and modifying sinks with aerators, restaurants continue to experiment with rainwater collection and recycling "gray water," which can be used to flush toilets and irrigate landscaping, says Hink. Schroeder adds: "Gray water use goes beyond just the foodservice element to help the whole building."
There are increasing options on the market for cisterns — one manufacturer calls its 3,000-gallon, 25-foot-long collection unit, for rainwater and melted snow, a "pillow." UV-light filters help filter the water into a more usable condition.
When it comes to consumable water, Schroeder sees in-house filtration systems and reusable glass pitchers and bottles continuing to replace plastic water bottles for a more sustainable, BPA-free solution.
5. Net-Zero Energy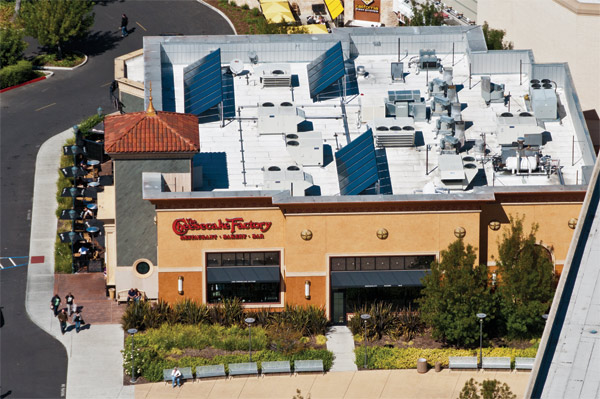 The Cheesecake Factory installed 20 solar energy collectors on the rooftop of its Pleasanton, Calif., location.
First it was net-zero waste with complete landfill diversion through reduced production, composting, recycling and donations. Now it's all about net-zero energy and even water.
To that end, some restaurants look not just for local food sources, but for local renewable energy sources as well, including solar, wind, geothermal and other off-the-grid options, depending on what's available locally. California restaurants, for instance, might do better with solar energy, while Midwest-based operations can benefit from wind power.
And then there's the notion of building room in a roof for solar panels or even wind turbines if local law allows. The Cheesecake Factory installed 20, 4-foot-by-10-foot solar energy collectors on the rooftop of its Pleasanton, Calif., location and saves nearly 60,000 pounds of CO2 produced by the restaurant per year.
Inside a restaurant, certain design tricks can achieve greater efficiencies. Hink says designers continue to research ways to introduce more natural, outdoor air. Founding Farmers makes revolving doors a must in all of its restaurants.
And, according to Schroeder, efficient design can have a greater effect on energy reduction than just buying energy-efficient appliances. "To me it's all about right-sizing your restaurant, which is not something you would necessarily think of right away when talking about sustainable design," says Schroeder. Simply drilling down the menu and identifying sustainability goals can help enhance efficiencies in the kitchen through less equipment and, therefore, less energy and labor.
6. Life-Cycle Analysis and Recycling
White Castle initiated a composting program for its 15 Ohio-area restaurants, swapping out trash bins for composting ones.
Designers are increasingly considering where their construction and finishing materials will end up in a remodel or resale. Some manufacturers are considering total life cycles as well — one insulation company makes product out of used denim jeans, for instance, while some carpeting companies will now take back old carpet to recycle into new material.
The Cradle to Cradle Products Innovation Institute, an organization that helps companies develop healthy and sustainable products, now offers a certification to demonstrate commitment to reduced waste.
Life-cycle analysis helps reduce energy as well. "There are several life-cycle analysis calculators to help determine how much carbon is generated by equipment from the time it's installed," says Hink. More than in years past, restaurants can choose from more options to properly remove and recycle equipment once past its prime.
When it comes to composting and recycling, designers are also making more strategic decisions to accommodate this in newer restaurants and remodels. When White Castle initiated a composting program for its 15 Ohio-area restaurants a couple of years ago, swapping out trash bins for composting ones went easily enough, according to Shannon Tolliver, social responsibility and environmental sustainability manager. But making room for composting bins out back — which could be easily accessed for regular pickups — proved a greater challenge.
Just last year the chain was able to buy back its compost (made from 10 tons of food scraps per month, including coffee grounds, egg shells and more) to use in its on-site gardens, even decorating tables with flowers planted on the grounds. "That helped bring the message full circle," says Tolliver.
At its newer restaurants, Founding Farmers has designed space for containers to hold used cooking oil that is recycled into biofuel.
7. Reclaimed and Renewable Materials
The Founding Farmers restaurant group is retrofitting all of its locations to make use of LED lighting. Photo by Michael Moran
Salvaged wood, tile, ceramic and stone from lumberyards, construction sites, renovations and other projects can help transform a new project's bar, floors, fixtures and even furnishings such as tables and chairs.
While this may not be that new anymore, designers nonetheless have to be careful and understand the potential of the materials with which they're working. Century-old wood from a lumberyard may not be appropriate for flooring, for instance, but it could make for a beautiful bar or bar facade.
"I've seen countertop material made from old stoplights and glass that's been crushed and made into tabletops," says Schroeder. Using materials with a high recycle content can also help earn LEED credits, and bamboo and certain types of pine offer sustainable options because they grow back quickly, she notes.
The exterior of one Subway store in Kokomo, Ind., was built entirely from reused stone as part of the chain's "ECO-Restaurant" green building prototype and so far has been implemented in 17 units throughout the system. Subway encourages franchisees to be creative with their sustainability initiatives, and the feedback has been very positive among Subway customers, says Stewart.
8. Sustainable Wallcoverings
While many restaurants choose low-VOC paints, numerous other sustainable wallcovering options are available as well, including green "living" walls, cork, wood veneers, LED lighting displays and video graphics, and 100 percent recyclable, low-VOC commercial-grade wallpapers.
Building a green wall out of plants even offers a functional use for the space since plants can help clean the air and reduce pollutants, says Schroeder. Green walls are typically made by attaching a grid to a wall with containers to hold plants.
Farmers Fishers Bakers uses green walls for both decoration and for growing herbs that culinary staff use in dishes and cocktails. All Founding Farmers' locations use low-VOC paints as well as reclaimed and sustainable woods.
9. Low-Energy Light
Lighting can also be an easy shoo-in toward energy reduction. "LEDs are so much better than in the past," says Hink.
Le Pain Quotidien was able to save more than 80 percent in energy costs just by switching to LED lighting, according to Kathie Lee, global chief legal and administrative officer. The Founding Farmers restaurant group is also in the process of retrofitting all of its locations to make use of LED lighting, and anticipates similar savings.
Use of natural light helps too, and not just in the front of the house. New construction projects and renovations are building in more windows and skylights to reduce reliance on fluorescents and create more healthful, energy-efficient environments, according to Schroeder.
At Founding Farmers' Virginia location, natural skylights are even used to make sun-brewed sweet tea.
10. Car-Charging Stations
According to Hink, "We're seeing more companies —restaurants included — adding car-charging stations," he says. "This has been dictated by where the marketplace is heading — knowing buildings won't be completed for two years, we have to build space for these stations because we anticipate people will be driving more electric cars in the future."
Building car-charging stations, he notes, "provides a differentiator for us as designers and for the restaurant. Mostly we've seen charging stations at restaurants that are part of a larger complex, but now we're seeing them even among standalone concepts too."