The year is 1912. Do you know where your lunch is? If you live in New York City, there is a good chance that it's behind small glass doors at the Horn & Hardart Automat. You will insert coins in the slot and retrieve a sandwich or a piece of pie and carry it to a table to eat. Technology at its best, a century ago.
So, what has changed in 100-plus years? Convenience is now ubiquitous. We are a self-serve nation. We purchase movie tickets, check in at airlines, vote and play slot machines electronically. But, for the most part, we still have to line up in front of a cashier to buy a burger and fries or chicken tenders. We even put up with waiting while the person in front of us gets off his smartphone long enough to speak to the cashier. Sometimes, that cashier makes an error, and we get the wrong items in our order. And it takes a extra few minutes to pay. All of these customer service issues have plagued quick-service and fast-casual restaurateurs for years. That is, until now.
Fast forward from the Automat's small glass doors, and you may find yourself standing in front of a small glass screen, sliding your card and making your meal selections from a full menu of tasty items, trying something new, easily customizing your order and paying for it instantly.
Upstart and legacy chains alike are turning to self-ordering kiosks to address customer service issues and aid revenues. These kiosks provide diners with speed of service, choice and order accuracy, and deliver larger check averages to restaurant owners. Here's a look at how some chains are testing the waters.
Wow Bao
"Hot Asian buns"
HQ: Chicago
No. of locations: 4
Geoff Alexander, vice president of Lettuce Entertain You Enterprises (LEYE) and managing partner at Wow Bao, one of LEYE's chains, had to wait 40 minutes in line outside his polling place in the 2008 presidential election. When he finally got inside, he was told that it would be another 20-minute wait — or he could "use that machine over there." Reassured that his machine vote would count, he chose that option and immediately thought, "This is fantastic. Why don't we use these in restaurants?" At that time, Alexander had been with LEYE for 21 years and would go on to take over its quick-service Asian chain, Wow Bao, in January of 2009.
By that spring, Alexander installed two kiosks in the original Wow Bao in Chicago's Water Tower Place. "When I added the kiosks, we ramped up the number of people we could put through the line," he says.
Three of the four Wow Bao units reside in high-rise office buildings, with the fourth in a shopping mall. In two of the internal units, the kiosks sit outside the restaurant entrance. "You literally walk up to the machine, place your order, walk inside to pick it up and walk back out. You can be in and out of the restaurant in just a few seconds," Alexander says. In the other two stores, the kiosks sit near or adjacent to the regular cashier. He says locating the machines just outside of the restaurant entrance "works better."
Payment at kiosks occurs through credit or debit cards or with store gift cards. Once the customer swipes a card, the system pulls up previous orders, allowing the guest to push one button to get the same meal again. And guests can easily access alternative menus, such as gluten-free, non-dairy, seafood-free or vegetarian. At the end of the ordering process, the system asks if the guest is a member of Wow Bao's frequent diner program and, if so, applies points to the individual's account. An unexpected consequence of self-serve kiosks — as well as mobile and online ordering applications — is a higher check average than cashier-processed sales.
Alexander says it's difficult to analyze the percentage of business that is a result of the kiosks. "At lunchtime we can serve 300 people in an hour, so usage is high; but at other times, it may be a small percentage. You wouldn't use it just for a cup of coffee," he says. He estimates the overall usage may be between 25 percent and 30 percent.
Alexander installed the kiosks for convenience and customer service. He finds that customers in every demographic use them. Because customers control the ordering process, accuracy tends to be far better with kiosks than using traditional cash registers. This also improves speed of service. Wow Bao also offers smartphone and online ordering, and Alexander says self-ordering is part of the chain's operational success. "It's part of our culture. It's changed the way we've done business — changed the way the customer interacts with us. It's positive on all counts."
Boloco
"Globally inspired burritos"
HQ: Boston
No. of locations: 22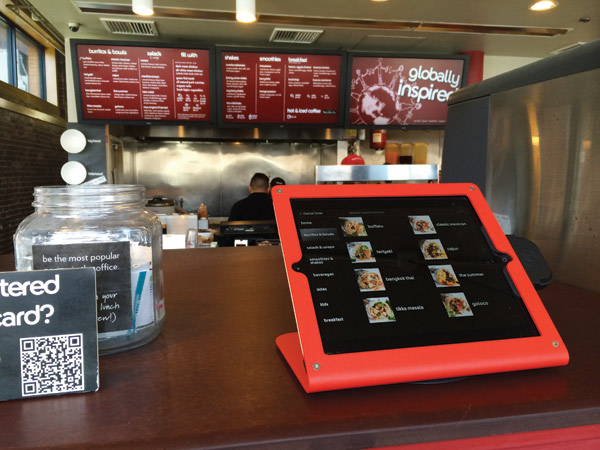 "Kiosks are something I've been spending my life on for the past year and a half," says Jim Lux, vice president of information technology for Boloco, a 22-unit chain that has kiosks in half of its stores. Boloco, which is short for Boston Local Company, serves "mildly disruptive, globally inspired" burritos, bowls, salads, smoothies and more.
"We believe in additional order points," explains Lux, who adds that the cashier can become a bottleneck in many quick-serve restaurants. A Boloco cookline can accommodate up to seven order points, he says. Available since 2010, self-ordering helps optimize the throughput.
More importantly, Lux points out, self-ordering gives options to the guests. Unlike ordering a cheeseburger and fries, customers can choose from a variety of options and combinations with burritos and other items. "We allow our guests to make all kinds of crazy modifications, so the kiosks are great for that self-service option," Lux says.
The design of the chain's newer restaurants, like those in D.C., takes into account the kiosks. In the older units, the kiosks sit along a wall or on a shelf. Lux says it's important to locate them on the path to the cashier, so guests immediately see self-ordering as an alternative to waiting in line. Each Boloco unit has two or three kiosks, depending on the volume. Lux notes that, if you put in too many, the kitchen will become overwhelmed.
Similar to other kiosk users' experiences, at Boloco the average check is higher from kiosks and mobile or online apps. Lux believes this happens because electronic purchasing applies less pressure to the guest, who has time to order add-ons like chips or a drink. In line, customers may feel some pressure to order quickly and get it over with.
Lux agrees it's difficult to figure out the percentage of sales through kiosks since customers generally use them most during peak traffic times. He says that, overall, they account for about 9 percent of sales, but the machines in the newer D.C. units ring in somewhat higher. The strongest users of self-ordering? Loyalty members account for about 50 percent of the sales from kiosks and 35 percent of total sales. These loyalists gravitate toward mobile or online ordering as well as kiosks.
Lux says the question about saving labor comes up a lot but that Boloco does not use kiosks to cut headcount. "We'd rather have five or six kiosks and place people near them to help out customers who are not yet experts in self-ordering," he says. "It's all about maximizing throughput on the line and giving people options."
The Boloco team is considering using kiosks to promote new items, LTOs, — or even causes it cares about — as some other chains are doing. These would appear in the form of screen savers, ideally on the welcome screen.
When Boloco opens new units, kiosks will be included in the design. As for retrofitting the older units that do not yet have them, Lux says they will consider installing kiosks on a case-by-case basis, "when it makes sense."
White Castle
Hamburger chain since 1921
HQ: Columbus, Ohio
No. of locations: 400
White Castle recently surveyed its patrons, asking them what was important about the dining process. The number-one issue reported? The ordering process. Jamie Richardson, vice president at the iconic burger chain, says that since customers are "in charge of their own destiny elsewhere" (in grocery stores, when refueling and so forth), White Castle might want to join that bandwagon and think about self-ordering technology.
As a result, the chain is testing kiosks at its Hilliard, Ohio, location, just outside of Columbus. White Castle is pairing the test with the renovation of this location's dining room and kitchen. Even though a large percentage of sales comes from the drive-thru, Richardson says the company wants its customers to be comfortable and seeks to enhance the in-store experience on many fronts.
White Castle uses the kiosks to provide convenience and choice to customers, not to reduce labor, Richardson points out. In fact, the self-ordering frees up existing staff to provide more hospitality to guests. When the kiosks were first installed, staff stood by to help if needed. While the verdict about installing more units has not been reached, he says that the company is seeing positive results.
Jack in the Box
Hamburger chain since 1951
HQ: San Diego
No. of locations: 400+
An early adopter of self-ordering technology, Jack in the Box began testing kiosks in 329 of its locations in 2006. Brian Luscomb, spokesperson for the company, says the chain continues to evaluate the technology's effectiveness.
Like other chains, Jack in the Box installed kiosks to enhance customer service. "We don't see these as labor-saving devices," Luscomb says. "They are not intended to replace employees." In fact, additional labor may be necessary as a result of increased sales.
Seventy percent of Jack in the Box's sales come via drive-thru service, which does not generally allow for much upselling. But the chain reports a higher average check when customers self-order. The machines "do a great job of suggesting additional items, and it's not done in an intrusive way," Luscomb says.
That being said, Jack in the Box has put expansion of the pilot project on hold, Luscomb reports. In fact, only one kiosk was installed last year. There is no timeline as yet for the company's final decision as to whether it will roll out kiosks more broadly.
Considerations for Employing Kiosks
View self-ordering as a customer service, providing convenience and choice.
Don't expect kiosks to replace employees; in fact, if volume increases, additional staff may be needed.
Match the number of kiosks to the output capacity of the cookline.
Locate kiosks where they are clearly visible to customers as an alternative to the traditional cash register.
Use kiosks as a productive way of offering specials, new items or additional options to increase check averages.
Kiosk orders can optimize throughput on the cookline.
Order accuracy will be increased with self-ordering.
Kiosks can be bilingual, where cashiers might not be.