Finally, in 2016, fans' wishes were granted. Not only did the Cubs end their 108-year championship drought by winning the World Series that year but residents and tourists alike were treated to spruced up retail and dining options that would prove to be just as vibrant and worth visiting on non-game days.
The restaurant, hotel and bar development model that the Ricketts took follows a similar pattern to the ones other sports venues have traveled around the country. No longer is a soggy hot dog or a bag of peanuts going to cut it at the game, nor will a simple pitcher of beer be enough for a pre- or post-game beverage. Fans these days want more choices at and around the ballpark or stadium. At the same time, restaurants recognize the huge revenue potential to cater to diners of all ages, demographics and preferences pre-, during- and post-game. On non-game days, these multi-use lifestyle hubs around the country are the primary — and preferred — food, drink and entertainment options amid already well-populated neighborhoods as well as those just beginning to blossom.
While each of these development sites features its own unique design and roster of restaurant concepts, they do share some common threads. These places have to meet high-volume demands their peak periods bring, of course, but they also must meet the need for speed in order to cater to fans that might only have 20 minutes before the game to stop by for a cocktail and a snack. Private space and ample bar space are musts for these places when it comes time to hang out during or after a game.
In addition, all three of the development projects mentioned below had to work with the community, neighbors and local government officials to make sure they adhere to noise, traffic or other regulations in their respective neighborhoods and also fit into the neighborhood design-wise. That's why you'll often see partnerships with local, independent restaurants and chefs and others meant to celebrate the culture of the city in which they reside. Many of these restaurants, hotels and spaces offer ample outdoor seating and balcony space with extra viewing opportunities, especially on warm weather days. In addition to the three development areas featured in this article, expect upcoming changes in Milwaukee, St. Louis, Los Angeles and potentially San Francisco and Oakland, Calif.
Wrigleyville
Chicago
Nestled around the Chicago Cubs' Wrigley Field, the Wrigleyville neighborhood was once home to more fast food chains and street crime than the loud and boisterous, beer-slinging bars that have taken over the main drive in recent decades. As a result, when the project team first started brainstorming ideas for the heavily residential neighborhood, the first goal was to create a more community-driven entity meant to cater to the increasing crowds of tourists exploring the area and also to the families, young people and long-time residents, some of whom were less than excited about any change to Wrigley's old-school charm.
The $1 billion renovation project started with some rehabbing of Wrigley Field itself, a project that remains in progress, and was followed by the 2017 opening of The Park at Wrigley (now called Gallagher Way), an open green space with an outdoor bar and a huge video screen showing games and movies. In March 2018, the Ricketts family opened their first hotel, located on Clark Street just across from the front entrance of Wrigley Field. The 173-room Hotel Zachary (named after Zachary Taylor Davis, the Chicago architect who designed Wrigley Field in 1914) is now home to not only its own indoor-outdoor bar/restaurant/event/lounge space but also to five other local, chef-driven and/or independent concepts, including a finer-dining restaurant, a popular taco and margarita concept, a barbecue spot and a bakery-plus-cocktails shop.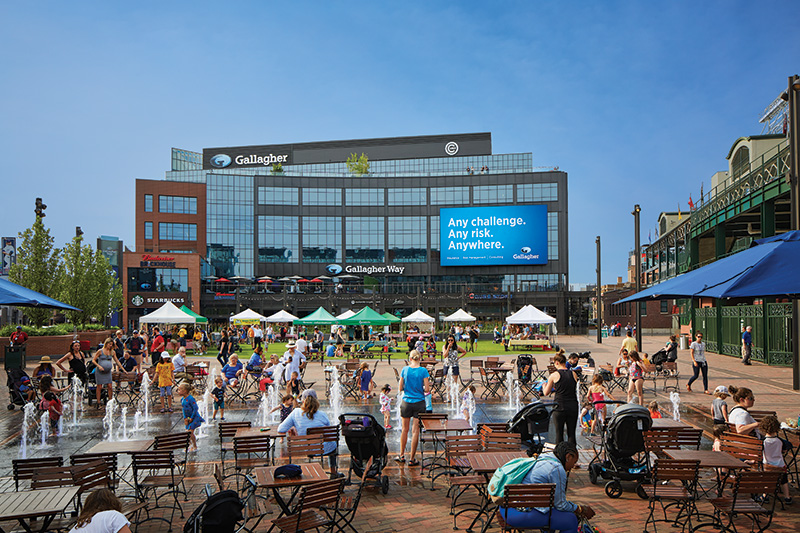 Gallagher Way at Wrigley Field is an open green space with an outdoor bar and a huge video screen that shows games and movies. Photo courtesy of David Burk
"We focused on a lot of under-used real estate like parking lots, where we could be impactful and bring more amenities to the game day and non-game day experience," says Eric Nordness of Hickory Street Capital (HSC), which led the development of the Hotel Zachary and Gallagher Way. "We looked to the history of Wrigley Field, a 100-plus-year-old stadium that accidentally wound up in a neighborhood with bars and residences, and tried to create something of a town square that would bring the community together and become a 365-day-a-year venue."
Other than opening Gallagher Way farmer's markets, community yoga and outdoor movies, HSC reached out to Chicago-based restaurant groups to open concepts in the red brick building anchored by the hotel. Charlie Trotter alum Chef Matthias Merger opened Mordecai, a bi-level cocktail bar and restaurant with its own balcony for viewing games on the big screen at the park and a menu featuring refined American fare and seafood. And then there's Chicago chef-restaurant giant Paul Kahan's popular Big Star taco and margarita concept with two central bars on two levels, offering plenty of space for fans and locals to grab drinks and snacks. Smoke Daddy serves barbecue, and West Town Bakery pairs sweets and savories with boozy milkshakes and more. At the southern end opposite Big Star, there's Dutch & Doc's, a new concept by the prolific Boka Restaurant Group, which also owns Stephanie Izard's Girl & The Goat.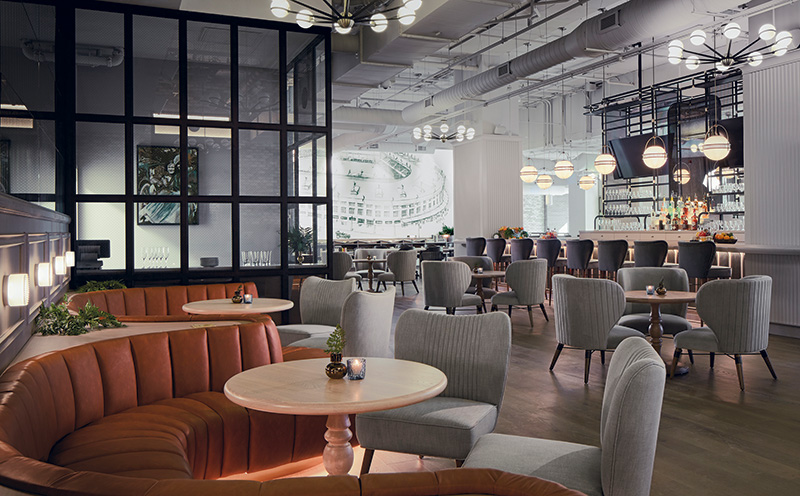 The Hotel Zachary is home to more than five chef-driven concepts. Photo courtesy of David Burk
"We knew we wanted to be hyper local to Chicago," Nordness says. "A lot of restaurant groups from outside of the city contacted us, but we wanted our approach to be more authentic and real to the people of this city."
Nordness' team also focused on working closely with neighborhood residents, city officials and the existing architecture to keep noise levels down, and building heights low — a hallmark of non-downtown Chicago neighborhood architecture. The exterior of the seven-story Hotel Zachary riffs on the red brick exterior of Wrigley Field.
"There was some healthy skepticism from some small, vocal parties in the area but we also had a tremendous amount of support, and by listening to everyone's views, we feel we were able to come up with a successful concept and design," Nordness says.
Most recently, The Wheelhouse Hotel opened kitty-corner to the Hotel Zachary and brought in Union Pizza, another local restaurant concept, this one serving square-shaped, baked-in-the-pan Detroit-style pies with a design focus that centers on the open kitchen with its stacked ovens. Again, in keeping with the neighborhood, the height for that building and restaurant, which was designed and constructed by Curioso and architect George Sorich, tops out at five floors, allowing Wrigley Field (with the exception of some residential rooftop viewing balconies) to remain the highest structure in the area.
The Battery
Atlanta
Opened in April 2017, The Battery was built upon the rich history of the Atlanta Braves and anchored by the team's new home, SunTrust Park. In addition to a slew of new restaurants and retail outlets, the area also saw an influx of residential apartment complexes and new neighbors looking for a taste of the city's culture.
One of the central restaurants on the property is the Garden & Gun Club, located near the entrance of the stadium. With a mix of old and new aiming to bring the namesake magazine off the pages and into real life, the restaurant is the first brick-and-mortar hospitality experience for the publication. There, wooden panels painted in a distinct Charleston green cover the walls, flanked by plaid tile flooring and a large, curved cocktail and raw bar in the center of the space.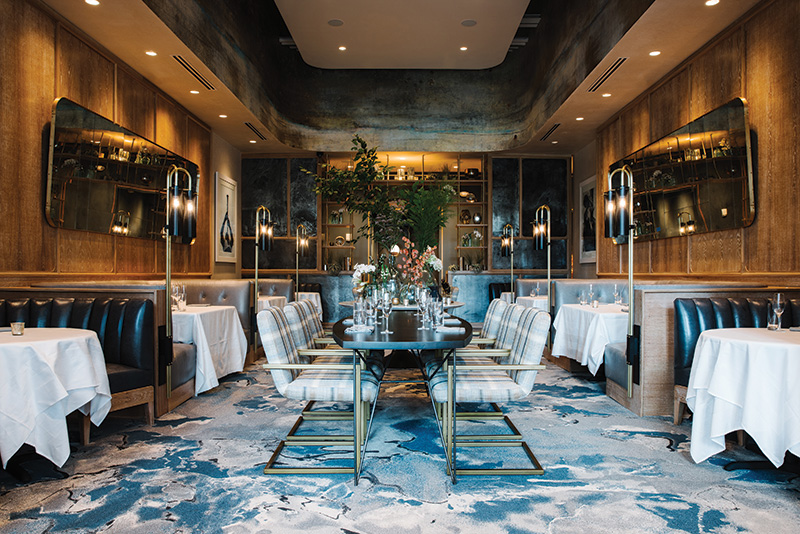 Square Feet Studio designed the upscale C. Ellet's at The Battery.
Prior to the launch of Garden & Gun Club earlier this spring, C. Ellet's opened last year to give fans, locals and tourists a modern steakhouse option, complete with game day and non-game day menus as well as private space for groups in the Trumpet Room. The 5,000-square-foot space also features the Club Room, which serves as the restaurant's main bar, along with plenty of other spaces to eat and drink.
Linton Hopkins, chef and owner of C. Ellet's, worked with design firm Square Feet Studio, the latter of whom sourced high-end materials in the form of Venetian plaster, art, leather and custom detailing, effectively shattering the reputation for ballparks as concession-food-only destinations.
Hopkins first came on board with the Braves after developing H&M Burger at the former Turner Field. H&M Burger remains a concession at the new stadium. "We initially developed the restaurant with the idea that we would simply pick up people driving North of Atlanta, but the surrounding Cobb County really embraced us as a neighborhood destination," he says. "Ironically, we actually do better as a business on non-game days when locals are looking for a fun place to dine without having to venture downtown." The restaurant sits on the border of The Battery and the entrance to SunTrust Park.
Punch Bowl Social, the Millennial-friendly gaming restaurant chain with massive locations throughout the country, has also looked to capitalize on these sporting developments with units near the Sacramento Kings complex in Northern California. The chain's most recent opening is in Atlanta. Founder Robert Thompson says his design team avoided the low-hanging fruit, skipping the sports-related memorabilia and kitsch for a more thought-out design that pays homage to the South's cool band culture from the 1970s. As such, you'll see references to hippie vans, vintage records and more.
"With all of these places, we're trying not to go for the obvious and reserve the design for something that reflects the areas they are in and the heartbeat of the community," Thompson says. In addition to an opening next year in Navy Yard, a development area that opened a decade ago near Nationals Park, Punch Bowl also has a deal with developers for the area around the Milwaukee Bucks. For the Nationals location, Thompson's team went for an "old dominion" ambience in a nod to the colonial history of the nation's capital.
Navy Yard
Washington D.C.
Restaurateurs Fritz Brogan and Reed Landry teamed up with Wallace Construction to bring their popular, modern Mexican-focused Mission restaurant to Navy Yard. This area has seen an influx of new residential developments this year. Mission Navy Yard opened with an aggressive timeline on July 13, a day before the MLB's All-Star weekend.
While there is no business partnership with the Nationals, the Mission Navy Yard team worked to maintain the integrity of the restaurant brand with the idea of catering to Nats fans as well as fans of the DC United professional soccer team seeing games and concerts at the just-opened Audi Field. Set on the ground and second floors of a brand-new 300-unit luxury apartment building, 12,000-square-foot Mission Navy Yard serves as a premier eating and drinking destination for local residents as well as those who work at the U.S. Department of Transportation two blocks away. Now, the area includes 10 other restaurants, and new residents pour in daily.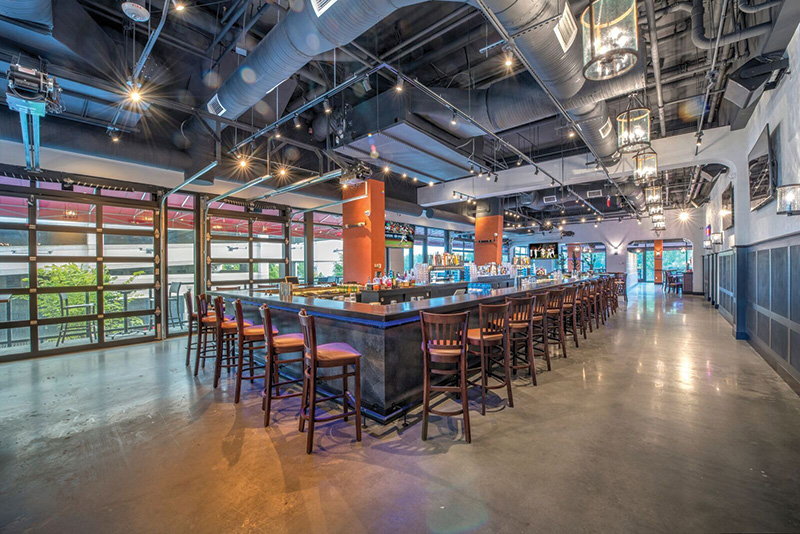 Set on the ground and second floors of a brand-new 300-unit luxury apartment building, 12,000-square-foot Mission Navy Yard serves as a premier eating and drinking destination.
"We designed the space more as a bar than a traditional restaurant, with four different bar areas offering plenty of space to eat and drink on game days and non-game days," says Brogan. "There is also ample private event space."
For the design, modern brick walls and metal mash-up with colorful tiling and even more colorful artwork and wall murals, meant to add energy to the space.
"The neighborhood was really excited to have us open as one of the first large-scale bar and restaurants in the area," says Brogan. At the "plaza bar," a 40-foot-ceiling adds drama to the space, while the upstairs main bar spans 150 feet — the longest bar in the city — housing two miles of draft lines pouring margaritas, wine and beer alongside a menu of elevated street tacos, enchiladas, nachos, guacamole and more. A sprawling Mexican-tiled staircase is anchored by six-garage-door windows leading to outdoor balconies. In addition, the glass-walled private dining and function room has its own bar.
Other concepts new to Navy Yard include the seafood-centric Salt Line, Italian-focused Morini Piccolo and the second outposts of local pizza restaurants All-Purpose and Declaration. Food trucks park in the area, and a beer garden sets up shop across from the parking garage for Nationals Park along Yards Park Riverwalk.