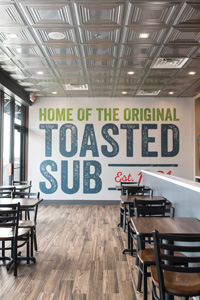 Images courtesy of QuiznosQuiznos' new prototype features a redesigned interior layout and updated menu offerings. The sandwich concept rolled out the design at a new store in Menomonee Falls, Wis. The location is also a test spot for new menu offerings.
In addition to updating its interior design, the 980-square-foot prototype features a dedicated spot for picking up online orders made through the chain's Toasty Points loyalty app and seating with power outlets to keep devices charged throughout a customer's visit. It was designed internally and in collaboration with Elsy Studios.
"The recipes, brand experience and focus on chef-inspired recipes remain at the core of this new design," says Chris Ruszkowski, senior vice president of marketing at Quiznos. "The new design pulls elements from Quiznos' heritage yet continues to position the brand as a bold competitor in the sandwich category. In addition, Quiznos is moving away from a more traditional customer order flow with this new design. The design allows customers to have a clear view into the kitchen to see how their chef-driven sub is being created."
The new location is operated by veteran franchisee Dilip Tanna. It is Tanna's third Quiznos location.