As food halls continue to crop up, it's only right that Texas should be home to one of the biggest. Legacy Hall, spanning 3 stories and more than 55,000 square feet, opened in Plano, Texas, in December.
The European-style food hall, brewery and entertainment venue boasts an eclectic mix of 20 food stalls featuring everything from popular local favorites like Neapolitan pizzas, gourmet burgers and Baja-style tacos to global flavors like shawarma, yakitori and steamed bao buns.
Legacy Hall Makes Highly Anticipated Debut
The design by Gensler embodies the food hall's cuisine with its focus on well-crafted simplicity. The space uses modified shipping containers and purposefully exposes raw materials such as wood, concrete and ductwork to create a modern industrial space that showcases the food.
The modern industrial first floor features a wine and charcuterie bar, a rotating food stall with an ever-changing menu and a craft cocktail bar in addition to the food stalls.
The second floor houses the majority of the seats — the space can comfortably accommodate more than 250 guests — and just one food stall, Sea Breeze Lobsta & Chowda House. The second floor also features an indoor/outdoor bar, The Good View Bar, that opens onto a balcony overlooking the planned Box Garden.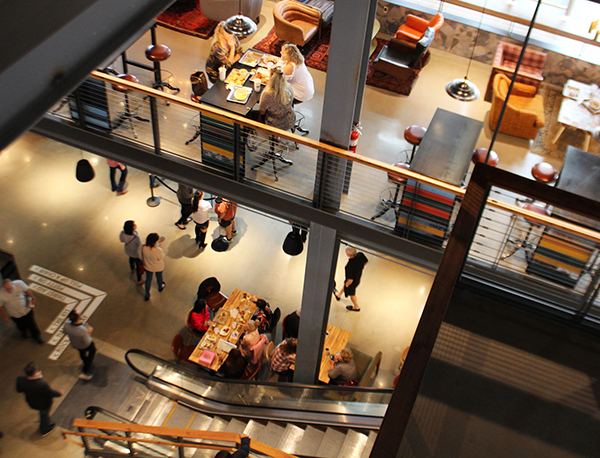 Unlawful Assembly Brewery & Tap Room, a fully functional craft brewery, takes up the third floor. It features pub fare and 21 operating beer tanks that crank out a portfolio of year-round and seasonal beers. The tanks posed challenges for the design team. "The weight of the brewing tanks is equal to supporting roughly 100 elephants," said Gensler Principal Barry Hand. "The load-bearing requirements and codes for a brewery of this capacity were an interesting puzzle to solve."
In the spring, the Box Garden will open. Utilizing reclaimed shipping containers, the expansive courtyard will hold more than 1,500 people and house Carlton Provisions BBQ as well as several themed bars, including a tiki bar, a margarita cantina, and a rotating pop-up bar. The heart of the Box Garden will be a 600-square-foot event stage.