Cornerstone Restaurant Group is a longtime partner of Chicago Bulls Legend Michael Jordan. The company has recently opened its third Jordan-branded concept, Michael Jordan's Restaurant, in Oak Brook, Ill., with architecture and interior design by Evanston, Ill.,-based DMAC Architecture.
According to Cornerstone's brand operations manager Josh Zadikoff, this concept grew out of trends the company noticed at its Michael Jordan Steakhouse location in downtown Chicago. There, more guests were dining in the bar area, enjoying a fine steak next to someone having a beer and burger.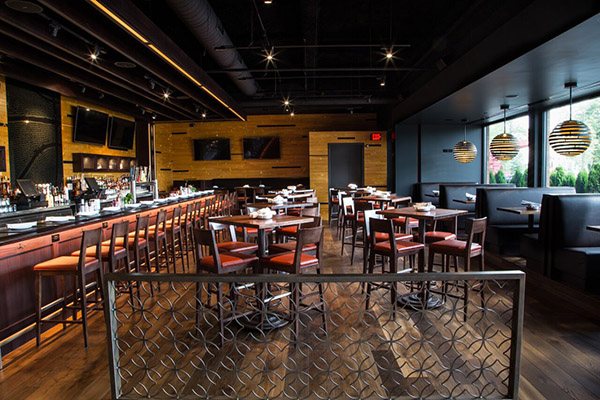 This led Cornerstone to develop a concept around this sort of experience. "How can we bring that steakhouse quality execution, steakhouse mentality into a more casual, high-energy restaurant with a modern feel. That was the beginning of the idea of Michael Jordan's restaurant."
As a polished casual operation, the restaurant tries to strike a balance between fine and casual dining, says Zadikoff. The operation relies on natural materials, including hardwood floors, leather upholstery and a stone countertop. At the same time, there are no tablecloths to make the place feel too formal.
And, of course, several design elements call back to Jordan's career. In the bar/lounge area, for instance, chairs and booths are upholstered in red and black, respectively, the two colors people most associate with his Bulls days. A more direct association can be seen through the bar back and wall paneling, made of reclaimed flooring from a basketball court.
Another nod to Jordan can be seen in the pendant lights hanging above the lounge booths. "They're an ode to a basketball without being obvious. We always try to have a story and a reason behind what we do...When people come for a dining experience, it's about a story, a memory, an emotion and we try to be thoughtful about that in a surprising way. I think we've been able to surprise our diners in terms of what they can expect."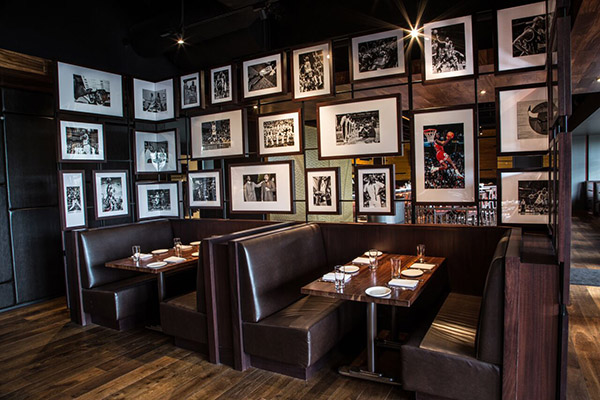 The operation's Jordan-inspired design can also be seen in the dining area. The booths in this space, for example, are brown with golden bronze tones, a subtle nod to his time playing minor league baseball.
The dining area also has the restaurant's signature design element, a display of pictures from Jordan's career. These aren't just the greatest hit that anyone can find on the internet. Instead, the company developed the installation with photographer Bill Smith, who had access to Jordan throughout his career, says Zadikoff.
"We wanted the undertones of Michael. We don't want to hit somebody over the head with sports memorabilia. That's just not the brand or what we stand for. The collage of these photos brings back all these memories of the greatness of M.J. We're trying to reach that emotional appeal M.J. had in a tastefully done way."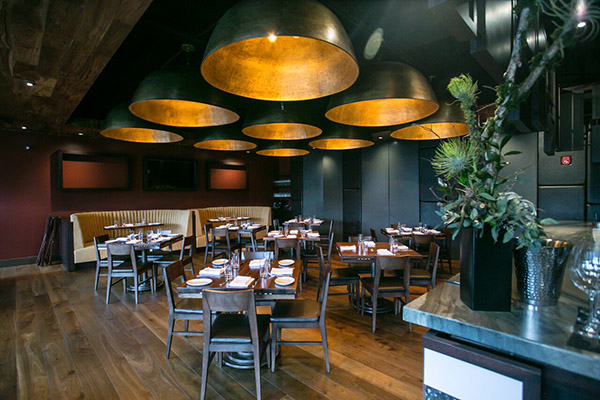 With Smith, Cornerstone curated a collection of rarely seen Jordan photos, often of events that guests might be familiar with, but shown from perspectives they won't recognize. Most pictures are in black and white, while a few color photos serve as reminders of quintessential Jordan. The photos themselves are held on a black metal grid that wraps around two sides of the dining area.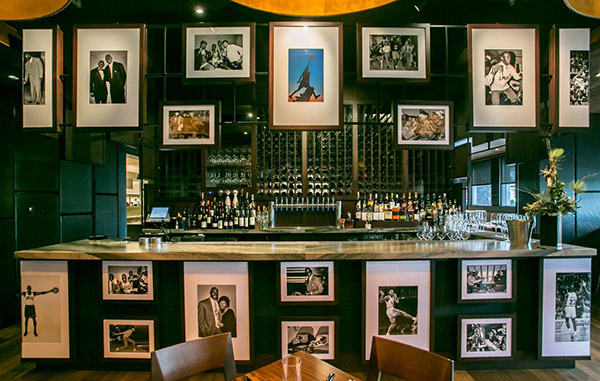 According to Zadikoff, Cornerstone expects this restaurant to do a strong private dining business. As such, the operation is designed with private dining rooms and flex space that can serve as private or regular dining depending on demand.
To separate these areas, the operations' service bar has been moved to the front of the house, delineating the regular dining room from the flex space. This bar can serve as a dedicated bar for private events and also bring some energy to the dining area in general.
"We don't want it to be this fine dining steakhouse, too quiet and reserved. How do we bring the energy from the bar that's all the way on the other side to there. Instead of putting a service bar behind the scenes in the back of the house, we put it on display. There aren't seats at that bar, but you can see the energy, you feel the energy of the bartender making drinks," Zadikoff says.
On top of bar, dining and private dining options, the restaurant was designed with a large outdoor seating section. "In Chicago, when people have the opportunity to dine outside, they take advantage of it. It's a huge draw," says Zadikoff.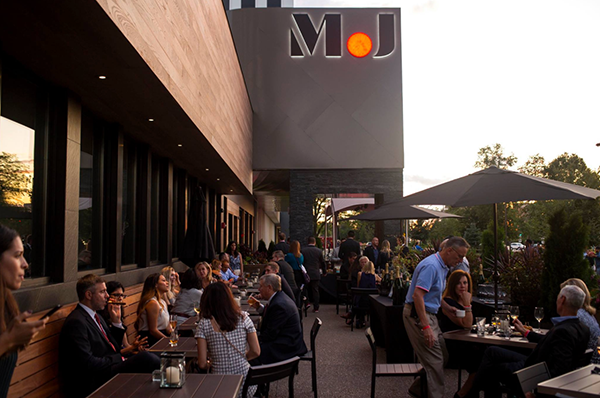 The patio was designed with a curved overhang inspired by Jordan's path through the air while dunking. It was also given a stone fireplace, hardwood tables and permanent hardwood banquettes, along with a stone outdoor fireplace. In the coming months, the operation will likely add more lighting, heaters and enclosures to make the space usable more of the year, Zadikoff added.