Location may still be king, but in today's restaurant real estate market, strong business intelligence must support curb appeal.
For Valerie McCartney, vice president of franchise development at San Diego-based Broken Yolk Café, the real estate site-selection process involves both science and art. As the former director of franchise development for concepts such as El Pollo Loco and Johnny Rockets, McCartney studied and implemented both sides of the site-selection coin when growing the restaurant chains.
She explains that the science of site selection includes such elements as area demographics, traffic counts and average income per household, while the art embodies anecdotal information and the "gut" reaction that pulls everything together. McCartney is now applying those techniques to help grow the 11-unit Broken Yolk concept, which has 19 locations in the pipeline.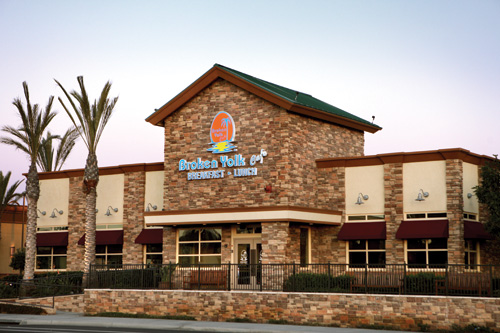 Broken Yolk
"The first thing we do when we have an area in mind is equip our franchisees with some criteria that they can then show to brokers," McCartney says. "We give them a basic laundry list of what we know works for our brand, and they bring sites back to us for review. We look at some of the basics and how we believe the location compares to our stated criteria."
Some of those basics include daily traffic counts, residential populations and ingress and egress opportunities. Since Broken Yolk restaurants primarily open in shopping centers, the company also reviews the roster of cotenants to determine if they're female-friendly and to see the types of cars in the
parking lot the cotenant brands attract.
"We use an A-through-F grading curve. If we all agree that it's the right location within a shopping center, we gather a consensus of the pros and cons, knowing there's no such thing as a perfect site," McCartney says. "We also have our franchisees complete a site selection form objectively, on their own, and then we come together to see where we have symmetry. Beyond that, we use a broker network and some of the mapping systems."
One thing the company also does: drive a lot of streets in the surrounding area. "We do a lot of general observation of what's going on in the neighborhood," McCartney says. "We eat at nearby restaurants and ask the servers basic information about the area."
The Essentials
For as much as site selection has changed over the past decade, two things operators historically look for have stayed the same. "The important things for us are location and visibility, although we're willing to sacrifice some of that for good bones," says Ed Kane, principal with Boston-based Big Night Entertainment Group (BNEG). BNEG owns and operates high-end restaurants such as The Scorpion Bar, Shrine, Gem and Red Lantern, with many of their locations in casinos or newly developed areas.
"Red Lantern is sandwiched between two very vibrant neighborhoods, but it wasn't on the best street when we built it," Kane says. "I like to be an early subscriber because you typically get better lease deals, and you don't have the hardship of being the only one [on the block]. We try and do as much research as possible so we know who the neighbors are going to be and what's going on in the neighborhood."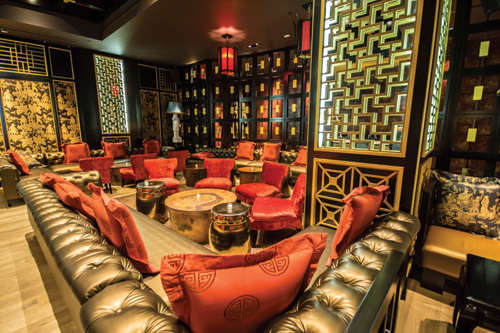 Empire's LoungeFor example, prior to opening Empire on the waterfront, Kane met with the primary developer of Boston's Seaport area to discuss future plans for the district. "Once I sat down with him, I knew what was coming," Kane says. "We knew the building we were going in was going to be fully occupied. We have operated there with growth even during the recession years."
The decision to open in a district still under development worked for BNEG because it left the restaurant well positioned within the area and within the group's targeted trade region. The residential and employment base also fits in with the company's target demographic of young, urban professionals who gravitate toward luxury brands, good food and vibrant nightlife.
The best trade areas align with a restaurant concept's core consumer profile and also have the right density of residential, employment and retail establishments to support pro forma sales, notes Bill McClave, managing partner of Kansas City, Mo., Birchwood Resultants LLC. Birchwood Resultants provides custom-built real estate modeling and unit-level performance disciplines for restaurant and retail companies.
"Once you qualify the right trade area, then you start looking for a site. The first criterion is to be at the epicenter of the trade area," McClave recommends. "Good visibility a mile off center is not a good place to be. Even high-end restaurant concepts need visibility and easy access. The need for visibility and an up-front position never goes away."
John Namey, vice president of real estate services for Firehouse Subs agrees with McClave and adds, "Location is always a two-part deal: It's being in the right part of the trade area and then getting the right site within that trade area," Namey asserts. "The goal is to end up in a better position than your competition, but still be in that zone where everybody goes for lunch and dinner – being part of where there are multiple opportunities is important and then being well positioned in that area so there are no barriers to the customers."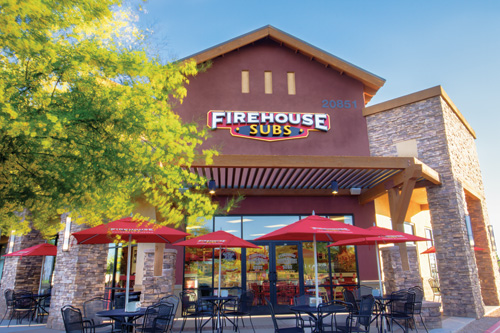 Firehouse SubsFirehouse uses a two-tiered system when trying to determine where to open next. "First, we do a strategic plan for a particular market, and this is set by our designated market area. We would map Louisville, as an example, virtually, and identify where we think the potential trade areas are and what type of traffic drivers there are for our business," Namey says. "We look for lunch and dinner drivers and for destination points of where people are going for lunch and dinner."
Simultaneously, Namey and his team use two mapping systems to track the location of each destination point. After approving a trade area, it then gets compared against the company's customer profile data to ensure compatibility.
"That becomes the first blush of our map, and then we drive the entire market," Namey says. "It's never the same when you're on the ground as it looks from the virtual view. We try to make sure what we see virtually aligns with reality, and at the end of that trip we'll have a validated trade area. That becomes the template for the area rep to work with our franchisees in the market."
Picking locations that don't meet established criteria — whether stand-alone, endcap or in-line — or picking locations without knowing the neighborhood, could mean forced closures down the road.
"One mistake I avoid is thinking that, because we're Penn Station, customers would seek us out anyway, because that can lead to picking sites that don't have those attributes we look for," says Craig Dunaway, president of the 265-unit chain. "I think it's important to make sure that not only is the space zoned for restaurants, but answering such questions as, Does it have adequate parking? Does it have grease traps? Does it have a gas line? Some of these questions are attributed to the hidden costs of running a restaurant."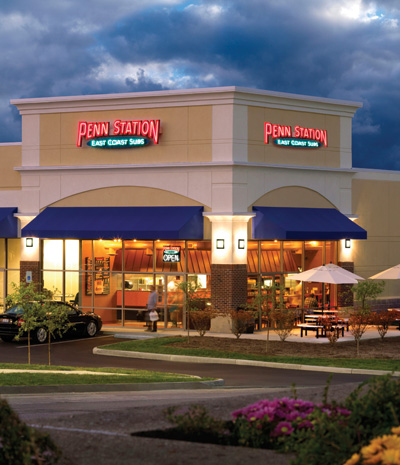 Penn StationPenn Station executives primarily look for endcap locations in strip centers that promote visibility, have good ingress and egress and allow for adequate signage. "While inline locations are less expensive, consumers like natural lighting. Endcap locations have the potential for outdoor seating, and people can see it from the road. It creates a natural buzz," Dunaway says.
He advises not going into shopping centers where most, if not all, of the stores close no later than 6 pm or if the landlord has chosen not to reinvest in the property. "If you're in a 10,000-square-foot center, and your brand is the most well known, that's going to be a problem," Dunaway says. "Talking to a tenant rep in an area also is very important. A great space never has a sign in the window."
For Peter Karpinski, co-founder and COO of Denver-based Sage Restaurant Group, urban locations must be in areas with adequate usable parking and in buildings the company can develop. Karpinski and his partners also look for good ingress and egress and signage. "We want to be in an area where there are a lot of restaurants," Karpinski says. "Red flags for us are areas where there is not much foot traffic or where the majority of businesses are only Monday through Friday lunch. We want to be near places that have evening and weekend hours."
Friendly Competition
While restaurant groups such as Sage and BNEG gravitate toward urban locations, strip centers in well-populated suburban areas are a big draw for many restaurant operators that look to reach a large customer base.
While lifestyle centers were popular 10 years ago, many restaurant concepts now look for space in everyday shopping centers and big-box power centers, McClave says. This leads to greater competition for restaurant brands looking to enter similar shopping centers in neighborhoods with dense residential, employment and retail support.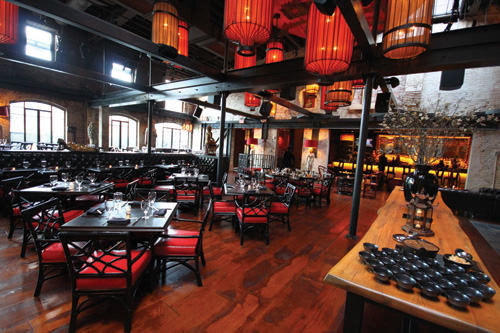 Red Lantern Interior"Competition is both a requirement and a detriment," McClave notes. "The effect of competition on unit sales can be initially positive . . . but as more brands enter a trade area, too much competition can satiate underlying demand. You have to understand how much competition helps you and how much it hurts you."
Birchwood Resultants provides restaurant operators with real estate forecasting models that quantify the science of site selection, such as estimated sales potentials for specific sites and sales impact figures for surrounding brand units, if applicable. "We've had clients come to us and say they don't want to go into an area that has any competition, and that's not necessarily a good thing," he says. "If nobody else is there, that's generally not a good sign."
Ultimately, the way to beat out the competition is to find a space that hits all the right targets and that also marries the best of both science and art. Suggests McClave, "You have to pay attention to your gut instinct, but every step of the way you have to ask: What does the math say? If you make decisions using half of both filters, you'll make a good decision. It's about deploying math and judgment in a disciplined way."