Since 1996, restaurant group Meizhou Dongpo has served millions of customers in over a hundred fine-dining locations in China, all with an emphasis on perfecting traditional Sichuanese cuisine in a formal setting.
Owners Chef Wang Gang and his wife, Liang Li, brought their fine-dining concept to Los Angeles in 2013 but were looking for other brand expressions. Located at Universal CityWalk Hollywood, Dongpo Kitchen is their first casual-dining location. It features an open kitchen and seating for more than 100, including an open-air patio.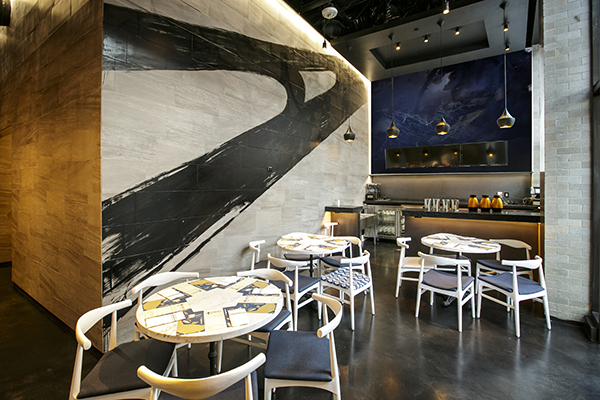 Photo above and at top of page by David Sprague
"Knowing that what worked in China may not work in LA, Chef Wang and our team wanted to tell the story of a famous poet, Dongpo, and how Chef Wang's cooking is influenced by him, starting by [the chef] growing up in the same town, studying [Dongpo's] poetry and sharing his philosophy of life to cooking: easygoing, eclectic with a bold sense of self-expression," says Yuwen Peng, AIA, NCARB, LEED AP, associate vice president at CallisonRTKL, the project's designer.
The design creates a journey about Dongpo's life and represent what the poet's studio might look like today. "Four key elements — calligraphy, ink, paper and stone (used to grind out ink for writing) — were incorporated into a social dining room with the original brand colors of royal blue and champagne woven throughout," says Peng.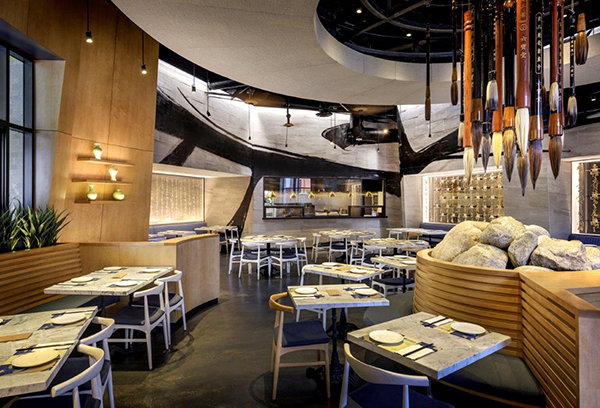 Photo by Aaron Leitz
Abstract Chinese paintings behind the bar and a fixture comprised of large paintbrushes dangling from the ceiling serve as references to Dongpo's life and work.
One of the biggest challenges on the project was to take the restaurant group's fine-dining tradition and adapt it to a more casual LA setting. To bring the traditional Chinese fine-dining style — which often includes expensive materials like velvet and fine china place settings — down in scale, the design team opted to include an exposed ceiling, mix-and-match seating, found objects in the entry and a graffiti wall in the dining room.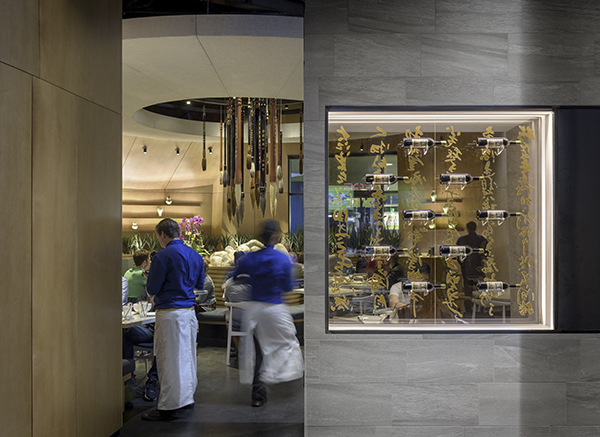 Photo by Aaron Leitz
These playful elements help retain Sichuan culture but also allow the space to fit the streetscape style of Universal CityWalk. Says Peng, "Taken together, these design solutions successfully translate the Chinese Meizhou Dongpo brand into a new metropolitan market in the United States."
Dongpo Floor Plan