Five words restaurant franchisees often dread: "We want you to remodel."
For an operator struggling with tight margins, or a successful restaurateur who is happy with the status quo, these words ring an ominous bell.
But we know remodels — whether complete overhauls or smaller facelifts — are often essential to keeping a restaurant relevant and profitable.
When husband-and-wife team Mary Jane and Bob Riva bought Pizza Factory in 2012, they decided to rebrand the concept, redesign the stores and update the logo.
Image courtesy of Pizza Factory
"For years, no one had asked the franchisees to do anything, so we wanted to be very sensitive," says Mary Jane Riva, CEO of the Oakhurst, Calif.-based chain. "We wanted to be able to handle roadblocks, so we had various options priced out, and we incorporated inexpensive ways to get the new brand so it wouldn't hurt franchisees' pocketbooks too much."
To first get the word out, Riva unveiled the new look at Pizza Factory's annual convention in 2015, at which time she also gave away some decor items as incentives. The renovations began in 2016. Then, the Rivas spent time visiting as many of the chain's 100-plus locations as possible.
The most important thing they asked of franchisees was to change the signage and interior paint so each store had the same branding scheme. They requested that older stores change their floors, tables and chairs. To encourage franchisees to tackle costlier items, such as the floors, she has suggested they do it in sections or at night so they don't have to close.
"We go in and give them ideas, and we try to do it on a real personal level," she says. "It was a big deal to make sure we went to every store so we could calm their fears and encourage and show them what they could do. For many of them, it's not about the money but the vision. That helps reassure them."
They also discussed a staggered plan with franchisees, explaining what they could do immediately and what could wait. "We know once they get started on the process, they'll get excited," Riva says.
Updating the stores was obligatory, so Riva handled her franchisees with care. Since the Rivas are themselves franchisees of three stores, they remodeled those first, and they showed data and photographs from the remodeled stores to operators who were reluctant to remodel to highlight the positive ROI they'd likely see. The Rivas also shared with franchisees the positive feedback they were receiving from guests.
"It can make a big impact when franchisees see what another store's investment was and how much their sales have increased," Riva explains.
Riva put together a guideline that features details of every aspect of the remodels, including which products are approved, manufacturers the corporate office has negotiated with and where franchisees can purchase items.
Riva purchased many interior and decor items in bulk to pass the bulk savings onto franchisees. For those on very tight budgets, she also offers various tips and options, such as inexpensive ways to replace their counters and work they can do without hiring outside help.
At the end of the day, Riva says, it's all about a personal touch and a staggered plan. "Forcing anyone to do anything is not going to work well," she says. "You have to be willing to listen to their concerns and their budget. You also have to tell them why you're asking them to make the changes and what it's going to mean for them."
Beyond the Contract
Johnson Ventures CEO Kevin Martin takes a similar approach when talking to franchisees about spending money. When the company purchased Lenny's Subs in 2013, it decided to give the brand an overhaul and expand the concept from fast-food lunch to a fast casual with a greater emphasis on dinner. This also brought about a name change for the Memphis, Tenn., company to Lennys Grill & Subs, which is in the roll-out phase and should be complete by the end of 2018.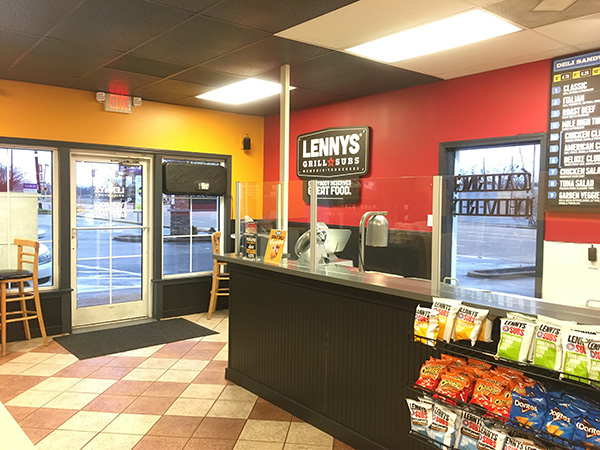 Photo courtesy of Lennys
"To go in with a heavy hammer — that's not what we do. We want franchisees to follow this with gusto, and there are key reasons why this is crucial to our brand," Martin says. He shares these reasons with franchisees "to reinforce the importance of why we are asking them to remodel, which definitely helps them have buy-in."
Contracts for Lennys' franchisees state when stores must undergo remodels, but the challenge for Martin was that the new remodel is beyond what's in the contract.
The big change to stores is the replacement of a deli case with what he's calling a "take, make and serve" line, where customers order and pay. Other nonnegotiable parts of the remodel are a change of interior paint colors, interior graphics and exterior signage.
To introduce the new look and feel of the brand, Martin announced the changes at the company's annual franchisee summit last year. The convention was held in Memphis, where the company had already reimaged a franchised store. "So, we hosted an event there, and everyone got to experience it firsthand, which was key in getting this into the minds of the franchisees," he explains.
Martin puts franchisees in touch with each other, so a store considering a remodel can chat with someone who's already done it. And to make the remodels easier on their wallets, he's offering to break the project up into two chunks, split over two years, with the nonnegotiable items being done first and cosmetic items — like tiling behind the counter, ceilings and bathroom overhauls — coming later.
Lennys' corporate office also offers some limited financing to its franchisees. It will pay between $1,500 and $2,000 for interior graphics for those who complete the remodel by the end of 2018. And it will finance up to $5,000 of the exterior cost, interest free, for up to 18 months. "We're trying to create some carrots to give incentive but also be compassionate to small-business people," Martin says.
The biggest challenge Martin is facing is if a store has recently remodeled since this new facelift would come hot on the heels of it. "It's a delicate situation, and we can adapt a little," he says. This includes being more flexible with financing or timing.
Offering choices to franchisees is key to getting them on board to remodel for Johnny Rockets. Like most other franchise chains, this one has obligatory remodels written into its contracts, but from time to time, it asks franchisees to undergo others.
Such is the case right now since the Lake Forest, Calif.-based chain is rebranding to what it calls Diner 2.0. It has four legs: a new logo and new design/decor package, a high-efficiency kitchen designed to increase quality and consistency and reduce ticket time, an upgrade of all consumer touch points from salt cellars to glassware, and an effective marketing relaunch.
Ideally, franchisees will embrace all of these components, says James Walker, president of operations and development, but the first one is the most vital to maintain brand consistency and prevent restaurants from looking tired.
Johnny Rockets tends to initiate the upgrades with its most high-profile locations and those that are likely to see the biggest ROI from a remodel so it can share those numbers with other franchisees. It also approaches those who are obligated contractually to remodel at that time since it's easy to get them on board.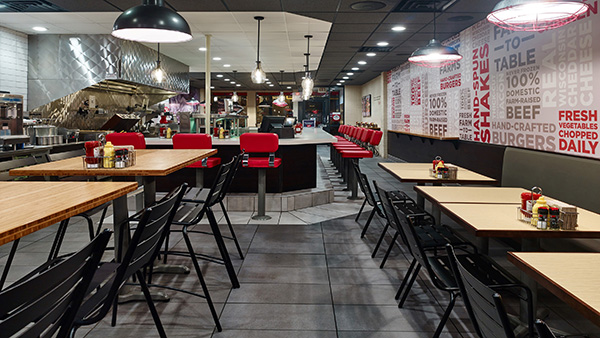 Photo courtesy of Johnny Rockets
It's also critical, says Walker, "to send out ticklers or reminders in advance. We do it mostly through emails, but we follow up through one-on-one calls and site visits. We don't want this to be a sudden surprise for them."
And it's important to offer choices, Walker says, "so providing them with options — either the A, B or C package — is more warmly received than saying, 'You need to spend X dollars.' We always try to have at least three packages."
Johnny Rockets has 394 restaurants globally, about half of which are in the United States. By the end of this summer, close to two dozen will have been remodeled, and 62 opened last year as brand-new restaurants with the new decor and branding.
"We're a little more than a year into this, and we're starting to pick up steam," Walker says. "More of our franchise partners are coming to us, even if they don't have a required remodel, but they ask, 'Is this advantageous to my business, and what does this mean for my business?'"
Johnny Rockets likes to test remodels in corporate locations before it approaches franchisees with the big ask. "That way, we have data on costs as well as performance," Walker says. "At the end of the day, they want us to show them what they need to spend and what they will get for it." It's also vital "to show you believe in the program and are willing to invest your own money into the corporate stores," he adds.
Like with Lennys, as franchisees undergo the remodels, the corporate office puts them in touch with each other so those who have renovated can answer questions of those who are still deliberating.
"You can't communicate too much with your franchise partners, and we share everything, whether it's good news or not such good news," Walker says.
Compassion for your franchisees is vital, Walker says. "From my standpoint, in an effective remodel program, the franchisees move forward with it not because they have to but because they want to. It's about looking at things through their eyes."