Sage Restaurant Group (SRG) opened two restaurants in downtown Denver's new Dairy Block development, Poka Lola Social Club and Kachina Southwestern Grill. Both restaurants were designed by NYC-based Crème Design in collaboration with SRG.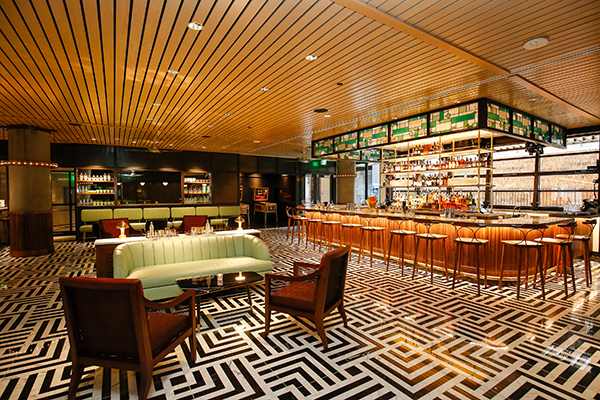 PokaLola Adam Larkey Interior
Poka Lola Social Club is a cocktail bar with a sophisticated spin inspired by America's midcentury soda fountains.
"We created Poka Lola Social Club to simply be a fun place, from the 1950's-inspired design and its inviting, open layout, right down to the fountain-style cocktails and cheeky phrases on the coasters," says Peter Karpinski, co-founder of SRG.
Poka Lola features an open layout with plush chairs and small table and bold black-and-white-patterned floors that provide an elevated take on the classic checkerboard. As a beverage-focused concept, the bar's design includes having room for cocktails on tap and specialty sodas. Backlit stained glass panels highlight the bar. Along the back wall, an illuminated display of antique bottles and mirrors casts a warm glow.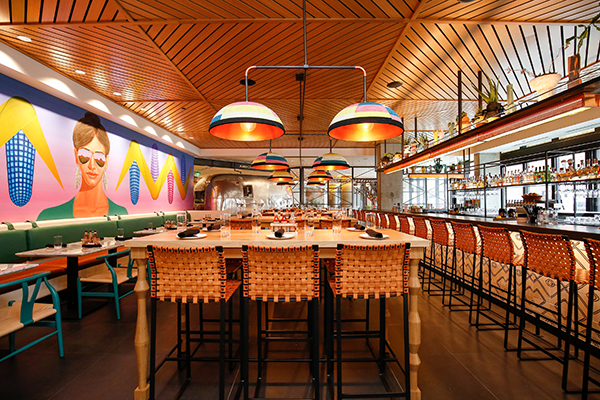 KachinaDenver Adam Larkey Interior
Kachina Southwestern Grill, meanwhile, is a modern southwestern-inspired restaurant with a playful design.
Kachina's space juxtaposes natural indigenous elements with bright colors and contemporary design, paying tribute to the patterns and landscapes of the Southwest and Native American culture. Lined with hanging cactus, plants, and draped string lights, the restaurant features artwork from regional artists, colorful textiles, Western objects, and Native American artifacts. A full-size Airstream trailer brings the food truck experience indoors, offering small bites for guests at Kachina's bar.
Photos by Adam Larkey.