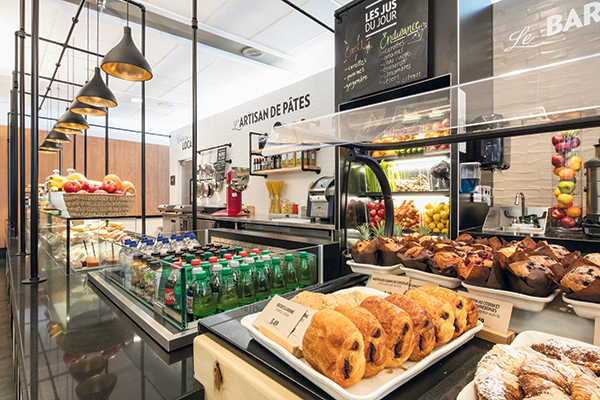 After finding success with its Bistrot concept in airports across Europe, HMSHost recently debuted the brand in North America with two locations at the Montréal-Pierre Elliott Trudeau International Airport.
The brand launched in Italy and now has 14 locations worldwide and 20 locations slated to open in 2017. Bistrot has a decidedly European flair and a focus on sourcing ingredients locally and ethically. The menu features locally produced cheeses, fruits and vegetables; ethically grown grains for freshly made pasta; and locally made pastries, among other items.
Developed in partnership with Pollenzo University of Gastronomic Sciences and HMSHost's parent company, Autogrill Group, Bistrot's layout is reminiscent of an urban market, designed to showcase multiple food stations through a large bakery component, a bounty of street-food fare, a live pasta station and a cafe component that features floor-to-ceiling windows overlooking the tarmac.
The new locations took design queues from Autogrill's award-winning Bistrot Centrale in Milan. The Montréal decor features reclaimed furnishings that emphasize recycled materials. Prominent post-industrial elements include reclaimed wood and metal piping as well as a selection of eco-friendly chairs and soft seating. Guests can be educated on the brand story through intricate wall murals and designs.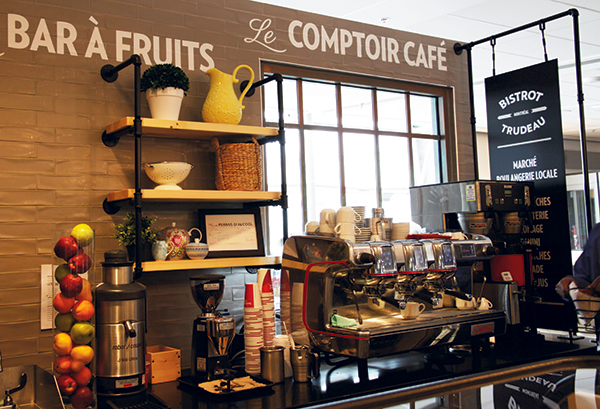 Photos courtesy of HMSHost