As part of its plan to continue to expand into nontraditional sites, fast-casual better-burger concept BurgerFi signed a franchise agreement with Philadelphia-based dining services partner, Aramark.
The contract feeder will operate the chain's first college campus location at Temple University in Philadelphia at the school's newly renovated Howard Gittis Student Center food court. The Temple University restaurant will be BurgerFi's second Philadelphia location and is expected to open its doors to students and visitors in August.
"Developing this new location with Aramark brings immense value to our expanding franchise network, and we are excited to see BurgerFi at a college campus such as Temple," said Corey Winograd, CEO of BurgerFi.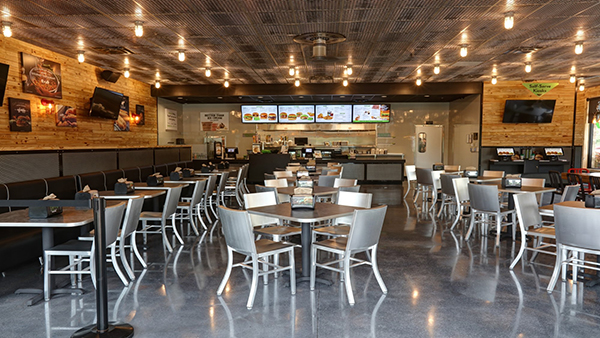 The dining room design for a BurgerFi traditional location unit.BurgerFi announced its first nontraditional site agreement with HMSHost last month. HMSHost will operate the new BurgerFi restaurant at Fort Lauderdale International Airport.
This year, BurgerFi plans to open approximately 20 new restaurants, primarily through franchise development, and is targeting Virginia, North Carolina, South Carolina, Florida, Georgia, New York and Washington, D.C. for domestic expansion. The brand is on pace to have 100 restaurants open by mid-2017.