History and sleek, modern style coincide throughout England's capital, and the city's restaurants are also adept at juxtaposing the two. There's no shortage of top chefs in London, either, giving "the Old Smoke" a hot and vibrant dining scene. — Amanda Baltazar, Contributing Editor
Leon
Leon in FarringtonAt 23 units and growing, "naturally fast food" chain Leon reflects its natural and fresh ingredients in its décor. Henry Dimbleby, John Vincent and Allegra McEvedy founded Leon in 2004 and have maintained the chain's casual, eclectic look and feel — warm, fun and bright with each location instantly recognizable as Leon, but distinct in its design. "We keep the restaurants very raw using natural finishes like the raw mild steel and waxed wooden floors down to the painted random patchwork tiles that apron the counter and the industrial ceiling," says Tommy Clarke, architectural designer and project manager at AB Associates. The chain's newer locations incorporate a fun, zigzag wall, which draws on graphics associated with Leon's packaging and is something the chain plans to develop further to create subtle brand awareness.
Corinthia Garden Lounge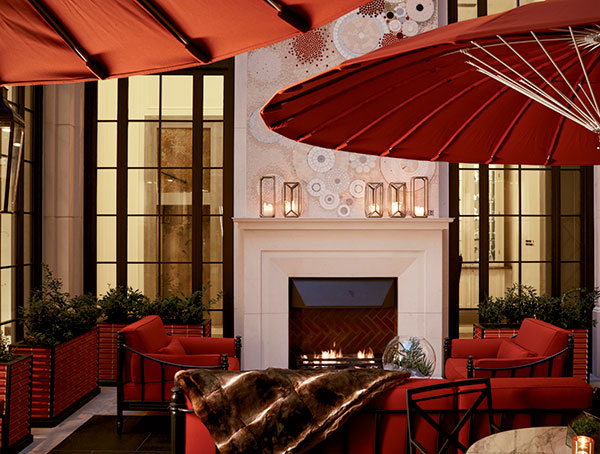 The Garden Lounge in the Corinthia HotelThe Garden Lounge in the Corinthia Hotel boasts garden dining in the heart of London. Opened in April, this space also links in history through memorabilia from the days when the hotel was known as The Metropole, which dates to 1885. Designed by David Collins Studio, it is covered by a glass canopy and features mosaics of gold, cream, red, pumpkin and grey that adorn columns and plinths, echoing mosaics throughout the hotel. The signature pumpkin color runs throughout the 1,940-square-foot garden restaurant, in furniture, umbrellas and custom-designed planters. The other significant color in the restaurant is green, tying in the natural element of the plantings.
Spring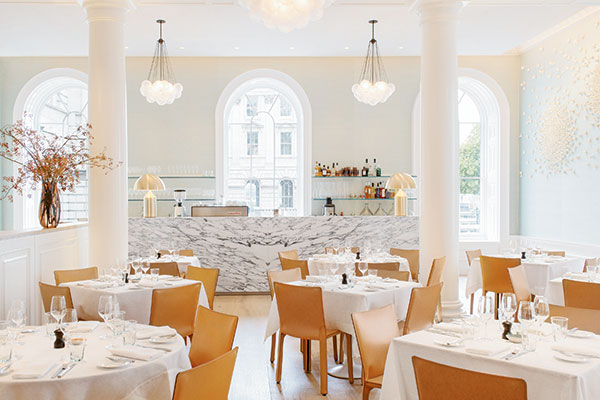 Spring RestaurantLight is integral to the design of Spring, which opened last October in London's Somerset House. Located in an atrium, it has a metal and glass roof, which brings sunlight onto the 200-year-old limed oak floors. Chef-proprietor Skye Gyngell wanted to create a space that felt warm and inviting, "a more feminine experience," that would also be convivial. Spring's mostly white interior echoes its simple menu of honest food. Natural materials include leather, marble, timber, paper, stone, waxed plaster and brass. Briony Fitzgerald Design, an Australian firm, designed this space, while local artists and artisans added touches such as "cloud" chandeliers, chairs upholstered in soft jersey caramel leather, and a wall art installation made of 300 white ceramic petals.
The Ivy
The IvyA British icon, the Ivy has been feeding Londoners since 1917. Recently redesigned, it retains original elements such as stained-glass windows. Its bar brings the Ivy into the present and serves as "a theatrical centerpiece," says Martin Brudnizki, of the eponymous design studio. The bar is built from coral-hued onyx and surrounded by hand-hammered brass tiles. Around the bar are columns wrapped in mirror, bespoke lamps with glass shades in a Lalique design, and statement bar stools upholstered in red leather and pink mohair. "It was important we looked backwards to look forward, so we kept those much loved elements of the Ivy," says Brudnizki. Completing the 1,938-square-foot dining room, all paintings are by known British artists such as Damian Hirst "to compliment the quintessential Britishness," he says.
Photos by Dylan Thomas